CLEARWATER — Clearwater for Youth, the nonprofit organization dedicated to supporting area youth athletic programs, recently held its second annual Breakfast at the Ballpark at BayCare Ballpark in Clearwater.
During the event last month, city officials, including Clearwater Mayor Frank Hibbard and several CFY board members, gathered at the Philadelphia Phillies' spring training home to present Richard O. Jacobsen Postsecondary Scholarships totaling more than $153,000 to 27 Pinellas County high school students. Among those scholarships were the $10,000 David P. Montgomery Scholarship, named after the late Phillies executive, and the $5,000 Don Zimmer Memorial Scholarship sponsored by the Tampa Bay Rays that recognizes the late MLB great.
"We've always had a motto in Clearwater — we don't have to do everything, we just have to make sure it gets done. And Clearwater for Youth has been getting it done for decades," Hibbard said to start the breakfast program. 
CFY board chair Fred Miller noted that everyone involved with the organization works hard for the students by providing scholarships for young kids to play sports in amounts upward of hundreds of thousands of dollars each year. John Timberlake, the Phillies' director of Florida operations, echoed those thoughts, stating, "Clearwater for Youth is an important part of our community helping to make sure no student is unable to play sports."
While the organization has been helping to provide funding for things like registration fees and equipment since it was founded in 1972, Clearwater for Youth continues to grow and branch out. Recent changes including a subtle rebrand to CFY, with less emphasis on Clearwater, as well as the addition of new scholarships. 
"This year we added a vocational scholarship, because we felt that was important," said Dawn Daugherty, CFY's Scholarship Committee chair. "Imagine being able to give out $150,000 in scholarships, all thanks to our sponsors, who want to make a difference, to do better, to help. And we are grateful."
Daugherty then called former Clearwater mayor and longtime CFY board chair Brian Aungst to the podium to start handing out the scholarships, and one by one more than two dozen student athletes came up to accept their gifts, courtesy of CFY and their sponsors.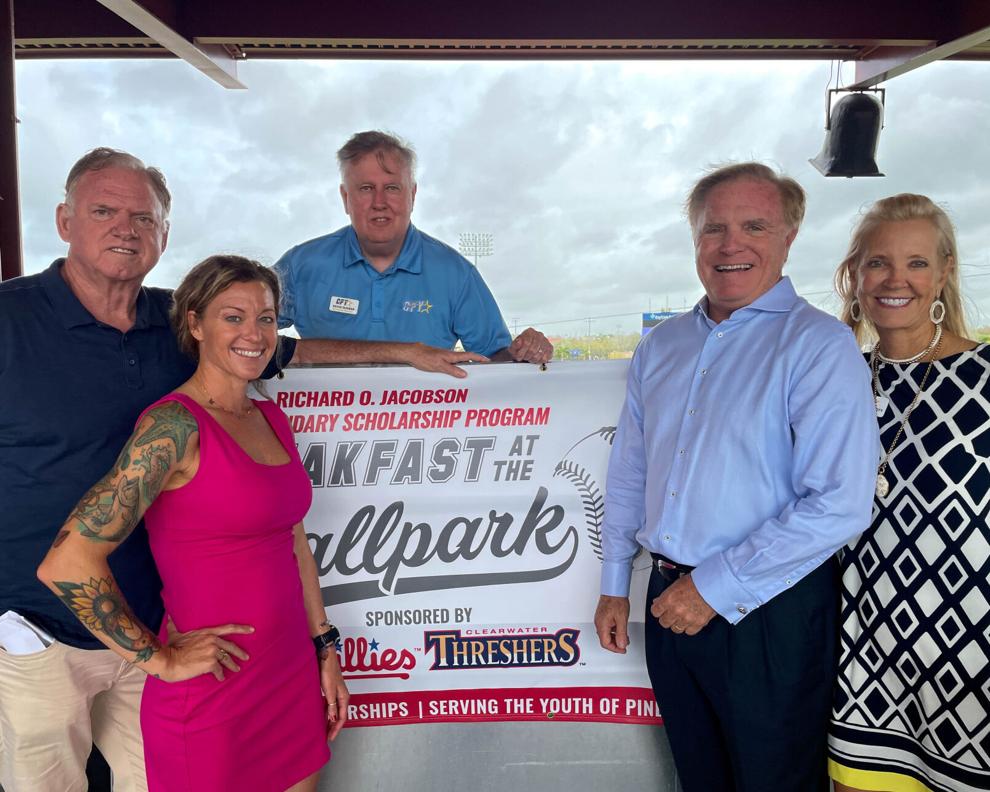 "Clearwater for Youth is probably one of the best kept secrets around," said former Olympic softball star and current ESPN analyst Michele Smith, who serves as CFY's secretary. "They do so much for young kids by investing in sports and giving them access to go after their dreams and achieve their goals. And when you're on the board and donate your time, you realize the impact of giving back and how Clearwater for Youth can impact children in the community, and that's what it's all about."
Aungst, who helped build the Phillies' and Clearwater Threshers' ballpark during his time as mayor, slightly disagreed with Smith's assessment of CFY.
After lauding CFY executive director Kevin Dunbar, the former Clearwater parks department head, he said, "We used to be the best kept secret in town, but now people are finding out about what we do, keeping kids busy during the day and staying out of trouble at night. And it aligns with our motto of no child ever being turned away from participating in youth sports."
For Alex Kemp, a wide receiver at Calvary Christian High School who received the Rays' Don Zimmer scholarship, CFY's success is no secret. "It's really awesome because school is so expensive, having this extra security in the bank is amazing," he said as he posed for photos in front of the CFY backdrop with his mom, Marybeth. "I'm really grateful, especially to the sponsor, the Tampa Bay Rays. It's great to get this opportunity and to see Clearwater for Youth investing in young people."
Marybeth Kemp agreed.
"Obviously, I'm proud of him," she said. "But I'm proud of the community and what Clearwater for Youth does for the whole Pinellas County area. The lessons these kids have gained have been invaluable and contribute to knowing what they need to do to be successful."
CFY is hosting its annual fundraising Banquet on the Beach on Friday, April 22, from 6-9 p.m. at the Sheraton Sand Key Resort at 1160 Gulf Blvd. in Clearwater. For ticket and sponsorship information, visit https://cfypinellas.org/event/annual-banquet-on-the-beach-april-22/.