CLEARWATER — This is a big deal, gargantuan green glass jutting from the mangroves at the head of the Courtney Campbell Causeway.
After construction began in March 2018, the communications team for Nova Southeastern University repeatedly said the school faced a construction deadline of August 2019 — just 17 months.
But there NSU officials were on Sept. 14, positioning themselves for the traditional ribbon-cutting photo for the new Tampa Bay Regional Campus in Clearwater. Students had already started classes in August, meeting the project's deadline.
"They said it couldn't be done," said NSU spokesman Joe Donzelli. "What was deemed a mission impossible turned out to be possible through hard work, dedication and perseverance."
It's an impressive edifice, a 300,000-plus-square-foot medical training facility that features cutting-edge classrooms, teaching via hologram, mannequins that bleed, and a fat telecommunications pipe that will eventually link the building to medical campuses in other parts of the world.
Dr. George Hanbury, president and CEO of NSU, was behind the ribbon, as was Clearwater Mayor George N. Cretekos, Joe Ayoub, the mayor of Safety Harbor, and other local lights. The real drivers of the medical school's gleaming Clearwater campus, the husband and wife team of Drs. Kiran C. and Pallavi Patel, stood behind the center of the ribbon.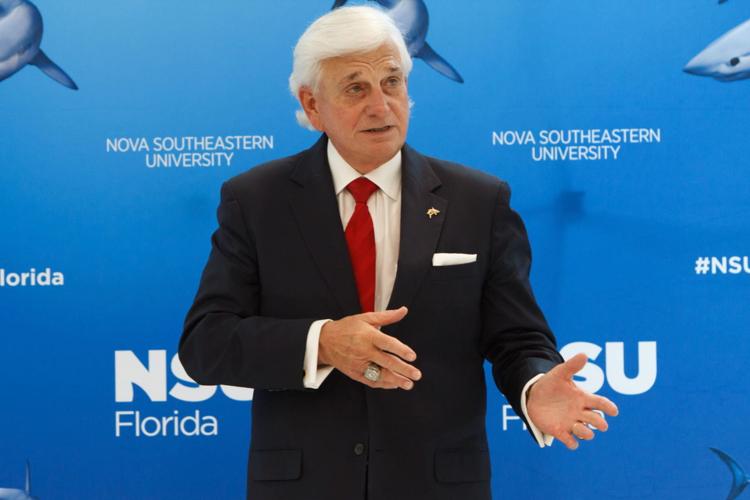 "None of this would have been possible without Drs. Patel and their generous contributions of their time, their talent and their fortune," Hanbury said.
In fact, the new campus was made possible through a $230 million donation to NSU — $80 million in gifts and a $150 investment in real estate and facilities from both doctors Patel. Its grounds comprise 27 acres and 325,000 square feet of classrooms, faculty offices, a dining hall and other amenities, said university officials. The multi-level parking garage behind the sweeping, green-glass architecture of the main building has parking for some 1,300 vehicles.
Kiran Patel, a cardiologist, is well known to Florida's health care community. He turned around WellCare HMO, Inc., in New Port Richey with other healthcare executives. Between 1992 and 2002, he turned WellCare into a billion-dollar company with more than 450,000 members in Florida, New York and Connecticut, his biography on the NSU website states.
The campus serves as a training and classroom center for doctors of osteopathy, Donzelli said, and opened with about 1,300 students. It has capacity for 2,000 students.
The difference between doctors of medicine and doctors of osteopathy is largely philosophical. According to the American Association of Colleges of Osteopathic Medicine, both disciplines include traditional medicine, including diagnosing and treatment of illness and injury with prescriptions and procedures, but osteopaths add the patient's posture, spine, joints, muscles, tendons and ligaments into the patient's overall diagnosis and treatment.
The training technology is top-notch, enabled by high-speed data networks, NSU officials said. During a campus press tour in May, both Patels and school officials showed off classrooms set up as emergency rooms, intensive care units, and regular hospital rooms. Teachers in Davie, for instance, can be streamed in real-time as holograms into those classrooms and watch as students perform their work.
Other technology lets students "look inside" life-like, digitized mannequins as they lay on a hospital bed or operating table. The fake patients can display facial expressions of pain and can yell out. A software program connected to the mannequins registers various blood pressure readings, and other realistic indicators.
"They have the augmented reality system in place," Donzelli said. "Students put on this visor, it's like a pair of glasses. The system superimposes the insides of a human being on the mannequin so they can see what's happening inside the body of a patient while they treat them."
Another program mimics childbirth, so the medical student tending to a pregnant mannequin in birth pangs can see how the baby's movements relate to the mannequin's blood pressure, groans, screams, and other exterior indicators.
"It simulates child birth as the patient goes through delivery, and the augmented reality glasses show you the baby in the uterus and how it moves, shoulder first, things like that," Donzelli said.
The university hopes to use the data network to link with a medical school in India, the national home of both Patels.
"They want seamless integration between two sites," Donzelli said. "He hopes to establish a college in India with the same kind of interaction, with teachers here teaching medical students over there."