CLEARWATER — It won't be long before the public gets its chance to weigh in on the future of one of the county's most dangerous intersections at Gulf to Bay Boulevard and Belcher Road.
One of the new design options offered by Pinellas County officials would be the first of its kind in the state and is likely to fuel plenty of feedback.
After five years and hundreds of thousands of dollars spent on analysis, the Median U-Turn is the preferred alternative design because it would improve safety and cut down on congestion by eliminating all left turns at the intersection, Ken Jacobs, director of transportation for Pinellas County, told the City Council recently.
Instead, motorists who wish to turn left onto either road will have to travel through the intersection and make a U-turn at one of two new widened U-turn medians on Gulf to Bay Boulevard, which is also known as State Road 60.
Those traveling on Belcher Road who want to turn left would actually have to first turn right on Gulf to Bay.
"I can guarantee that you're going to have people who are not going to like this," Mayor Frank Hibbard said. "We don't adapt all that well around here to change and people just don't like change. It doesn't matter what the issue is."
Kevin Kuhlow, transportation services manager for Ayres Associates Inc., said it would take some getting used to, but the other conventional options weren't cutting it.
"FDOT (Florida Department of Transportation) as well as the Federal Highway Administration are really pushing and out there looking at innovative intersection alternatives," Kuhlow said. "The day of just adding more and more lanes, they're seeing decreasing benefit with doing that."
But that doesn't mean his engineering firm and county officials didn't examine other options.
One of the more standard alternatives, a $15 million to $18 million project to add dual left-turn lanes and right-turn lanes, was ineffective and actually made the intersection more dangerous, he said.
It would also force them to remove a vital traffic signal on Belcher Road that grants access to both Walmart to the east and Publix to the west.
Building an overpass was also explored, Kuhlow said.
However, the $80 million-plus cost of having Gulf to Bay pass over Belcher was far too expensive.
Council member Hoyt Hamilton said if safety is the main priority then the overpass was the best option.
"An overpass of some sort would make it even safer," he said. "But sometimes how do you put a price on public safety?"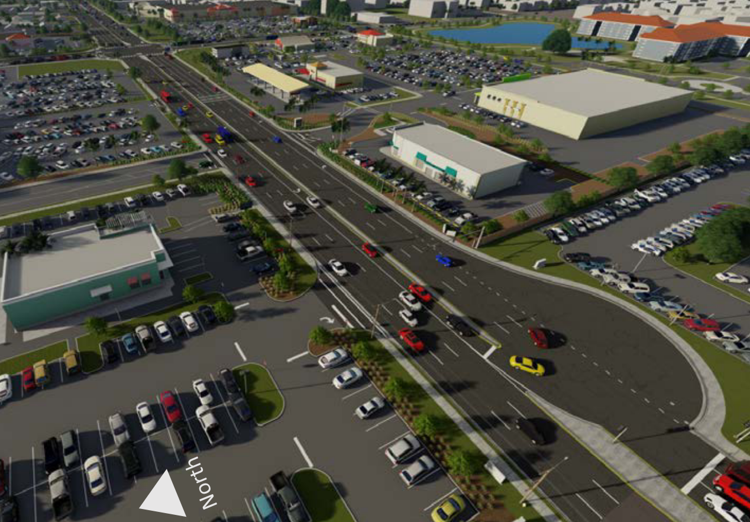 That left engineers looking for innovative designs, such as the median U-turn, which originated in Michigan in the 1960s and is also known as the Michigan U-turn.
"In Michigan, this is a pretty standard operation for how they do a lot of their roadways," Jacobs said, with Kuhlow adding that it has spread to other parts of the country.
But not Florida, which is what gave council members some pause about the idea.
"I'm not sure. It's something I've never seen anywhere else," Hamilton said. "I don't know how long it would take or how well people in Clearwater will adapt to this."
County commissioners were given an update on the project in July, and Commissioner Karen Seel expressed a similar concern, noting that Clearwater attracts many tourists who don't have the luxury of getting used to it over time.
Much like roundabouts, Kuhlow said a learning curve was to be expected, but new signs in advance of the intersection would help.
"Are people going to get into the wrong lane and maybe have to drive through the intersection and make a U-turn somewhere else?" he said. "Sure, when it first opens we expect that, but as time goes on and they get used to the intersection, you'll see things improving."
He said the increased safety and efficiency would be worth the initial trouble, because removing the left-turn lanes will mean fewer vehicles will cross paths and more vehicles will be allowed to pass through the intersection without waiting for lights.
He added that the signals at the new U-turns will coordinate with the lights at the main intersection so motorists shouldn't have to wait through them again.
The new design would also require the county to acquire land for the expanded U-turns that would be large enough to accommodate buses and trucks.
So, this is far from a done deal, Jacobs said, as construction wouldn't likely begin for another five years.
Engineers will next present the options to the public at the end of this year or the beginning of 2021 before seeking approval from the County Commission and FDOT.
"If what we hear back is you all are crazy and we would never do that, then that's what we'd bring back to the board (of county commissioners) and move forward from there with the best solution that everybody can buy into," he said.