CLEARWATER — The mayoral candidate forum at the Main Library started with a good-natured warning from former Bay News 9 Anchor Al Ruechel, who moderated the forum: Anyone in the audience who clapped, voiced approval or made other demonstrative noise would be escorted out of the room.
There was no need to caution the Feb. 11 standing-room crowd as it listened intently to each of the four candidates: former two-term Mayor Frank Hibbard; former four-term City Council member William Jonson; environmentalist and lawyer Elizabeth Drayer; and political newcomer Morton Myers.
In a forum bereft of outbursts, each candidate began by framing his or her campaign.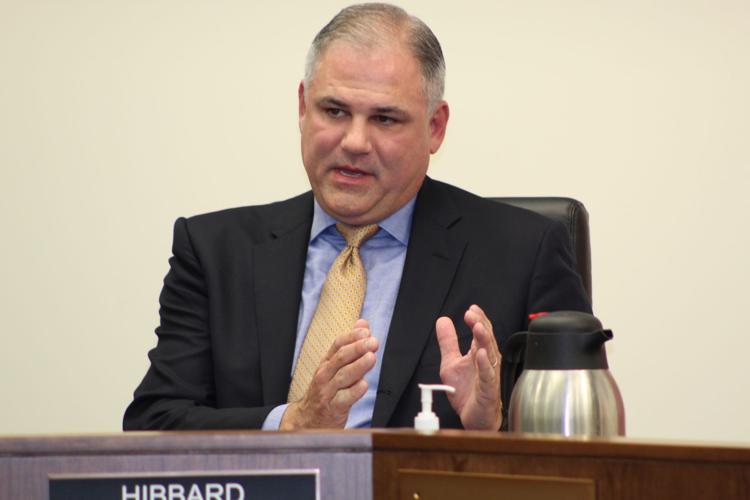 Hibbard characterized his campaign as a job interview, citing his leadership as mayor during the 2008 Great Recession that crippled city budgets nationwide. He is also chairman of the Ruth Eckerd Hall board and called for a strategic plan to guide City Council decision-making.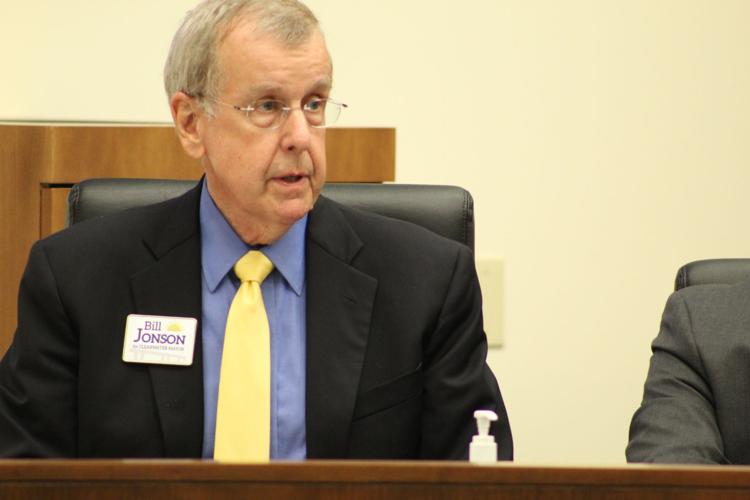 Jonson told the audience he would be a "servant leader" if elected to the mayoral post and listed his qualifications as a long-time city councilman who championed neighborhood issues.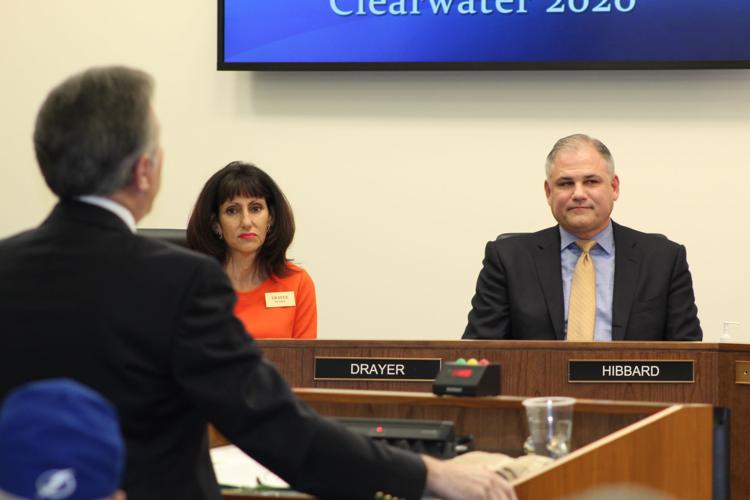 Drayer, a lawyer who funds her own campaign, has served on several city boards, including the Imagine Clearwater Stakeholder Committee. She is connected to the community, having chaired nonprofit committees, volunteered in schools and dedicated time to charities. The environmentalist wants to reduce pollution and overdevelopment, which she said is "killing natural Florida."
She told the audience that if she is elected to the at-large mayor's seat, she would change city ordinances and development code to require sustainability in new buildings and landscaping; create more ecotourism; and develop transportation policy to reduce automobiles. She warns of sea level rise and its cost to Clearwater Beach infrastructure.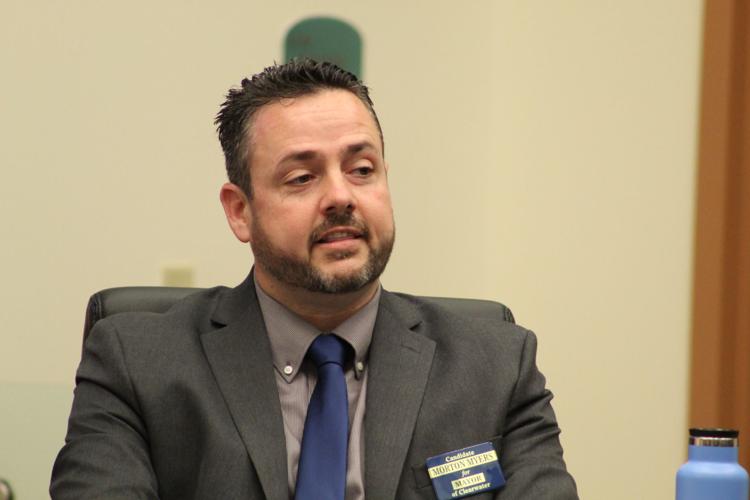 Myers underscored the fact that he was born and raised in Clearwater, is the proud father of four, and is married to a Pinellas County public school teacher. The former Eagle Scout said he'd like to "help small businesses start up and thrive." He pledged to reduce the overspending of taxpayer money and respond more effectively to small business and neighborhood issues.
Here are samples of the questions Ruechel asked, giving each candidate a minute to answer. The biggest issue of the night was Imagine Clearwater, the $64.5 million redevelopment of Coachman Park and the waterfront. Candidates believe the city's present plan varies greatly from the original vision that voters approved in a 2017 referendum.
Moderator: Imagine Clearwater. Right on target, or things in the plan you'd like to see changed?
Hibbard: There's good and bad in the plan. The orientation of the venue for the music should be in north end of the park. I don't believe in the $6.5 million price tag being put into the library, covering the roof area, and I don't think the city should be getting into a private venue for conventions and weddings that belong in the private sector. The whole plan needs to go through the design stage and be value-engineered. It will come before the voters again for approval. I don't believe in ever selling the Harborview Center site; the city should always hold on to that.
Jonson: There are plans that were presented to citizens; 75.6 percent voted in favor of those. Since that time, council has made changes, but not in a collaborative manner with the rest of the community. The stakeholder committee has been ignored, there has been no outreach. There's been a violation in the basic premise to make it for residents, and not just paid for by the residents.
Drayer: I served on the Imagine Clearwater Stakeholder Committee, I supported the plan for an expanded park ringed with retail and residents and restaurants to bring people downtown. I don't support the changes made after the citizen referendum. Like the 4,000-seat amphitheater and the library renovations that I don't believe are necessary, the pagoda, sound and light shows, fire (displays) and waterfalls have driven the price up significantly. I don't think they will work together or be attractive.
Myers: There is a lot I would change. Now we're looking like a theme park on paper. The amphitheater is out of touch. Stop listening to what the big interest groups and nonprofits are looking for. We don't want to sell (City Hall, the 1.4-acre aquarium parcel, and former Harborview Center site) to pay for it. That's a bad idea.
Moderator: People say they don't come downtown or purchase property downtown (because) of the presence of Scientology. We are not here to debate the merits of Scientology, but talk about city policy as it relates to the presence of Scientology.
Hibbard: I would encourage citizens to come downtown; Scientology is not contagious, you're not going to catch it by coming downtown. We need to inventory all the properties in downtown and talk to property owners about their intentions. We have some businesses that are doing well, Clear Sky on Cleveland is doing great in downtown, and the Nancy and David Bilheimer Capitol Theatre is the No. 2 theater of its size in the United States. We need people to get over the stigma they believe exists and start to come back to downtown and support the businesses that are here. It will create positive momentum.
Jonson: Quite frequently, the question comes up about Scientology and the relationship between the city and that organization. Of course we will enforce regulations equally against everybody. We also should maintain some communication with every organization in the city. Just (as we would for) any organization, if there are areas we can agree on, we move forward or part company and move on to the next thing.
Drayer: They have an opportunity to run for office like anyone else. People will decide whether or not to vote for Scientologists. People who live here can run for office, if they so choose.
Any violation of law or (harmful) activity by anyone in the city should be prosecuted, by Scientologists or anyone else. I would also use vacancy fees on vacant storefronts — of which there are many in downtown — to encourage owners of the buildings to fill them up with businesses that draw a variety of residents. The Imagine Clearwater plan that would lease the perimeter of the park to provide additional retail and restaurant and resident space, would draw a greater diversity of people. That would help improve the atmosphere of downtown and make people feel more comfortable.
Myers: I am the only candidate with a family on both sides of this debate. My father and brothers are members of the church. I'm not a member of the church and not a Scientologist, I can clearly understand issues downtown because I grew up around it. Open doors, transparency, getting out and talking work, but if we don't get families downtown with projects like community centers and parades — things that used to get families down here — there isn't much to talk about. I don't think we should sell any more properties down here and see what we can do with all these vacant properties the city doesn't own.
Moderator: How are you going to convince fellow city council members that your ideas, because you are mayor, are best for the city?
Hibbard: From a parliamentary standpoint, the mayor is the weakest member of the city council. He or she cannot make a motion or a second a motion. The real job of the mayor is to build consensus and deliberate with the rest of the city council. You have to be able to move the council toward a consensus to make decisions.
Jonson: To make sure everybody has a chance to participate in discussions. Not be shut off. When I was on the Pinellas Suncoast Transit Authority, I looked at issues and not people-based things. We rebuilt that organization with a strategic plan that focuses on goals. That has to be done here; sometimes the (Clearwater) council seems to be shut off because no one will listen to ideas. That should not happen. Part of the job of mayor is to make sure the council comes up with clear and consistent direction for the city manager. That is their Number One priority and they haven't been doing that in the past.
Myers: I'm small business owner, I have to convince people every day. Sometimes you have to open up and talk. You have to be open and transparent in your communication. I sell things, I buy things, you have to tell council members your ideas, tell them why your ideas will work. Communication with the rest of the City Council is the key ingredient to be able to get things done in this city.
Drayer: To get facts together and marshal them and make convincing arguments is what lawyers do best. I was also a mediator, and that requires bringing people together and convincing them to agree to something and they all give up a little bit and arrive at consensus. Having persuasive arguments and working with people of different backgrounds and political persuasion is essential and that will get the job done.