CLEARWATER — The dozen concrete statues of American soldiers awaited their christening under a beautiful blue sky and a small flotilla of dive boats bobbing on a choppy sea.
As television news crews set up their shots of the site from the upper deck of the Super Queen fishing boat on Aug. 5, a few veterans of Vietnam and other wars kept an eye on their grandchildren as they mingled with Coast Guard personnel and members of the public.
A 30-foot-long red ribbon attached to two small powerboats rose and fell with the chop. Political dignitaries took to a podium aboard the Super Queen and spoke of the catastrophe of war and the need to take care of soldiers and sailors who still deal with their injuries.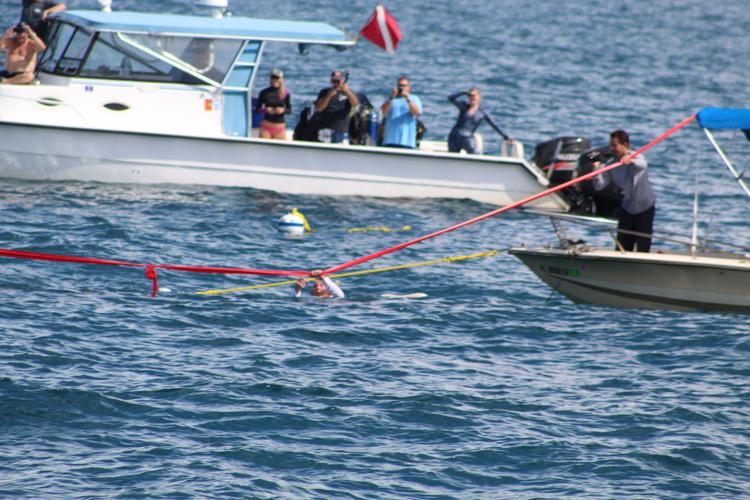 Then it was time: A 78-year-old diver, his head just visible above the waves beyond the podium, cut the ribbon above the Circle of Heroes, the nation's first underwater dive memorial honoring veterans.
The statues, each standing 6 feet tall, are the first half of what will become a circle of 24 statues of soldiers of different wars and missions: infantry, pilots, artillery, cavalry, and other warriors from World War II, Korea, Vietnam, the Gulf War, and other wars. The other dozen soldiers are scheduled to be installed by Veterans Day 2020.
At the center of the circle a single monument, weighing nearly 3 tons, features the bronze emblems representing each of the U.S. armed forces — Air Force, Army, Marines, Navy and Coast Guard. 
The Circle of Heroes is not just a memorial and tourist attraction, but an important therapeutic scuba dive site for disabled veterans suffering from PTSD, depression and trauma, its advocates said.
David Miller, the National American Legion representative at Bay Pines VA Hospital, helps veterans obtain their benefits and the care they need.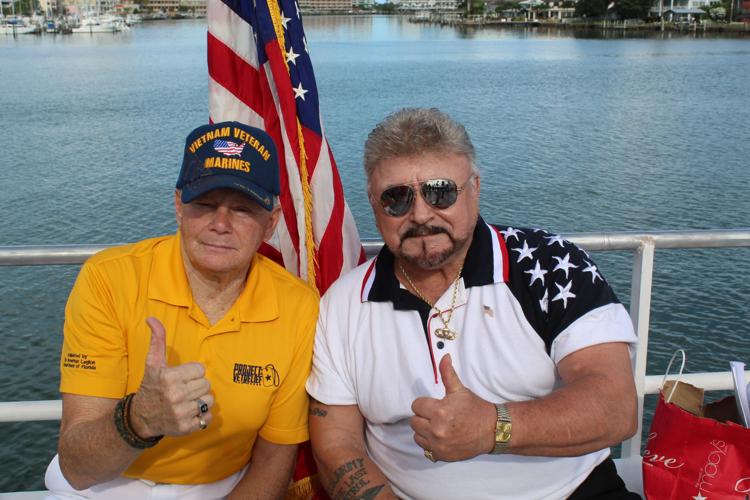 "This dive site is going to be good therapy," Miller said. "These young vets can dive, see these statues, and it keeps them from thinking about their own problems. It helps them keep off the opiates and all the medication they are given these days."
Anthony Rizzo, Miller's deputy at Bay Pines, sang the National Anthem before the ribbon-cutting. Rizzo was in the 173rd Airborne Brigade, the famed unit of the 101st Airborne Division that rescued parts of the 3rd Marine Division from the siege of the Khe Sanh marine base in Vietnam in 1968. Miller was among the marines Rizzo's unit helicoptered out. They met years after the war ended and have been friends since.
"See, the Marines and the U.S. Army work together, contrary to belief," Rizzo said, laughing.
Neysa Grzywa, director of business operations with Deep Sea Valkyries, a veterans' trauma counseling and retreat program based in Phoenix, sat on a bench on the deck, running the speech she was to give through her mind.
Deep Sea Valkyries takes veterans around the nation on weeklong dive retreats, including the Bahamas. They receive 25 hours of trauma counseling from a licensed therapist who's also a veteran and are invited to participate in morning and evening devotions with a military chaplain, she said.
"It is so important to be here to support this memorial," she said. "It's a good place to come and heal. It's something that's so important not just for our veterans, but for all veterans to dive here."
In addition to U.S. Rep. Gus Bilirakis of Palm Harbor, State Sen. Ed Hooper, also of Palm Harbor, Mayor Joe Ayoub of Safety Harbor, and Clearwater City Commissioner David Allbritton, the commanding officer of Coast Guard Station Sand Key in Clearwater was on hand to watch the ribbon-cutting. Bosun Tracey E. Randall and her staff observed the ceremonies from the unit's 45-foot fast-response boat.
For Allbritton, Clearwater is the perfect place for the Circle of Heroes and Veterans Reef, the name of the collection of man-made objects sunk in the area 12 miles off Clearwater.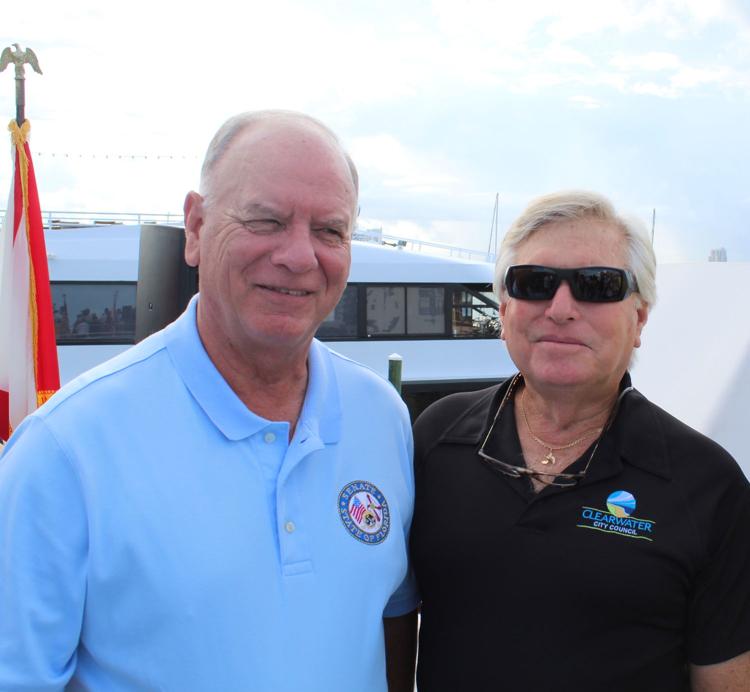 "We really love our veterans in Clearwater," Allbritton said. "We have the Florida Veterans Memorial Plaza at Crest Lake Park that was sponsored by the city and the Tampa Bay Veterans Alliance. It makes perfect sense to have the Circle of Heroes just off shore of our city."
The man who envisioned the Circle of Heroes — and the diver who cut the ribbon — is Heyward Mathews, uncle to former U.S. Rep. David Jolley. A professor of oceanography who taught biology, ocean sciences, and scuba at St. Petersburg College for 49 years, Mathews has been a local booster for attracting scuba divers to Pinellas County, especially Clearwater and Dunedin waters, for decades. He's blown up all kinds of objects, including surplus military aircraft and Army tanks, and sunk them off Pinellas County beaches.
"I put an airplane down there on Veterans Reef, a Neptune Bomber," Mathews told the Beacon in February. "I shortened the wings and chained it to a barge and we floated it out there."
Mathews is a lively defender of marine life and veterans.
"While the existing materials on Veterans Reef have proven to be very attractive to both anglers and divers, this new project is not designed to provide habitat for food or game fish," he said. "Having a reef designed especially for veterans would also be the first of its kind in the country and make Pinellas County a dive destination for the whole country and elsewhere."
The memorial, which is expected to cost roughly $500,000, is being paid for through private donations, fundraisers, and small state grants. Pinellas County and other sources have provided $50,000 toward the project. 
Each of the introductory statues weighs about 1,300 pounds, Mathews said.