CLEARWATER — Some guys have all the fun, but Clearwater professional angler Brian Jill and three extreme angler friends — Chris Owens, Thad Robinson, and Jay Johnson — go way out of their way to find that fun.
Facing deadly jungle wasps, skin-eating parasites, and giant alligators with stiletto smiles, the quartet of fishing adventurers share the insanity of their quest to fish the world's most remote lakes, streams, and ocean inlets on "Fish or Die," the new Animal Planet series that debuted April 21.
The extreme friends have a simple goal: To trek for days through hellish landscapes and present bait to the most elusive and pugnacious fighting fish ever created.
"From glacial streams in Greenland to raging rapids in Borneo, this team of adventurers travel the globe to chase rumors of giant fish in untouched waters," is how Animal Planet producers describe the new cable series that Jill (who now lives in Dunedin) and his friends self-shot several years ago.
They sought golden dorado in Bolivian jungle streams; large tiger fish in Zambia; hucho taimen (salmon the size of men) in Mongolia; Arctic char in Greenland, and other prize fish — all while navigating dangerous locals, freeing their vehicles from chest-deep mud, and avoiding various biting, stinging, crawling, flying, and slithering native animals.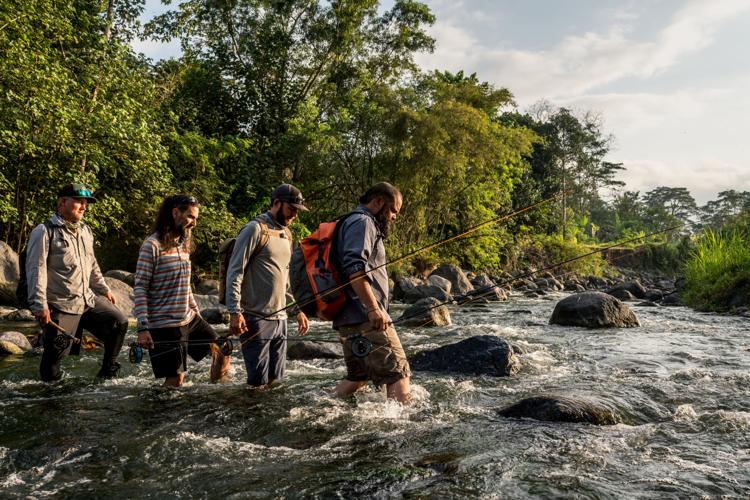 Each of the four pals has a distinctive personality that, when combined with everyone else's, creates a cohesive whole of chattering lunacy, action, humor, and adventure.
Jill, owner and operator of Lost Coast Anglers in the Tampa area, is described by one of his fishing colleagues on the show as "the guy you want in a foxhole organizing the ammo." They also respect him for his ability to jury-rig repairs in the middle of nowhere, comparing him to "MacGyver," the inventive 1980s television hero who could save the day with a paperclip.
"It just makes me feel better knowing that I'm self-sufficient in the sense that I can at least have a shot at repairing something, somebody's got to do it," the Clearwater Central Catholic High School graduate (Class of 1995) says in a voice-over to images of him repairing the team's broken-down truck in the jungle.
A "Fish or Die" press release characterizes Jill's personality in this way: "Brian, a boat captain with nerves of steel, keeps the group on track toward their goal."
The Beacon caught up with the Clearwater native between charters. He tows his Hells Bay skiff to various boat ramps in the Tampa Bay region where he meets his anglers. That puts him in striking distance of fishing grounds "depending on conditions and what species we are going after," he told the Beacon.
He's been fishing since he was a kid when he built a wooden trailer "so I could tow my first Jon boat with my bicycle. Those were good days," he remembered.
Jill and his wife (who he praises as "wonderful") and their 6-year-old daughter enjoy going out on the boat and experiencing the outdoors. The little one is already following in her father's footsteps.
"She is just starting to get into fishing," he said. "She likes to see all the pictures of my fish and she can name off all the local species."
Q: When did you realize you loved fishing?
A: I started fishing at the small pond down the street from my house for bluegill and bass at a young age. My Dad first brought me out fishing and my uncle gave me my first fly rod and taught me how to cast and tie some flies. I think at that point I realized there was so much more to this sport, so I knew I was going to be in it for life.
Q: What are your earliest memories of fishing on Tampa Bay and the Gulf of Mexico?
A: When I was around 11 or 12 years old, I would fish in Tampa Bay with my cousin Billy, my dad and my sister. We caught mackerel all day long and had so much fun! I remember fishing the old Sand Key Bridge for monster snook with my friends after high school and staying out all night long waiting for the next bite. 
 Q: Where was your first remote fishing trip?
A: I traveled down to Patagonia with a few buddies after I graduated from college in Colorado. I bought a Jeep in Buenos Aires, Argentina, and we drove it all the way down to the bottom of South America. We fished the entire journey down and spent more than five months in the country. It was a life-changing experience and we made a film about it called the "Trout Bum Diaries: Patagonia." This trip definitely solidified my love for exploring remote fishing destinations.
Q: What draws you to remote fishing spots?
A: Being the first to cast a fly or lure into water for fish that have never been fished for is a pretty wild experience. The fish in these truly remote locations are not pressured, easier to catch, and usually larger. It's a pretty simple formula — go further away from people and the fish get bigger and easier to hook, but maybe not land. 
 Q: How did the different personalities on "Fish or Die" make your trips so interesting?
A: We share the bond of fishing and that kept us moving toward the same goal. Though we are all very different personalities, I think that's what makes our friendships work. It's always fun to see what the other guy's take is as challenges arise, to see how they handle things.
Q: Tell us about the big one that got away.
A: We were on a small South Pacific island, fishing from shore. I had cast my fly into a passageway in the reef. I hooked a huge giant trevally — a species of jack that can be 100 pounds or larger — on my 12-weight fly rod. Almost immediately he had taken most of my fly line, and though I was pulling as hard as I could, he had the upper hand and cut my line on the sharp coral. It was a total heart breaker. To this day giant trevally have evaded me.