CLEARWATER – Technology has caught up with those running in the annual Tampa Bay Times Turkey Trot.
Set for Thanksgiving morning for the 40th straight year, new to the event are microchips that will time the participants in the competitive Wingding 5K and Turkey Trot 10K races. Within 3 minutes of crossing the finish line at Clearwater High School's Jack White Stadium, runners can see their official results posted at a kiosk.
"Even the walkers want to know how they did," said race director Skip Rogers with a laugh. "The millennials expect this technology. They even use their GPS and then tell me about problems with the race course."
The chips are provided by race organizers and are attached to a runner's bib. At the finish line, an electronic pad they step on activates a transmission. In the past, runners were hand-timed and had to wait to receive finisher cards.
While that may sound like serious stuff, the event still features plenty of non-competitive endeavors. The Gobbler is 1 mile in length and is home to runners and walkers, including those with strollers, as is the 4K Abe's Drumstick. That race is new and replaces a 5K event that was a bit too long, Rogers said, and causing a logjam for the start of later races.
All races begin on Keene Road, just south of Gulf to Bay Boulevard, and head south. Four of them take off within two hours. 
For the diehards, there's the Clearwater Challenge. You run the 5K, 1 mile and 10K back-to-back-to-back.
The event is organized by the West Florida Y Runners Club, where many race proceeds go to provide scholarships. Other area charities benefit as well.
Rogers, a Clearwater resident who is the club's president, has been race director for 30 years and he's seen the event, which draws as many as 17,000 participants, become much more than a race. For many, it's a homecoming.
"It's a meeting place, especially for the kids who are coming home from college for Thanksgiving," Rogers said. "They can't see everybody in one day, so everyone knows to just meet in the infield (at the end of the race). It's really a neat scene."
Largo resident Kathleen DeNardi also appreciates the family feel of things.
"I have brought my autistic son Michael since he was a baby. He is now 16," she said. "It is a family tradition and although it is a large event he is able to enjoy it because the people include him. He can walk at his pace and the race directors are kind to him."
Christy Smith takes running seriously, but also finds the friendliness and laid-back nature of the Turkey Trot appealing.
"It seems to bring people from the community together who would not otherwise participate in a 5k or other distance," the Seminole resident said. "And it gives competitive runners a chance to run a shorter race with their kids, parents, grandparents or out-of-town relatives."
Of course, others appreciate the fact it's not only fun and festive but a good way to feel they'll be earning their Thanksgiving feast to follow.
"I've done either the 5K or 10K for many years because it's as much a tradition as carving the turkey," Maggie Hall, a Saint Petersburg, resident, said. "It gets my mega-carbo day off to an active start and it's always great to see the holiday costumes and the families running together. 
"I always bring donations for the food bank to remember those who aren't as fortunate. I'll be at the 5K line again this year."
Rogers has also marveled at how the Turkey Trot brand seems to be everywhere. Young and old proudly wear the highly coveted T-shirt, which features a new design each year.
"Years ago, someone accidentally ordered 1,000 infant shirts," Rogers said. "I said, 'print 'em.' Sure enough they all went."
The designs also make their way to collectable coffee mugs.
"I'm always there for the mugs. They make perfect trophies," said Thomas Brown, a Land o' Lakes resident who is a frequent participant. "I have to make my collection large enough that my son Oscar won't be able to beat it."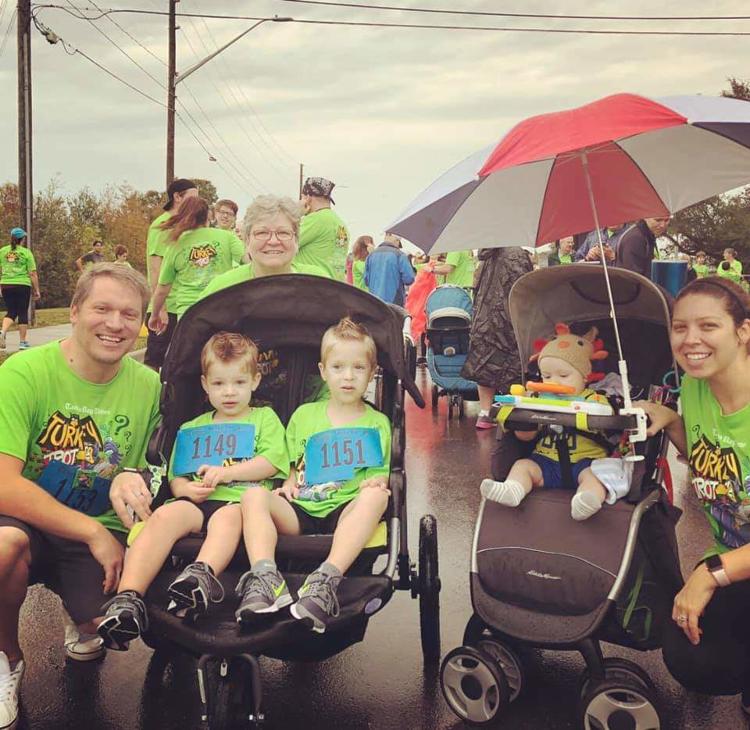 Enjoying its first Turkey Trot last year was the Andrews family of Clearwater.
"Our oldest two loved the one mile – they ran it to my surprise," said Traci Andrews, mother of a 6-, 4- and 1-year-old. "I had a double stroller for them. To this day, almost a year later, they still talk about the Turkey Trot every single time we pass the Keene and Gulf to Bay intersection – and we live off of Drew (Street) so we pass it a lot. 'There's the Turkey Trot, there it is!' they say.
"Needless to say, we will be going again this year and making this a part of our family tradition. Last year, even grandma came."