SAFETY HARBOR — While much attention over the past year has been paid to businesses affected by the coronavirus crisis, public facilities like libraries and community centers have also faced the brunt of the pandemic.
Much like bars, restaurants and retail shops, many libraries have suffered dramatic drops in attendance, which in turn has dealt a serious blow to everyday activities and long-term plans.
In Safety Harbor, where the public library was a huge part of everyday life for many residents before COVID-19, the drop-off has been dramatic but not disastrous, according to longtime library director Lisa Kothe.
"Like the rest of us, we're just hanging in there," Kothe said. "Our (daily) door count is down because people still aren't going out. Normally we'd see 550-600 people a day in springtime when the snowbirds are here, now we're probably averaging 320 a day. But we don't have an in-person programming — everything is virtual — so some sort of drop off was to be expected. All things considered, we're doing OK."
Kothe, who has worked at the library since 2008 and became director in 2011, said like most places they quickly adjusted their business model to provide remote and alternative learning options and activities.
"The staff is getting really creative," Kothe said, noting they have added take-home activities like terrarium and jewelry making as well as remote cooking and art lessons; they're even hosting a vaccination-registration training class March 22.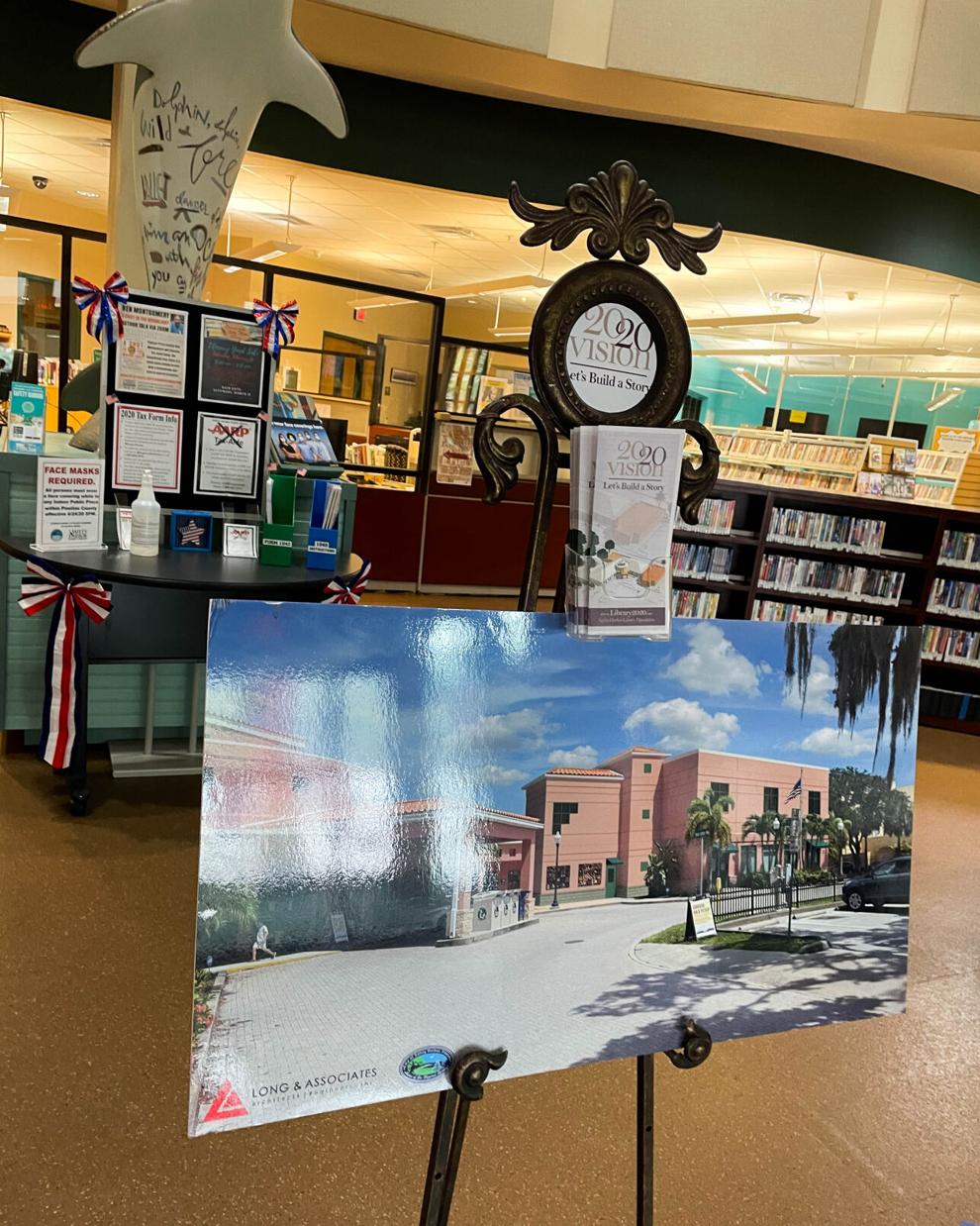 "People are still using the library's computers, and our e-book and tool checkouts have increased dramatically," she said. "So, they are still using us, just not to the same magnitude. But we're adapting what we can do to operate safely and keep our staff safe."
While day-to-day operations have continued during the pandemic, one crucial element of the Safety Harbor Public Library's future was put on hold.
When officials announced their plan to add a second story above the building that houses the library's conference and meeting rooms several years ago, the goal was to have the addition done by 2020, hence the name of the project, 20/20 Vision: Let's Build a Story.
Obviously, the coronavirus put a severe crimp in the expansion plan, which is being financed by city funds and includes an effort by the Safety Harbor Public Library Foundation to raise $500,000 for things like computers, audio/visual equipment, furniture and fixtures and other ancillary items.
But Kothe said after weathering the storm for the last year, the project is finally back on track.
"The big question I get is, 'Why not build it now, when it's slow?'" Kothe said of the 4,700-square-foot addition, which would be home to a community meeting space as well as relocated offices and conference rooms from the first level. "And I tell them it depends on funding. The foundation has been diligently raising money for the last five years with a goal of $500,000 for whatever is needed to outfit the second story and so far, they've raised a little more than half, just under $300,000. So, it has been delayed. But we still have some time."
Kothe said they are in the design phase now, with an eye toward putting it out to bid early next year and having the construction completed by the end of 2022. "There are a lot of plans to review and permitting processes to go through," she said.
But she understands with everything going on in the world right now, all she can do is wait and hope.
"We're happy and we're hopeful," the always upbeat Kothe said. "It's just going to take a little while, but the community will benefit in the long run. We're a community meeting place and we've been affected by the pandemic like everyone else, but that doesn't mean we won't go back to being one when this is over."
For more on the Safety Harbor Public Library's 20/20 Vision expansion project, visit safetyharborlibraryfoundation.org/2020vision.