SAFETY HARBOR — When Jacqueline Hayes moved from Boston to Safety Harbor in 2014 to be closer to her family, she had no idea her southern relocation would be filled with attorney consultations and virtual court appearances, century-old gravesites and ground-penetrating radar.
But that's all been part Hayes' journey over the past seven years as she worked to gain ownership of the property now known as Whispering Souls African American Cemetery. The small slice of land off Sunset Point Road near U.S. 19 contains the graves of more than 100 African American men, women, and children, including Hayes' maternal grandmother and grandfather as well as other distant relatives.
After learning about the cemetery's plight, which included a convoluted ownership trail and a long history of neglect, Hayes decided to join the fight to preserve the historic site and restore it to its rightful condition. The process has included forming a nonprofit, the Whispering Souls African American Cemetery Restoration Project, and renaming the former Safety Harbor Colored Cemetery in 2017, conducting several community cleanups and fundraisers and ultimately obtaining ownership of the one-acre parcel earlier this summer, a milestone for Hayes' group that doesn't mark end of her journey.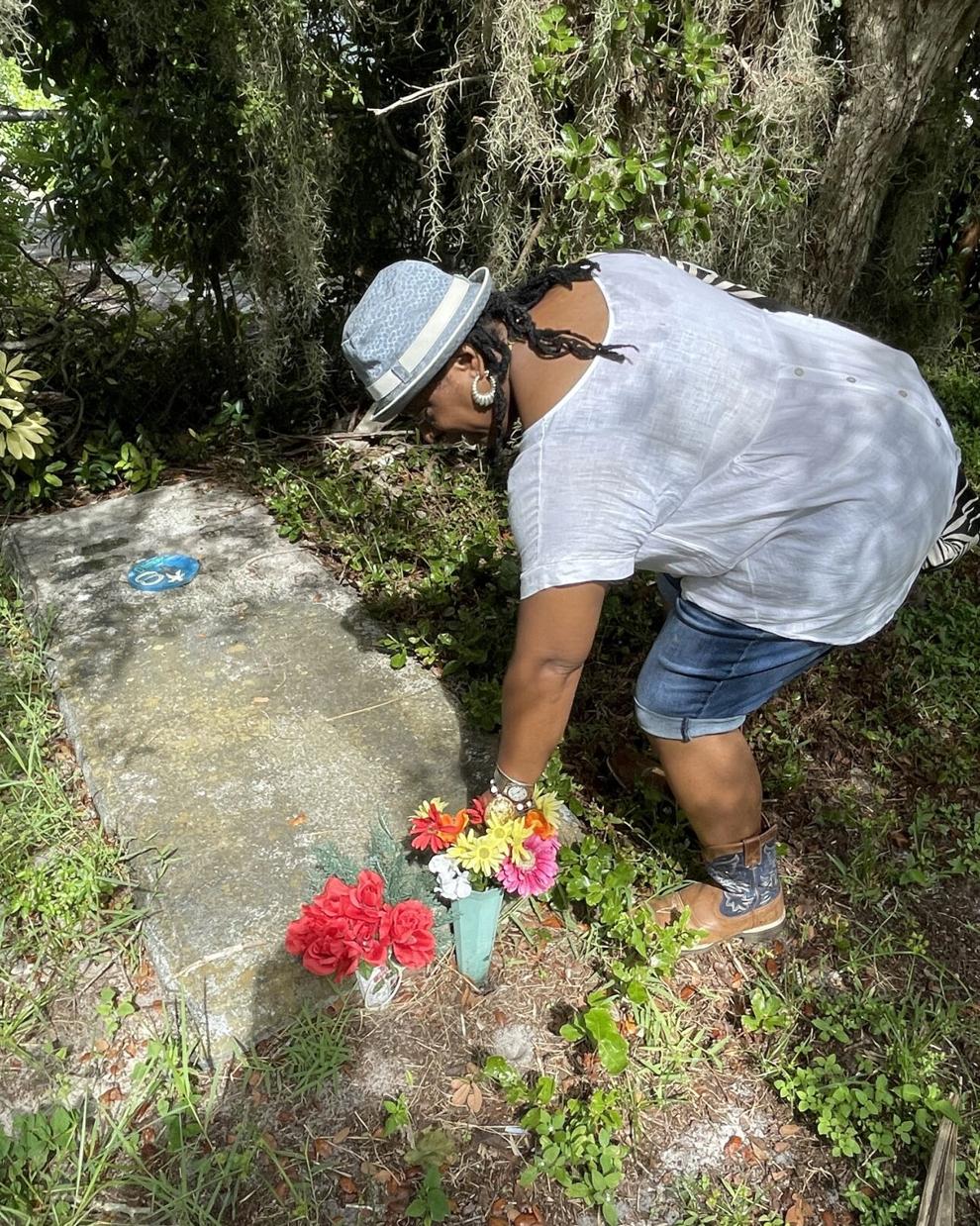 "I came to Florida in late 2014 to take care of sick family and someone said my brother always spoke at Black History events and I should do the same," Hayes recalled recently from the site, which measures less than one square acre but contains more stories and history than several city blocks. "So, I spoke at the (Safety Harbor Museum and Cultural Center) for Black History month about my grandfather, Charlie Smith, and his contributions to Safety Harbor, how he helped build the Safety Harbor Hotel and laid the bricks on Main Street, and my grandmother who was a cook at the original Spa, and Lou came up to me and asked if I knew they were buried here, and that's how it all started."
Lou is Louis Claudio, a Safety Harbor resident and historian who's long been involved with the efforts to identify the graves and clean up the perennially overgrown grounds, which feature roughly a dozen headstones and gravesites visible in the high grass, including one of a 5-month-old boy who died in 1896. "When Lou saw the baby's grave, he made a promise this cemetery would be protected and he would get involved to make sure it was taken care of," Hayes said.
Claudio, a New York native who has been in the news recently calling for the renaming of Philippe Park, said preserving and restoring the cemetery has long been a priority. "Since I first became acquainted with the cemetery we now call Whispering Souls back in 1997, and saw the marker that dated back to 1896, I've wanted 3 things for it," Claudio said via email. "1) to learn all I could about its history, 2) a ground-penetrating radar (GPR) survey to find possible unmarked graves, and 3) a firm and clear title/deed to protect the site, since the 1953 deed I found was legally nebulous."
Claudio, who said he "acquired an interest in cemeteries as historical resources" while growing up in upper Manhattan, noted a GPR survey conducted by USF in 2018 "determined over 100 probable unmarked graves at the site," and he said they've spent the past few years working with officials including Safety Harbor City Manager Matt Spoor, former Safety Harbor City Commissioner Andy Zodrow, the late Clearwater City Manager Bill Horne, and Tampa attorney Herb Donica, navigating the tedious deed transferal process.
"I am very grateful for the participation of the many volunteers who have been part of caring for the cemetery over the past few years," Claudio wrote. "Special appreciation must go to the legal team headed by Herbert Donica and Andrew Zodrow who worked — pro bono — for over two years to help us navigate the legal system to finally acquire a clear and firm title to the cemetery."
Hayes, who became the face of the group's efforts over the years, is quick to deflect credit and praise everyone involved for their support. "Matt Spoor was a big help early on, and the community support has been amazing," she said, noting the property has been sporadically cleaned and maintained by everyone from neighbors to Boy Scout troops. "When we met with Bill Horne several years ago, he said we all have to work together to figure this out because it's never been done before, and he was right, God rest his soul."
With the heavy lifting done on the legal side following a Pinellas County judge's ruling in July, the group can turn its focus to the preservation and restoration plans, which include a perimeter fence and new entry gate, an angel garden for the children buried there and a veteran's section for the many military members interred at Whispering Souls.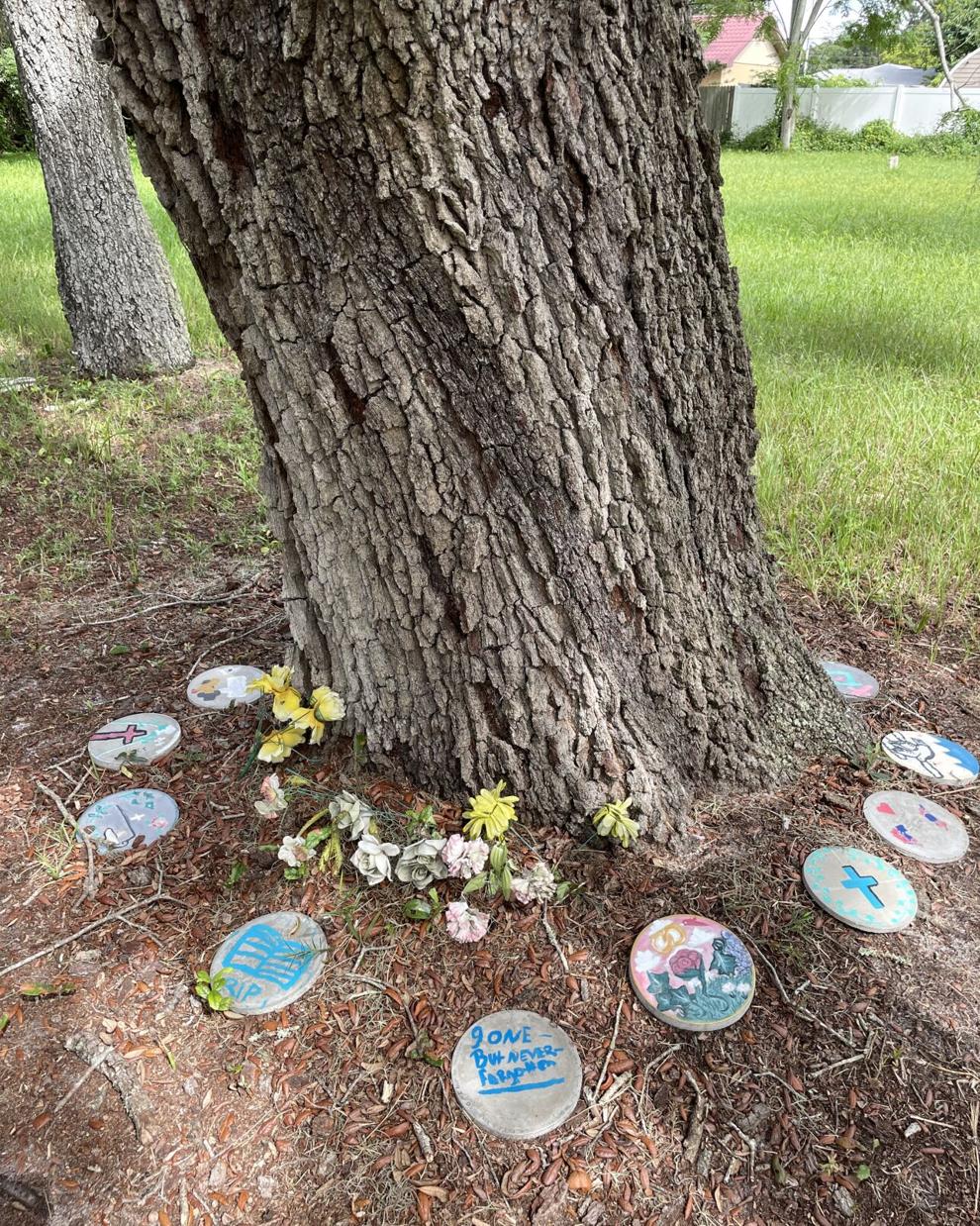 "We want to do a renaming ceremony next year, and we used to do the Sun Splash concert fundraiser, so we want to bring that back in 2022," Hayes said. "Now that we have legal ownership there's so much more we can do in terms of fundraising and applying for grants."
Standing a few feet away from her grandparents' graves with friends and longtime supporters of the cause Tonya Barber and Chris Vitale, Hayes described the seven-year journey from Safety Harbor outsider to legal caretaker of the property as surreal.
"I never thought it would happen," she said after posing wither friends in front of the cemetery's original, rusted gate. "The judge even put an extra level of protection in to make sure it's never built over because he has ties to the neighborhood. Of all the judges we could get, we got one from the neighborhood. Like I said, the amount of community support has been amazing. During our first cleanup I looked around and said, we've got a lot of good people behind us."