PINELLAS PARK — The grounds at the Wagon Wheel Flea Market, once plentiful with a din of humanity, cars and wares to be sold, sit empty and lonesome now, vacant of their once boisterous clamor.
They will remain empty, a half-century's worth of history left to fade away under the hot Florida sun.
A community staple for more than 50 years, the market — which rests in unincorporated Pinellas Park along Park Boulevard — will remain closed, its owners announced on June 10, marking the end of an era in Pinellas County.
What began in 1966 as a roadside stand, Hardy Huntley would mold into what would become of the largest flea markets in the state, with 2,000 vendor stalls, both indoors and outdoors.
In a statement released on its website and Facebook page, Wagon Wheel owners announced the market would not reopen following its March 15 closure due to the COVID-19 pandemic.
"It is with a heavy-heart that we share with you the news that the Wagon Wheel and Mustang Flea Markets will not be reopening," the statement read. "This has been the most difficult decision we have ever made as a family. We wish you all the best. It is with tears and fond memories that we say goodbye and thank you."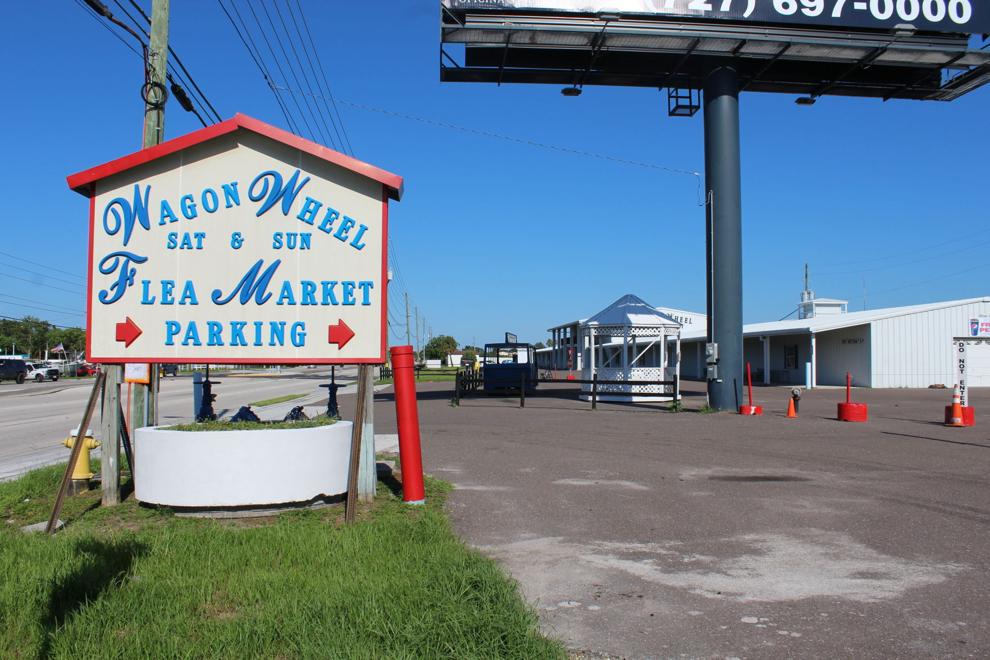 The sudden announcement sparked both outrage and sadness as vendors and customers alike took to Facebook to voice their opinions. As of June 15, the announcement had more than 5,000 comments and more than 13,000 shares.
"I'm heartbroken about it," said Bob Letsch, who has been a vendor at the market on and off for 40 years. "But what can you do? It'll probably be condos soon."
Bob, known as Chubby Bob at the market, sold sunglasses at the Wagon Wheel. He said one of the best things about the market was the opportunity it gave seniors on a budget or young business men and women to make a little money each month.
"I do feel sorry for small entrepreneurs," Letsch said. "It's a shame, really."
Letsch said he doesn't hold the decision against the owners, who he said are "a wonderful family."
Vendor Wendy Barrett of Gulfport said the suddenness of the announcement left her reeling.
"I'm in shock," she said. "I've been there for 27 years."
Barrett said she doesn't harbor any ill will for the family.
"They are thinking about what's best for them, and that's how it should be," she said. "They did what they had to do."
Not everyone has been so forgiving of the Huntley family.
In a Facebook message to a TBN editor, Harlan Newman said the closure was contrary to Hardy Huntley's dream.
"We've been selling at Wagon Wheel Flea Market in Pinellas Park for decades," Newman said, "Bringing millions of people to Pinellas Park.
"It hurts us deeply that the Huntleys decided to close," he said.
The Huntley family did not respond to numerous requests for comment.
A look back
Created in 1966 by Hardy Huntley who arrived here in 1958 in a beatup Oldsmobile, the market had gravitated into a place where young and old and the rich and the poor congregate.
The market's name is not the work of a marketing genius. Huntley had an old wagon wheel he'd found on the property, affixed it to a pole and, hence, the Wagon Wheel moniker.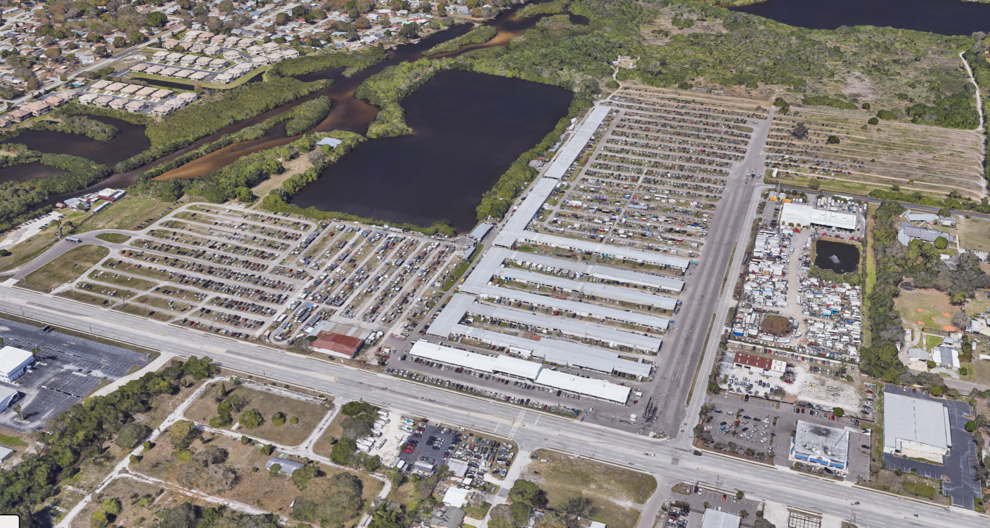 The 150-acre property was purchased piecemeal over a number of years.
"It was a shell pit and there was a large vein of them that was mined to build Pinellas County's early roads," Huntley told Tampa Bay Newspapers in 2007.
Huntley quit high school, later earned a general education diploma, and hung out with "the bad boys" of his native North Carolina. He arrived in Florida at 22 with military service behind him and a knack for making money.
"I worked in a supermarket for 75 cents an hour," he said. "Later I built Hardy's, a drive-thru restaurant where Shoppes at Park Place Mall on U.S. 19 now stands."
It was there that he met his wife, Janet.
Huntley and his former partner and friend Norman Scoggins bought land across from where the Wagon Wheel now stands. Park Boulevard was a crushed shell road and they set up a used car dealership. They made enough money to buy a 4-acre tract on what would become the flea market.
"We did nothing with it for almost a year," Huntley said. "Then someone came up with the idea to sell used items."
Calling it "Trade Days," each weekend people paid $2 to rent space on the property. While merchants sold their wares, Huntley was hawking food and soft drinks.
More acreage was purchased in pieces. The land also was used as a dump for appliances, wood, tree stumps and everything else except actual garbage.
The merchandise was changing. It was better, and new. Huntley launched the Mustang Flea Market on land that now is the home of a Lowe's. The Mustang, which is also closing, was later relocated next to the Wagon Wheel.
Huntley died in 2013 at the age of 77.
Vendors who have items on market grounds will be allowed to pick up their merchandise from 10 a.m. to 4 p.m. until Friday, June 19; from 10 a.m. to 4 p.m. from Monday, June 22, to Friday, June 26, and Monday, June 29 to Tuesday, June 30.
Vendors are prohibited from selling merchandise during stall removals.