For the third consecutive week, Florida Department of Health reported fewer COVID-19 cases in Pinellas County. From May 3-9, 801 new cases were reported, bringing the total to 79,947. Twenty people died due to the novel coronavirus, upping the death toll to 1,633.
From April 26-May 2, 1,062 news cases and 17 deaths were reported. From April 19-25, DOH reported 1,292 cases and 17 deaths. It was the first week in a month that fewer cases were reported. From April 12-18, 1,684 new cases and 14 deaths were reported.
The county's first two cases were confirmed on March 11, and the first death on March 23.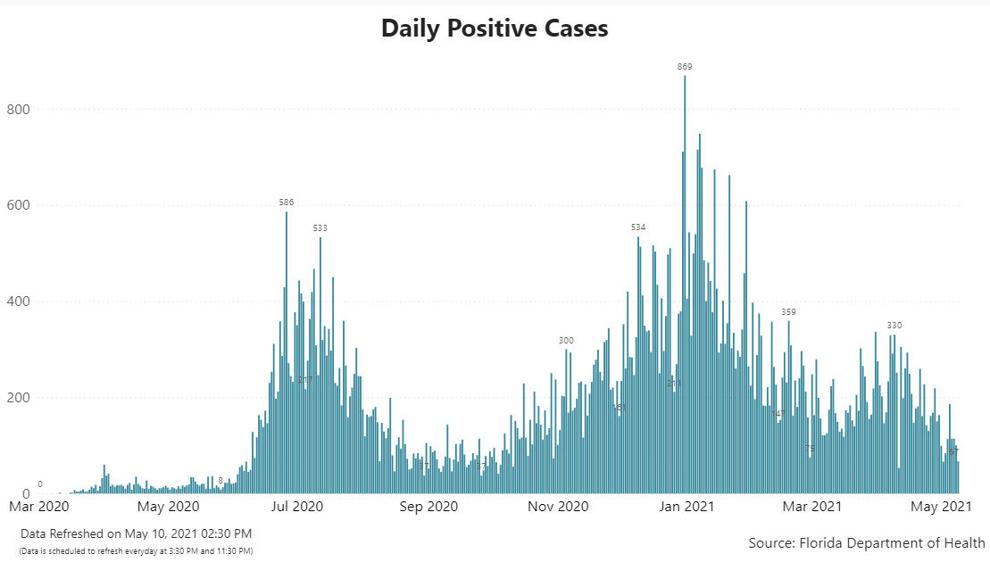 Statewide, the cumulative number of cases increased to 2,272,102 with 36,498 deaths as of May 9. According to Johns Hopkins University Center for Systems for Science and Engineering, as of 4 p.m. May 10 in the United States, cases totaled 32.73 million with 582,026 deaths. Globally, 158.5million cases and nearly 3.3 million deaths were reported.
COVID-19 cases in Pinellas included 77,979 residents and 1,968 non-residents. More cases were in females, 41,541 (53%), to 36,391 in males. Gender was unknown in 47. Ages range from 0-105. Median age was 42. Thirteen percent were Black, and 12% were Hispanic.
About 7% of all cases in the county have been hospitalized since March 2020. DOH reported that 5,113 residents and 76 nonresidents had been hospitalized in Pinellas.
Local hospitals had 26% capacity in staffed adult beds (820 of 3,142) on Monday with 27% capacity (88 of 328) in ICU beds. According to the Florida Agency for Health Care Administration, as of 10:37 a.m. May 10, 109 beds were occupied by a COVID-19 patient with 33 in ICU and 13 on a ventilator.
Testing in Pinellas
DOH reported that 4.89% of 1,302 test results on May 9 were positive, 4.47% of 2,203 results on May 8, 3.03% of 3,681 on May 7, 2.51% of 4,430 on May 6, 3.87% of 4,615 on May 5, 2.79% of 3,930 on May 4, 4.35% of 1,848 on May 3, 3.58% of 1,776 on May 2 and 4.52% of 2,153 on May 1.
For information on testing, contact your health provider, or call the state DOH's COVID-19 hotline at 1-866-779-6121 or the Pinellas County DOH's hotline at 727-824-6900. Both numbers are available 24/7. For online information, visit https://covid19.pinellascounty.org/testing/.
Case counts in local municipalities
Since March 2020, 6,993 cases have been reported at long-term care facilities, or 9% of cases in the county.
For current case counts in Pinellas County schools, visit https://www.pcsb.org/COVID19Cases.
DOH provided updated and revised information on the city of residence for cases in Pinellas on Monday, May 10. St. Petersburg has the most with 28,383 cases, 15,372 are Clearwater residents, 8,503 from Largo, 5,509 from Palm Harbor, 4,254 from Seminole, 4,076 from Pinellas Park, 2,846 from Tarpon Springs, 2,498 from Dunedin, 1,617 from Oldsmar, 1,279 from Safety Harbor, 628 from Gulfport, 612 from Clearwater Beach, 351 from Indian Rocks Beach, 330 from Kenneth City, 310 from Belleair, 304 from South Pasadena, 244 from Madeira Beach, 124 from Belleair Beach, 119 from Tierra Verde, 94 from Crystal Beach, 91 from St. Pete Beach, 63 from Treasure Island, 63 from North Redington Beach, 37 from Bay Pines, 37 from Lealman, 26 from Redington Shores, 18 from Belleair Bluffs, 12 from Redington Beach, 10 from Ozona, eight from Indian Shores, one listed as homeless and 130 as missing.
COVID-19 deaths in Pinellas
DOH reported 20 new COVID-19 related deaths during the week of April 26-May 2 — three more than the week of April 26-May 2. The death toll stands at 1,633.
As of May 9, two deaths have been reported in the 15-24 age group, six deaths in the 25-34 age group, 20 in the 35-44 group (1%), 51 in 45-54 (3%), 136 in 55-64 (8%), 343 in 65-74 (21%), 478 in 75-84 (29%) and 605 (37%) in ages 85 and up.
At least 906 of the county's deaths were residents or staff at one of the county's long-term care facilities. Pinellas is No. 3 in the state with reporting 8% of deaths at these facilities. Palm Beach County is No. 1 in the state with 1,075 deaths or 9% and Dade County is No. 2 with 1,019 deaths, or 9%.
Local state of emergency, face mask order
Pinellas County did not renew its local state of emergency and rescinded its ordinance requiring mandatory facial coverings in indoor public places and other COVID-19 restrictions on May 4.
Gov. Ron DeSantis signed an executive order May 3 suspending local restrictions due to COVID-19. A more permanent order banning the restrictions goes into effect July 1.
The County Commission was scheduled to hold a public hearing on its ordinance covering COVID-19 related restrictions on May 11. The public hearing has been canceled.
For more information on the county's response to the coronavirus, visit https://covid19.pinellascounty.org/.
Statewide cases exceed 2.27 million with 36,498 deaths
DOH reported 2,229,567 cases in Florida residents as of May 9 with 42,535 in nonresidents to bring the total to 2,272,102.
The number of deaths in Florida residents increased to 35,983. DOH also reported that 715 non-residents have died, bringing the state's COVID-19 death toll to 36,498.
Case numbers are continuing a downward trend. DOH reported 26,249 new cases and 489 deaths during the week of May 3-9.
From April 26-May 6, DOH reported 33,756 cases and 409 deaths. During the week of April 19-25, DOH reported 38,959 new cases and 458 deaths. From April 12-18, DOH reported 47,292 new cases and 222 deaths.
The numbers are cumulative going back to March 4. DOH has not provided information on how many people have recovered.
DOH reports that 92,125 residents have been hospitalized statewide as of May 9, 4% of all cases reported since March 2020.
Testing statewide
DOH reported that 5.01% of 43,701 test results on May 9 were positive, 5.31% of 56,855 on May 8, 4.66% of 80,966 on May 7, 4.70% of 86,891 on May 6, 4.99% of 87,583 on May 5, 5.14% of 80,806 on May 4, 6.12% of 56,250 on May 3, 6.14% of 48,189 test results were positive on May 2 and 5.87% of 62,663 on May 1.
Vaccination summary
Statewide, as of May 9, 15,764,313 doses of COVID-19 vaccine had been administered, including 2,223,344 people receiving only a first-dose, 635,141 completing the one-dose series and 6,452,914 completing the two-shot series.
In Pinellas, 443,015 doses had been administered including 89,026 receiving only one dose and 353,989 completing the one- or two-shot series. Of those who have received at least one shot, more were females, 247,840 and 194,398 were males with 571 unknown; and 321,360 were white, 20,832 were Black and 17,766 were Hispanic.
The most vaccine has been administered in Dade County, 1,328,399 doses, followed by Broward with 874,187, Palm Beach with 682,074 and Hillsborough with 576,055 doses.
Statewide, the age group with the most completing the series was 65-74 with 1,787,864, followed by ages 55-64 with 1,448,019, ages 75-84 with 1,018,079, ages 45-54 with 969,401, ages 35-44 with 697,522, ages 25-34 with 509,700, ages 85 and older with 336,503, and ages 16-24 with 320,967.
In Pinellas, 94,474 people ages 65-74 have completed the one- or-two dose series, 80,419 ages 55-64, 49,734 ages 75-84, 44,871 ages 45-54, 30,373 ages 35-44, 23,351 ages 25-34, 18,718 ages 85 and older and 12,050 ages 16-24.
For more information on vaccinations in Pinellas County, visit https://covid19.pinellascounty.org/vaccines.
For more information on the coronavirus, visit www.floridahealth.gov/index.html.
Suzette Porter is TBN's Pinellas County editor. She can be reached at sporter@tbnweekly.com.
Note: All numbers are provisional and subject to change.