The Department of Health Pinellas County has confirmed that what had been reported by the state as the first death attributed to the coronavirus in Pinellas was a mistake. There are no deaths in Pinellas as of March 23.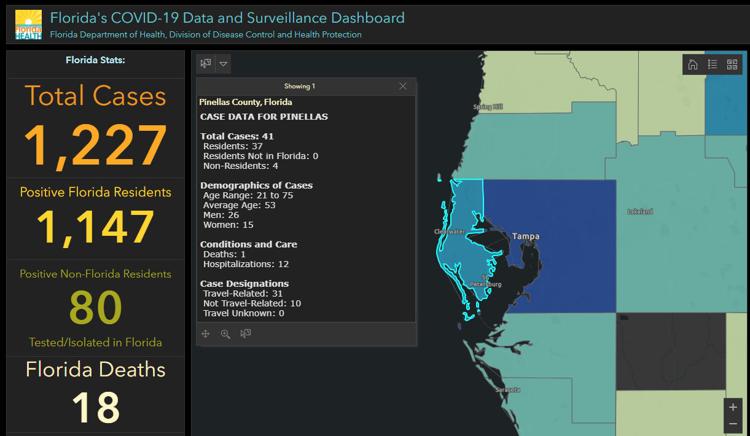 The death was shown on the state DOH's COVID-19 Data and Surveillance Dashboard at 6 p.m. March 23 report. Local officials confirmed that the information was inaccurate about 8:30 p.m.
However, the information on the number of coronavirus cases in the county was accurate. The number of cases has increased to 41, which is one more than the number reported Monday morning.
Thirty-seven are Florida residents and four are non-residents. Twelve are hospitalized. There are no deaths reported in Pinellas.
Twenty-six of the county's cases are in men and 15 are in women. Thirty-one are travel-related and 10 are not travel-related. Ages range from 21-75. The average age is 53.
DOH provided the city of residence for 37 of the cases in Pinellas on Monday morning. Nine are St. Petersburg residents, eight are from Clearwater, six from Largo, three from Seminole, three from Tarpon Springs, two from Gulfport and one each from Belleair, Clearwater Beach, Palm Harbor and Pinellas Park.
The first two cases in Pinellas were diagnosed on March 11.
The DOH reports that 626 had been tested in Pinellas as of Monday evening. Forty-one were positive and 545 were negative. Results were pending for 40. DOH reports that 626 are under surveillance.
Statewide, the number of confirmed cases in Florida residents was up to 1,147 compared to 1,096 reported on Monday morning. Another 80 cases were reported in non-residents, bringing the state's total to 1,227, up from 1,171 reported in the 11 a.m. report.
The number of deaths in Florida increased from 14 to 18.
DOH reported that 13,965 had been tested statewide and results are pending for 1,101. As of Monday evening, 1,237 were being monitored.
The state's DOH COVID-19 Data and Surveillance Dashboard shows 42,817 cases in the U.S. with 579 deaths compared to 35,345 with 473 deaths Monday morning. The dashboard shows the number of global cases at 374,921 with 16,411 deaths compared to 353,692 with 15,430 deaths on Monday morning.
For more information, visit www.floridahealth.gov/index.html. If you think you might need to be tested, contact your health provider, or call the state DOH's COVID-19 hotline at 1-866-779-6121 or the county DOH's hotline at 727-824-6900. Both numbers are open 24/7.
Suzette Porter is TBN's Pinellas County editor. She can be reached at sporter@tbnweekly.com.