OLDSMAR — Like an army of elves working on Christmas Eve, a small group of Oldsmar residents led by Mayor Eric Seidel installed more than 300 American flags around town over Memorial Day weekend.
The idea to deck the city in red, white and blue was born out of the coronavirus-induced cancellation of Oldsmar's traditional Memorial Day ceremony, which typically draws hundreds of spectators to Veterans Memorial Park, according to the mayor.
"We wanted to do something in place of the ceremony that shows how much we appreciate those who have made the ultimate sacrifice for our country," Seidel said a few days before he and former City Council candidate Matt Clarke, Upper Tampa Bay Chamber of Commerce official Mark Howe and a few others hung the full-sized flags along Tampa Road, Lafayette Boulevard and St. Petersburg Drive.
"So, we came up with this idea and we all chipped in some money and decided we're going to line the path to Veterans Park with American flags."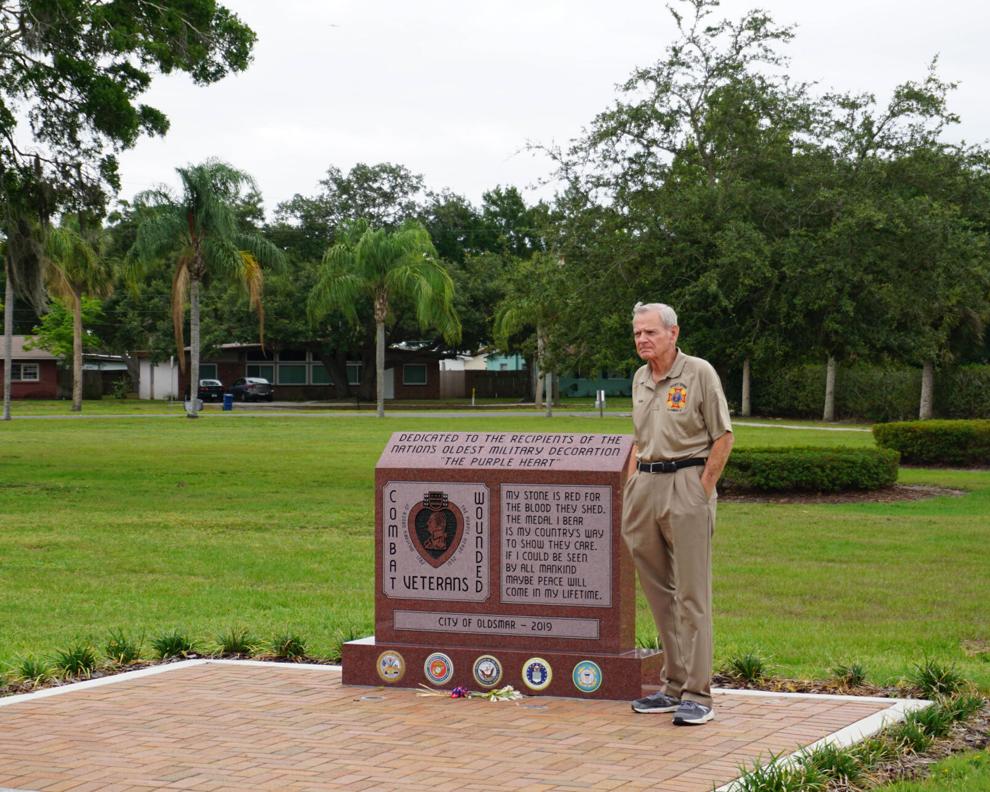 The group's effort, combined with the city's annual Project Pop-Drop that saw 50 patriotic signs placed in dozens of yards and a private wreath-laying ceremony at Veterans Park on Monday, May 25, made it clear Oldsmar was determined to honor America's fallen despite the unusual circumstances this year.
"This is the strangest Memorial Day we've ever had," Lt. Col. John Ruckart, chair of Oldsmar's Veterans Advisory Board, said after the brief wreath ceremony. "But it's incredible we're able to honor all those fallen and remember them individually. Just incredible. The spirit in this town warms my heart."
Oldsmar VFW Post 12186 member Russell Crooks agreed.
"I think they're doing the best they can given the circumstances," Crooks said as he stood nearby. "The city's ceremony is always fantastic, but this shows the concern and reverence given the circumstances. It shows Oldsmar does care."
According to Seidel, he felt it was still important to acknowledge the holiday despite the situation.
"Even in these crazy times, we still honor these heroes," he said. "And it's still emotional."