Florida Department of Health has reported 2,014 new COVID-19 cases in Pinellas from Feb. 1-7, bringing the total to 61,730. Forty-one have died due to the novel coronavirus, upping the death toll to 1,345.
For the week of Jan. 25-31, DOH reported 2,519 new cases and 52 deaths, which was a slight improvement from the previous week. From Jan. 18-24, 2,668 new cases and 68 deaths were reported, and from Jan. 11-17, 3,135 new cases and 95 deaths were reported.
The county's first two cases were confirmed on March 11, and the first death on March 23.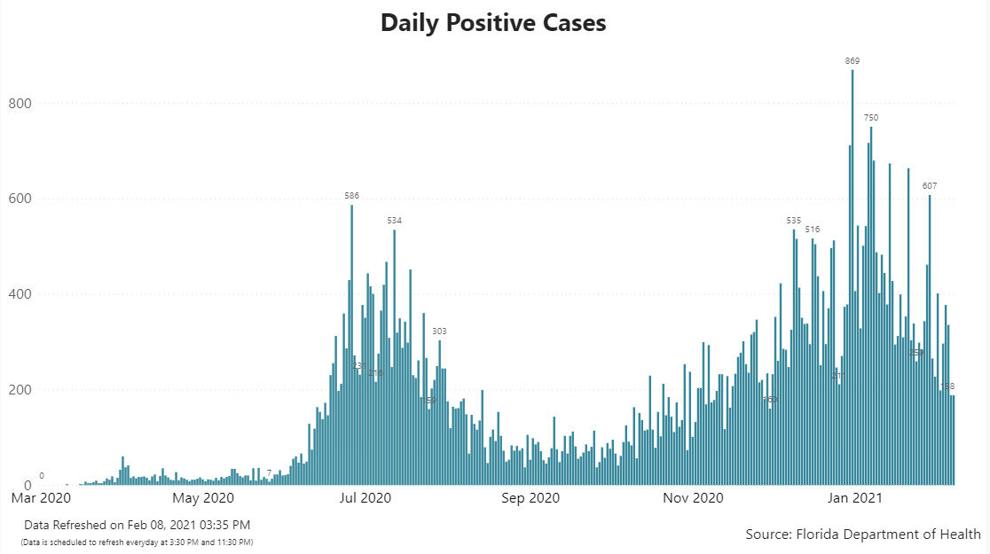 Statewide, the cumulative number of cases increased to 1,783,720 and 28,287 deaths as of Feb. 7. According to Johns Hopkins University Center for Systems for Science and Engineering, as of 5 p.m. Feb. 8 in the United States, cases totaled 27,064,922 cases and 464,470 deaths compared to 26,986,827 cases and 463,188 deaths at 4 p.m. Feb. 7. Globally, more than 106.4 million cases and 2.32 million deaths had been reported compared to 106 million cases were reported with 2.3 million deaths on Sunday.
COVID-19 cases in Pinellas included 60,225 residents and 1,505 non-residents. More cases were in females, 32,165 (54%), to 28,012 in males. Gender was unknown in 48. Ages range from 0-105. Median age was 44. Thirteen percent were Black, and 11% were Hispanic.
About 7% of all cases in the county have been hospitalized since March. DOH reported that 3,988 residents had been hospitalized in Pinellas. The number of nonresidents was unavailable.
Local hospitals had 27% capacity in staffed adult beds (842 of 3,152) on Monday with 27% capacity (94 of 345) in ICU beds. All hospitals had at least one ICU bed available except Palms of Pasadena. According to the Florida Agency for Health Care Administration, as of 10:37 a.m. Feb. 8, 271 beds were occupied by a COVID-19 patient with 71 in ICU and 33 on a ventilator.
Testing in Pinellas
DOH reported that 5.56% of 3,194 test results were positive, 5.03% of 3,569 results on Feb. 6, 6.69% of 4,773 on Feb. 5, 3.69% of 9,849 on Feb. 4, 9.22% of 2,925 on Feb. 3, 6.53% of 2,832 on Feb. 2, 6.69% of 5,609 on Feb. 1, 8.63% of 2,519 on Jan. 31 were positive, 3.96% of 6,435 results on Jan. 30, 6.12% of 9,455 on Jan. 29, 10.91% of 3,763 on Jan. 28 and 5.59% of 5,859 on Jan. 27.
For information on testing, contact your health provider, or call the state DOH's COVID-19 hotline at 1-866-779-6121 or the Pinellas County DOH's hotline at 727-824-6900. Both numbers are available 24/7. For online information, visit https://covid19.pinellascounty.org/testing/.
Case counts in local municipalities, etc.
Since March, 6,408 cases have been reported at long-term care facilities, or 11% of cases in the county.
For current case counts in Pinellas County schools, visit https://www.pcsb.org/COVID19Cases.
DOH provided updated and revised information on the city of residence for cases in Pinellas on Monday, Feb. 8. St. Petersburg has the most with 22,307 cases, 11,849 are Clearwater residents, 6,612 from Largo, 4,155 from Palm Harbor, 3,273 from Seminole, 3,013 from Pinellas Park, 2,188 from Tarpon Springs, 1,919 from Dunedin, 1,174 from Oldsmar, 948 from Safety Harbor, 509 from Clearwater Beach, 478 from Gulfport, 276 from Indian Rocks Beach, 262 from South Pasadena, 253 from Kenneth City, 239 from Belleair, 170 from Madeira Beach, 95 from Belleair Beach, 89 from Tierra Verde, 77 from Crystal Beach, 70 from St. Pete Beach, 50 from North Redington Beach, 49 from Treasure Island, 31 from Bay Pines, 26 from Lealman, 14 from Redington Shores, 13 from Belleair Bluffs, nine from Redington Beach, nine from Ozona, six from Indian Shores, one listed as homeless and 30 as missing.
COVID-19 deaths in Pinellas
DOH reported 41 more COVID-19 related deaths from Feb. 1-6, upping the death toll to 1,345. Fifty-two deaths were reported from Jan. 25-31 and 68 deaths were reported from Jan. 18-24. Ninety-five new deaths were reported from Jan. 11-17.
As of Feb. 7, one death has been reported in the 15-24 age group, six deaths in the 25-34 age group, 14 in the 35-44 group (1%), 38 in 45-54 (3%), 108 in 55-64 (8%), 267 in 65-74 (20%), 402 in 75-84 (30%) and 509 (38%) in ages 85 and up.
At least 812 of the county's deaths were residents or staff at one of the county's long-term care facilities. Pinellas is No. 3 in the state with reporting 8% of deaths at these facilities. Dade County is No. 1 with 959 deaths, or 10%, and Palm Beach County is No. 2 with 952 deaths, or 10%.
Local state of emergency, face mask order
Pinellas County Administrator Barry Burton has extended the local state of emergency through Feb. 12. County commissioners are expected to extend it another seven days through Feb. 19 at their Feb. 9 meeting.
The countywide ordinance requiring that facial coverings be worn in indoor places remains in effect. Employees that serve or prepare food or drink must wear masks indoors and outdoors. Customers at bars and restaurants must be seated to be served.
For more information on the county's response to the coronavirus, visit https://covid19.pinellascounty.org/.
Statewide cases pass 1.78 million with 28,287 deaths
DOH reported another 1,751,343 positive cases in Florida residents as of Feb. 7 with 32,377 in non-residents to bring the total to 1,783,720 — 5,737 more than the day before.
The number of deaths in Florida residents increased to 27,815. DOH also reported that 472 non-residents have died, bringing the state's death toll to 28,287, 126 more than yesterday.
From Feb. 1-7, 56,595 new cases and 1,158 deaths have been reported. From Jan. 25-31, 68,938 new cases and 1,280 deaths were reported, and from Jan. 18-24, 78,888 new cases and 1,192 deaths.
The numbers are cumulative going back to March 4. DOH has not provided information on how many people have recovered.
DOH reports that 74,543 residents have been hospitalized statewide as of Feb. 7. No information was available about non-residents.
Testing statewide
DOH reported that 7.37% of 70,874 test results were positive on Feb. 7, 6.82% of 91,451 results on Feb. 6, 6.25% of 111,041 on Feb. 5, 5.81% of 177,322 on Feb. 4, 8.74% of 78,811 on Feb. 3, 7.81% of 79,954 on Feb. 2, 8.36% of 113,126 on Feb. 1, 8.39% of 61,422 on Jan. 31, 5.54% of 131,210 on Jan. 30, 6.62% of 207,418 results on Jan. 29, 14.47% of 64,096 on Jan. 28, 7.71% of 135,089 on Jan. 27 and 10.22% of 72,364 on Jan. 26.
Vaccination summary
As of Feb. 6, statewide, 1,322,426 people had received a first-dose of the COVID-19 vaccination and 693,865 had completed the two-shot series. DOH is no longer reporting the number overdue for their second dose.
The state began administering the vaccine on Dec. 14.
In Pinellas, 92,480 doses have been administered including 60,757 receiving the first dose and 31,723 completing the two-shot series. Of those who have received at least one shot, more were females, 55,334 to 36,876 males, and 65,299 were white, 3,575 were Black and 2,454 were Hispanic.
The most vaccine has been administered in Dade County, 195,484 doses, followed by Palm Beach with 190,770 and Broward with 160,632 doses. DOH also reported that 60,707 from out-of-state have received the vaccine.
Statewide, the age group receiving the most vaccinations was 65-74 with 821,070 completing the series, followed by ages 75-84 with 475,502 receiving both doses and ages 85 and older with 184,560. Next were ages 55-64, 45-54, 35-44, 25-34 and 16-24 with 23,890 receiving both shots.
In Pinellas, 37,130 ages 65-74 have received two doses, 18,455 ages 75-84 and 9,668 ages 85 and older have completed the series.
For more information on vaccinations in Pinellas County, visit https://covid19.pinellascounty.org/vaccines.
For more information on the coronavirus, visit www.floridahealth.gov/index.html.
Suzette Porter is TBN's Pinellas County editor. She can be reached at sporter@tbnweekly.com.
Note: All numbers are provisional and subject to change.