LARGO — Pinellas County's Tourist Development Council met for the first time in months, June 26, with an in-person meeting in the Magnolia Room at the Extension Office in Largo.
Among the items on the lengthy agenda were a financial report and a look at next year's budget.
Perhaps, the most disheartening news was about Tourist Development Tax collections, otherwise known as the bed tax. April's collections nosedived 92.44% compared with the amount that came in last year. According to information at the meeting, only $516,029 in bed tax was collected in April 2020 compared to more than $6.73 million the same month in 2019.
However, a comparative report from the county's Tax Collector's office showed that $722,427 in bed tax came in during April this year, a decrease of 89.3% from last year's more than $6.75 million.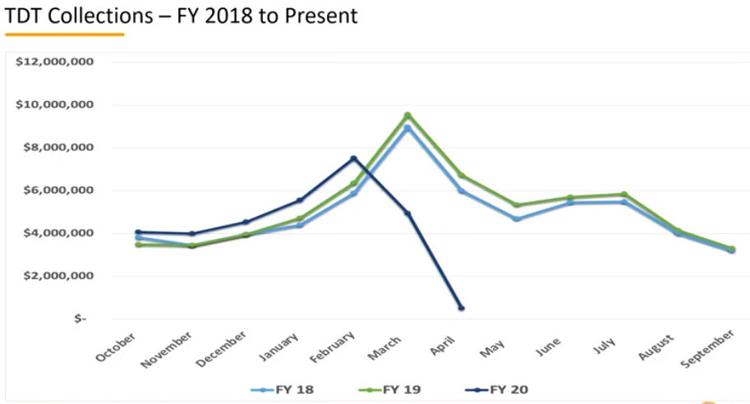 Regardless of the differences in the two reports, the outcome is the same — a huge decline in revenue to pay for operations at Visit St. Pete/Clearwater, especially with the 48% decrease, a nearly $1.8 million loss, in bed tax collections in March 2020 compared to 2019.
The number of room nights sold in April was only 111,746 compared to 486,654 in 2019, which is a decrease of 77%. The average daily rate dropped from $181.09 in 2019 to $72.80 this year, which was down 59.8%. And the revenue per available room declined 89.5%, going from $143.26 in April 2019 to $15.05 this year.
Through April this year, room nights sold was down 15.1%, average daily rate declined 7.1% and revenue per available room dropped nearly 21%.
For home share accommodations, which were closed by the governor's order for nearly three months, room nights sold was down 37.6% in April compared to 2019. Average daily rate was up 3.7% and revenue per available room was down 23.6%.
Steve Hayes, Visit St. Pete/Clearwater president and CEO, said hotel occupancy began to go up again in May with a big spike when the beaches reopened and on Memorial Day. He said things had been trending up, although occupancy was still down.
TDC member Russ Kimball, chief executive officer at Sheraton Sand Key Resort, said starting in May bookings had been up better than expected and he had been more optimistic. Most hotels were at 50% to 60% occupancy.
Then, five days ago, everything stopped and occupancy started to decrease. People began canceling their reservations for the Fourth of July weekend, which he said was understandable with the new mandatory face mask orders and national publicity as the number of COVID-19 cases climbed.
He said wearing a mask was mandatory inside his hotel with about 90% compliance.
He said no revenue was coming from meetings and none from European travelers. Most of the people staying at local hotels are coming from about 100 miles away.
TDC member Tony Satterfield, general manager of Alden Suites in St. Pete Beach, concurred with Kimball. He said as soon as word got out that Florida was a hot spot, bookings for July began to drop.
"We were just starting to get back to normal," he said.
He said the meeting market had totally dried up, which is a problem for hotels that rely on group business.
TDC member Doreen Moore, owner/president of Travel Resort Services, said her properties had not been experiencing a tremendous number of cancellations, but was dependent on the "drive market," meaning travelers who drive to their destination. She said there was still "pent up demand" among families that wanted to go to the beach.
Balancing the budget
The TDC had submitted a budget based on receiving $60 million in revenues, which was closer to prior years. However, it has been adjusted down to $37.5 million. Savings will come from not filling vacant positions and less travel by staff due to conferences being canceled or being held virtually.
In addition, there is a proposal to cancel applications for the Capital Improvement Program in fiscal year 2021.
Jim Abernathy with the county's Office of Management & Budget said there is enough money to pay current obligations for capital projects. He said some likely would be deferred until next year, including $350,000 to the Holocaust Museum, which plans to delay its project for now. He said money is available in reserves to pay current obligations.
He said budget projections for bed tax collections had been about what was expected in March with April coming in a little better than projected. However, May is still an unknown.
If necessary, and if approved by the county commission, the money usually used for capital projects could be used for operations at VSPC. And if necessary, VSPC could adjust its contracts for marketing and advertising.
Abernathy explained that the money budgeted would not be available at the beginning of the year but will build up over time as bed taxes are collected. He said at the beginning of the year, VSPC would use projected reserves to balance the budget, which means there won't be a cash flow issue.
He admitted there weren't a lot of options available.
Hayes said VSPC was still looking ahead to the future with plans to drive more value to the local market.
He said the focus would be on service to businesses. He said if you treat customers' right they will come back. If you provide even better service, they will tell others.
"Even with a reduced budget, we'll still do what's important," he said.
Suzette Porter is TBN's Pinellas County editor. She can be reached at sporter@tbnweekly.com.