Florida Department of Health has ended its daily reports of COVID-19 activity and has shuttered its dashboard that had provided a visual account of cases, deaths, testing and other information since March 2020.
The information has been replaced with a weekly report that doesn't provide nearly the same level of details, especially at the county level. And DOH no longer includes cases, deaths or other information about nonresidents.
The latest report for the week of May 28-June 3, shows the state's cumulative case count since the first cases was reported in March 2020 up to 2,289,332 with 36,985 deaths. As of June 2, the date the last daily reports were available, 43,535 of the state's 2,329,867 cases and 744 of 37,717 deaths were nonresidents.
For the week of May 28-June 3, the state had 11,901 new cases among residents — again, there is no information about nonresidents, and 35 more had died. The weekly positivity rate was 3.6% and the cumulative rate was 17.1%.
Even less information is available for counties.
Pinellas' cumulative number among residents-only was up to 79,588. As of June 2, Pinellas had 81,533 cases including 2,018 nonresidents. The number of deaths was 1,671. The weekly report does not include deaths by county.
For the week of May 28-June 3, 318 new cases were reported. The positivity rate was 2.9%.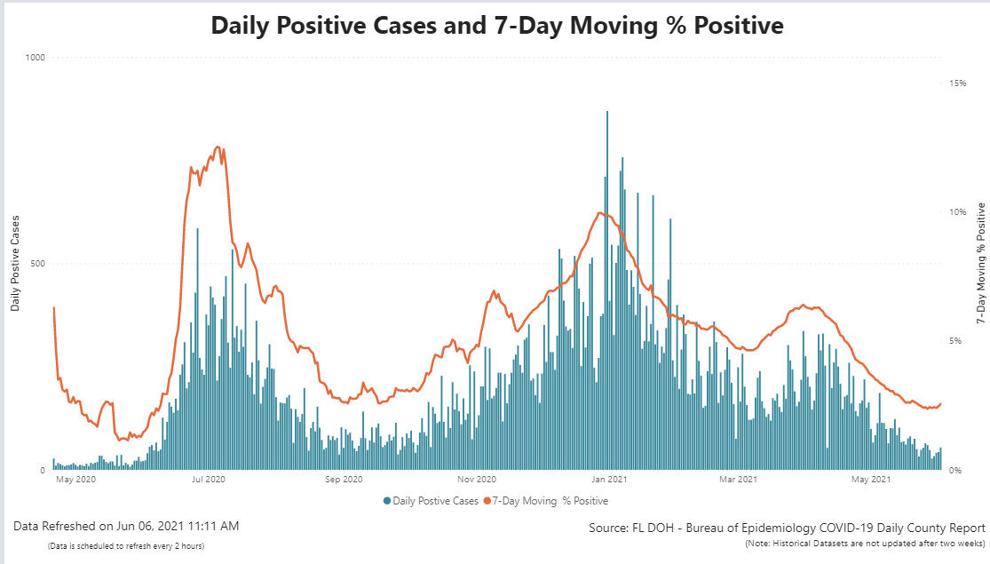 Vaccination rate passes 50%
The state's new weekly report focuses more on vaccinations.
Statewide, as of June 3, 10,191,622 had received a vaccination with 1,912,338 receiving only a first dose and 8,279,284 completing the series. Fifty-three percent of all Floridians ages 12 and older had been vaccinated.
According to the DOH, 82% of those 65 and older had completed the one- or two-shot series, 70% of ages 60-64, 59% of ages 50-59, 40% of ages 40-49, 39% of ages 30-39, 32% of ages 20-29 and 22% of ages 12-19.
In Pinellas County, 478,112 had been vaccinated out of a population of 992,298, or 54%. The state did not provide information about gender, ages or other demographic information as it had in the previous detailed county reports on vaccinations.
Johns Hopkins University of Medicine is still maintaining a COVID-19 dashboard on worldwide cases and deaths. As of 6:30 p.m. June 5, 172.78 million cases had been reported and 3.7 million deaths. In addition, more than 2 billion had been vaccinated.
Information for Florida and Pinellas County at Johns Hopkins' site was still the same as reported by DOH on June 2.
Suzette Porter is TBN's Pinellas County editor. She can be reached at sporter@tbnweekly.com.