TREASURE ISLAND — It's been said many times that love conquers all.
Newlyweds Dennis Wallace and Lynn-Marie Carty-Wallace recently proved that old adage to be true.
The Wallaces were married during a sunset ceremony on a private beach across the street from their Treasure Island home on March 20, one week after the coronavirus paralyzed the country.
And despite the fear and uncertainty that has gripped the country in the ensuing weeks, to hear Lynn-Marie Carty-Wallace tell the story of their nuptials reads like the plot of a Hallmark Channel movie.
"My husband and I have been going across the street to watch the sunset for 11 and a half years, and I always thought about what I would wear if I were to get married there," she said by phone a month after the wedding, adding, "But Dennis is a full-time musician and he's always booked, so we never had time."
Carty-Wallace, who works as an investigator reuniting families, continued, "The Sunday before we got married, I said to Dennis, 'Maybe we should get married now?' and he immediately got down on one knee and said, 'Will you marry me?' and then I got down and hugged him and we hugged the dog and it was so beautiful for the spontaneity of the situation!"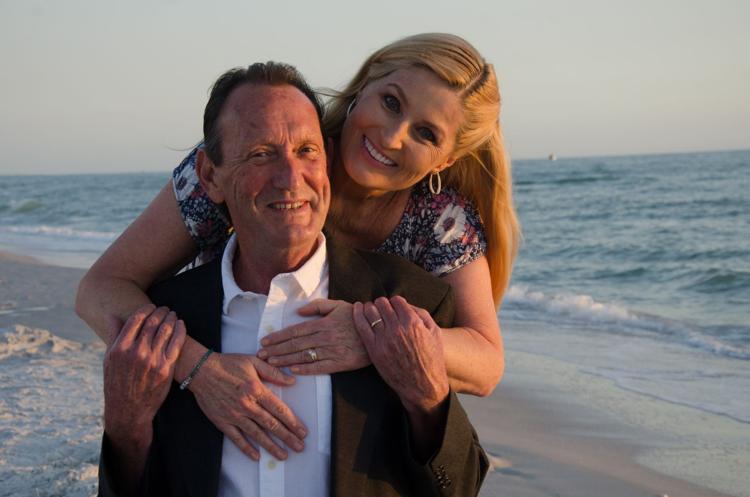 Carty-Wallace explained that her work as investigator has helped unite more than a thousand people over the past two decades, and she said her and Dennis' union would not have been possible without the help of their family, friends and neighbors. "We asked Rachel Inkpen, a notary who manages our UPS mailing center, to officiate the ceremony and she said she had to think about it because she'd never done one before!" she said. "But she called back the next day and said yes, and she practiced social distancing as you can see in the wedding photos."
She said her son ran the video camera while remaining a safe distance from the bride and groom, and their neighbor, longtime Gulf Beaches wedding photographer Paul Farmer, shot their ceremony at no charge.
"Every booking he had was canceled due to the crisis, but in spite of all his troubles Paul donated his services to us and took our cherished wedding photos for free," Carty-Wallace said, adding Farmer "was amazing, standing outside our door like paparazzi and following us as we walked across the street to the beach. It was beautiful. It really was. I can't thank him and Rachel enough."
Carty-Wallace said they later earned they got their storybook nuptials in in the nick of time.
"We got home and opened a bottle of wine and learned they closed the beach at midnight!" she said.
While she admitted getting married during a quarantine has had its challenges, Carty-Wallace said being locked down together also has its benefits.
"We've been trying to help each other feel better about the situation," she said. "Usually he's working all the time and I'm working and sometimes we hardly see each other, so spending this time together has been nice. It's a good thing that we're best friends and we really like each other!"