Pinellas County's collection of Tourist Development Taxes, aka bed tax, plunged nearly 49% in March due to a drop in hotel demand as people stopped traveling in response to the novel coronavirus pandemic.
According to a report released May 14 by the Pinellas County Tax Collector, just over $4.9 million in bed tax was recorded compared to more than $9.5 million in March 2019.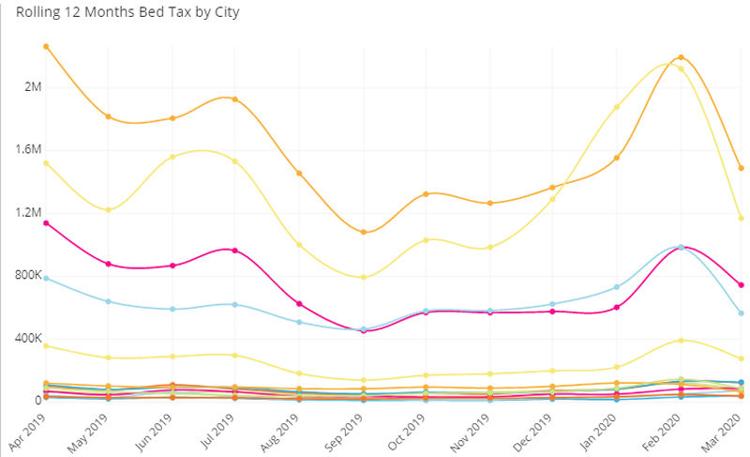 March is typically the best month for tourism in Pinellas, bringing in the most bed tax revenue.
The total for fiscal year 2020 is down 3% compared to last year.
Information from STR Inc., formerly known as Smith Travel Research, posted on VSPC's partner website, provides statistics on the year-over-year change in hotel demand for Florida and the United States as of April 12. Demand hit negative numbers on March 1 and dropped to a negative 77% in Florida on March 29.
Losses in hotel revenue as of March 1 were $35 million increasing to $365 million by March 29. Vacation rental bookings had declined by 90% in April, meaning bed tax collections won't be improving anytime soon.
The county's 6% bed tax is collected on all accommodations of six months or less. The money pays for operations at Visit St. Pete/Clearwater, the county's tourism marketing agency, as well as beach nourishment and capital improvement projects related to tourism.
Last year, bed tax collections topped $61 million. For the first six months of 2020, collections total nearly $30.88 million. The fiscal year runs from October-September.
The money collected is split 60/40 with 60% going to marketing and 40% to capital improvement projects.
Bed tax money helps pay for projects, such as the recently completed facilities for the Dunedin Blue Jays, local sports facilities in Clearwater and museums in downtown St. Petersburg. A request for funding is currently under negotiations for spring training facilities for the Philadelphia Phillies, as well as for a big project at the Dali Museum and others.
According to Tim Ramsberger, chief operation officer at Visit St. Pete-Clearwater, in 2019, about $24 million in capital funding had been requested, in addition to the $40 million request from the city of Clearwater for upgrades to spring training facilities for the Philadelphia Phillies.
Suzette Porter is TBN's Pinellas County editor. She can be reached at sporter@tbnweekly.com.