TARPON SPRINGS — This year's Epiphany celebration was the largest in the event's 114-year history, as thousands of people, including the Prime Minister of Greece, Kyriakos Mitsotakis, poured into the downtown district for the Greek Orthodox celebration of Christ's baptism, held annually on Jan. 6.
Epiphany 2021, however, will have decidedly different look, as the ongoing coronavirus crisis has forced officials with the city and St. Nicholas Greek Orthodox Cathedral to revise the plans with social distancing and other COVID-19-related precautions in mind.
Before the Dec. 15 City Commission meeting, it appeared the parties had come to an agreement on many elements of the plan, including limiting the number of parishioners to 250, curtailing the procession to Spring Bayou for the cross dive and canceling the Glendi at Craig Park that traditionally follows the dive. However, a late edict from Pinellas County Sheriff Bob Gualtieri threatened to derail things, as Tarpon Springs Police Chief Robert Kochen said he was forced to reconsider the arrangement, leading to rumors of Epiphany being canceled and several church leaders and residents up in arms over the idea.
"On Dec. 14, I received a call from the Pinellas County sheriff, and we had a long conversation about Epiphany," Kochen said. "And the sheriff minced no words with me. He said, 'I cannot support this event if you're gonna have a large crowd occurring down around the bayou. You're not going to be able to control it, and I'm not gonna support it.' And the sheriff told me tonight just before this meeting, 'I would stop it.'"
Kochen said he agreed with Gualtieri and stated the event could not go on as planned without support from the Sheriff's Office, adding, "This is not about religious discrimination. This is not about trying to take a shot at the church. This is about public health and security. Bottom line."
Despite the assurances, some members of the audience disagreed.
"We feel at times, and chief I've said it to you, that you're prejudiced against us," said Nikitas Manias, president of the church's Parish Council. "We feel that at times. We know it's not true. But sometimes when it comes across, it does."
Manias cited instances such as the sudden closure of the primarily church-owned Hibiscus Street for outdoor dining during the early stages of the pandemic as an example of the lack of communication, and he noted the city has hosted several large events recently, including two Christmas tree lightings and a boat parade.
"What's good for the goose is good for the gander," Manias said, adding, "The Greek community feels we're being prejudiced against. And that's the feeling of the Parish Council."
According to Jerry Theophilopoulos, a local attorney who has been involved with Epiphany for years, the church already made many concessions for the event, including mask mandates, a wristband system for attendees and social distancing requirements, even around the bayou, and he noted with Epiphany falling on a Wednesday it won't draw the typically large crowd. He also said other Greek Orthodox churches in the area agreed to host ceremonies that day to discourage people from traveling to Tarpon.
"We don't want this to end up being a protest, where people are out in the streets doing what they think is right," Theophilopoulos said. "That's not how the Greek Orthodox work. We don't plan on that. We don't want it, and we don't condone it. Period."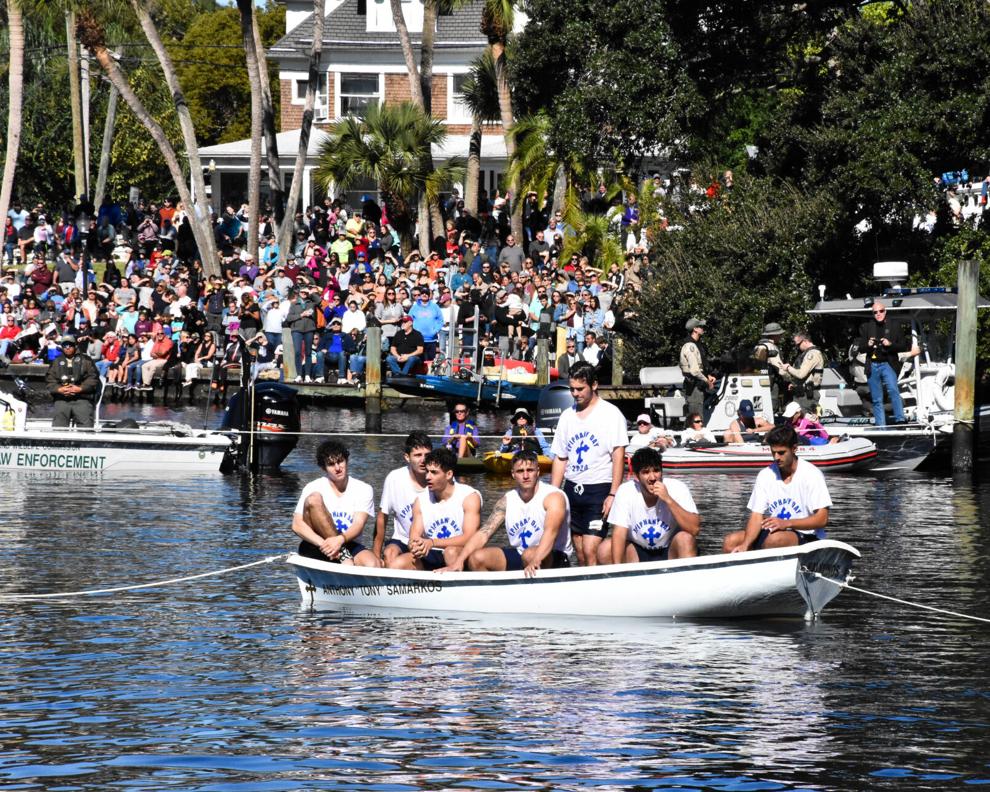 But based on some of the public comments, there's a strong possibility of that happening on Jan. 6.
"I find this whole exercise offensive," David MacNeill said. "People have the right to peaceably assemble." Noting the meeting was being held on Bill of Rights Day, MacNeill added, "There's nowhere in the Constitution of the United States that says because of a pandemic, because of health, because of safety your rights are gone. Rights are given by God, not by government.
"I would suggest, regardless of what they do, you go down there. They have no rights to stop you."
When others made similar remarks, Chief Kochen was asked how the department planned to prevent the general public from attending. "Our goal is to keep people out and work with the church to let people that they want in, reasonably," he said.
After Theophilopoulos said "if the chief doesn't want to work with us, we'll work around him," noting "the church has armed individuals, trained, with license to carry, and if we need to bring those in because the city doesn't want to help us, we'll bring them in," Mayor Chris Alahouzos cautioned him "don't go there" and assured everyone they would "work together to make this happen."
Ultimately, City Manager Mark LeCouris said they would work with the church to implement its original plan with "two caveats," including devising a method of identifying approved attendees and coming up with a plan to get them from the church to the bayou, and the board unanimously supported the idea.
"I'm confident that our staff is going to be working with the Greek church to figure this out," Vice-Mayor Jacob Karr said, and the motion to approve the item passed 4-0. Commissioner Townsend Tarapani was absent.
After the meeting, Mayor Alahouzos spoke about the controversy surrounding the event.
"No one said we were going to shut Epiphany down," he said by phone. "Sometimes people use social media too much and they don't get the right information. We said we're going to have Epiphany but it's going to be smaller, we're going to use caution and make sure everyone is safe and that's all. We've been working closely with the church this whole time to ensure that is the case. We have a good relationship with the church and we're working together as a team to make this happen."
Asked about the dramatic difference between the attendance this year and next year's event, the mayor said, "I'm very glad we had a supersized ceremony this year but now the whole world is under strict orders and I'm glad we're going to be able to have it. It's going to happen. It's going to be smaller and there will be guidelines to follow, but I think it's going to be a very successful Epiphany, with restrictions. But the faith is going to be there and next year I believe we will have a big Epiphany celebration again."