SEMINOLE — It was around Thanksgiving that employees at the Walgreens at Park Boulevard and Oakhurst Road started noticing a rarity in their little, upscale neighborhood — hungry, homeless men and women with no hope and nowhere to go.
So they decided to take action with a food drive that has inspired other stores to join the cause.
Store employees saw how people's despair and hopelessness can turn into exasperation when one day a homeless man tried to commit suicide by walking into traffic in front of their store on Park Boulevard.
Store manager Liz Messer surmised many residents of this west Seminole area, just a bridge away from Indian Shores, make their living in the service industry, which has been heavily impacted by job loss because of COVID-19. Employees began to regularly see small groups of the hungry and homeless who are out of work and down on their luck gather outside their store. Some just sat on the sidewalk with their meager belongings, while a few panhandled for change.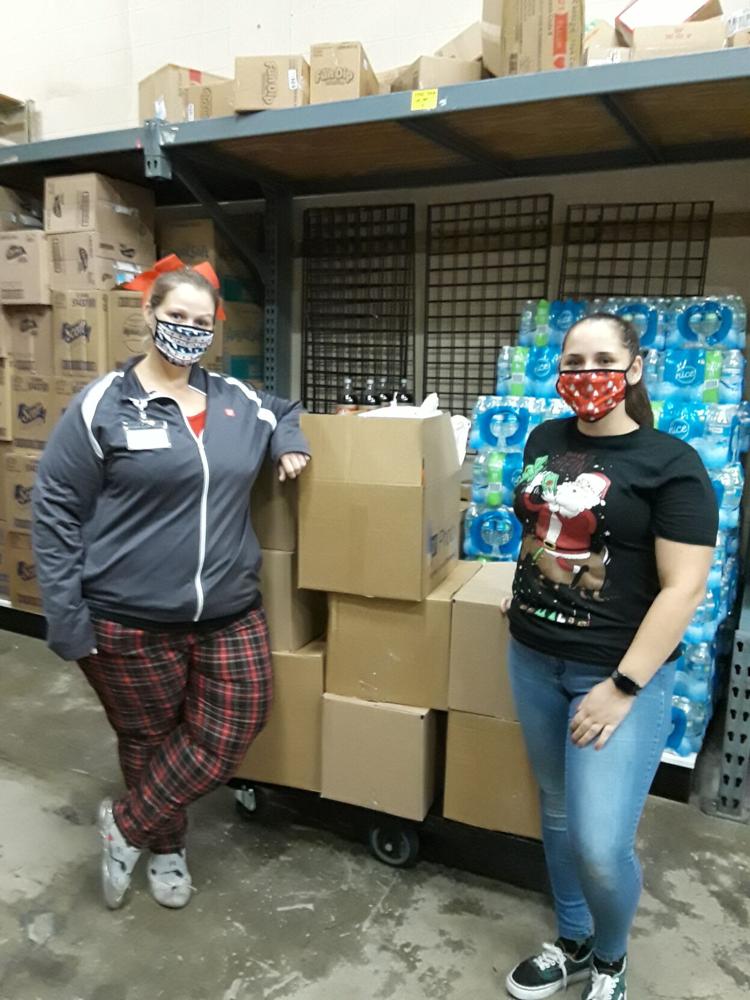 Store cosmetologist Cathy Shade said because of COVID, and the effect of job loss on the economy, "people were left with next to nothing, some lost everything. At my store, we've had three to four homeless people at any given time; we tried to care for them by buying food," she said.
In one incident she said she will never forget, a homeless man tried to kill himself by stepping out in front of traffic on Park Boulevard in front of the store. He was a bartender who lost his job in South Florida, along with his home, and had to put his dogs in a shelter.
"We felt helpless," she said. "This is bad, you don't see this in our area." Thankfully, the man was stopped and eventually helped by Pinellas County Sheriff's deputies.
"Through all this, because of this, we want to give to our community. This is our home," said Shade, who remembers falling on hard times, raising her boys as a single mother 20 years ago, and having to turn to a food pantry for sustenance.
"It's been a different year from any other," Messer said. Store associates offered the homeless food. As the days passed, they asked if they could do something to help on a larger scale and collect food supplies. "We can do this" was their motto.
Led by Shade, about 20 store employees donated two items of non-perishable food on a regular basis. When Shade told Walgreens District Manager Kristie Mobley about the local Seminole Walgreens food drive, she turned it into a districtwide effort that eventually encompassed 13 Walgreens stores in southern Pinellas County, including Seminole, Indian Rocks Beach, the Tyrone area, all Pinellas beaches, Pasadena, and Gulfport.
Some stores kept the food drive in-house while others set out collection boxes to let the public participate. Shade said the drive has collected more than 20 boxes of food, more than anyone expected.
"Our district manager (Mobley) has volunteered her time to pick up the boxes at each store," Shade said. They chose to donate the bulk of the food to Hope Villages of America, formerly RCS Pinellas, because it helps the homeless and hungry, as well as children and victims of spouse abuse.
"I wanted an organization that was community-driven within Pinellas County," she said.
"The food drive is totally employee-driven," Shade said. As Walgreens employees, who are deemed essential during COVID, "we worked every day, scared, and as a pharmacy we see sick people all the time, but seeing the number of homeless and hungry and trying to ease their suffering was different," she said.
"As stressful as all that is … the way I see it, at the end of the day, we're the lucky ones. We have a job, we have a roof over our heads and food on the table."
The current phase of food collection was expected to culminate at the end of December. However, because life doesn't seem to be getting any better, many associates want to continue the food drive, so it may continue into the new year.