Florida Department of Health announced Tuesday night that another person had died from COVID-19 in Pinellas County, bringing the death toll to nine.
An additional seven cases of coronavirus were reported, increasing the county's total to 387, which is seven more than the number reported this morning and 25 more than DOH reported Monday night.
Statewide, the number of cases increased to 14,747 with 296 deaths.
Most of the cases in Pinellas are Florida residents, 354, and 33 are non-Florida residents, which is one less than what was reported this morning. Most are men, 202, and 185 are women. Ages range from 6-95.
Sixty-six people were hospitalized, which includes residents and non-residents.
DOH included a qualifier that said, "Hospitalizations is a count of all laboratory confirmed cases in which an inpatient hospitalization occurred at any time during the course of illness. These people may no longer be hospitalized. This number does not represent the number of COVID-19 positive persons currently hospitalized. We do not have a figure for that information at this time."
The first two cases of coronavirus in Pinellas were confirmed on March 11.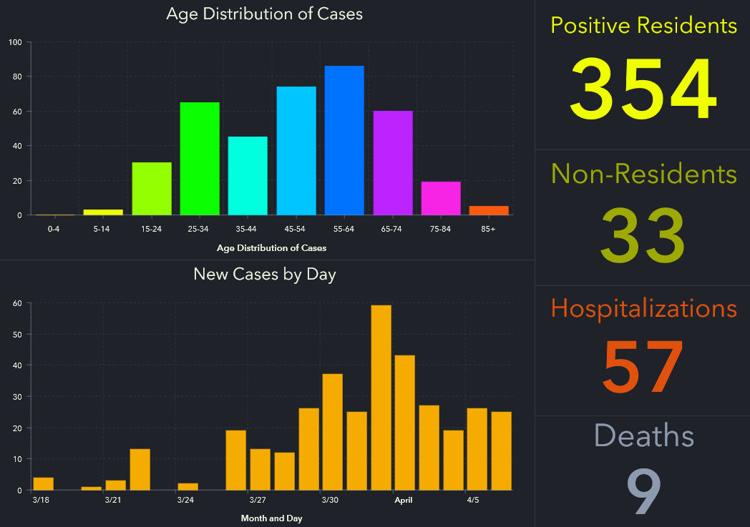 DOH provided updated and revised information on the city of residence for 344 of the cases in Pinellas on Tuesday morning. The county's hotspots are St. Petersburg, Clearwater and Largo. Ninety-seven of the cases are St. Petersburg residents, 81 are from Clearwater, 50 from Largo, 22 from Seminole, 21 from Palm Harbor, 18 from Tarpon Springs, 12 from Dunedin, eight from Pinellas Park, six from Clearwater Beach, five from Safety Harbor, three each from Belleair, Indian Rocks Beach, Gulfport and Oldsmar, two each from Bay Pines, Belleair Bluffs and Madeira Beach, and one each from Belleair Beach, Kenneth City, North Redington Beach, Crystal Beach, Treasure Island and South Pasadena.
DOH reported Tuesday night that 7,086 people had been tested in Pinellas with 6,623 testing negative. Twelve tests were inconclusive and results were pending for 68. DOH said 5.5% of test results were coming back as positive.
The county's death toll stands at nine. No information was yet available on the one reported Tuesday night. According to the latest information from DOH, the county's first death attributed to coronavirus was a 52-year-old male who died March 18. His case was travel-related. He had traveled to Bulgaria, Germany and Utah. An 82-year-old man who died on March 26 had traveled to Ohio and in Florida.
The six other deaths were not travel-related and include a 40-year-old woman who died March 30, an 85-year-old man who died on April 1, a 67-year-old man who died March 21, an 83-year-old woman who died March 23, a 64-year-old man who died March 26 and a 58-year-old man who died March 28.
Pinellas County extended its local state of emergency and "safer at home" order for another seven days, effective April 3-10. The county also passed a resolution April 2 closing all nonessential businesses.
The county Emergency Operations Center is working at a Level 1 virtual activation.
Visit www.pinellascounty.org/emergency/covid19/default.htm for more information.
State cases increasing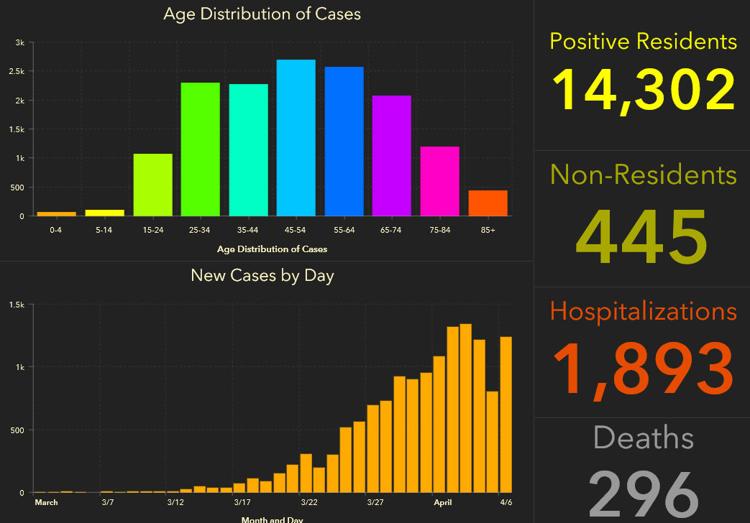 The number of confirmed cases in Florida residents was up to 14,302 on Tuesday night compared to 13,214 that morning. Another 445 cases were reported in non-residents, bringing the state's total to
14,747 — 243 more than the number reported this morning and 1,118 more than DOH reported Monday night.
The number of deaths in Florida increased to 296, which is 13 more than the number reported this morning and 42 more than what was reported Monday night.
DOH reports that 1,893 are hospitalized statewide.
Of the 14,747 cases reported Tuesday night, 1,233 were travel-related, 2,677 had contact with a confirmed case, 840 had travel and contact with a confirmed case and 9,552 were under investigation.
DOH reported Tuesday night that 139,669 had been tested statewide. Of that number, 123,415 had tested negative. DOH says 10.6 percent of tests results were positive.
Florida is under a stay-at-home order that remains in effect until April 30.
National and global numbers
According to information from Johns Hopkins University Center for Systems Science and Engineering, posted at 6 p.m. Tuesday, cases of coronavirus in the United States were up to 386,817 with 12,285 deaths compared to 368,533 cases with 11,008 deaths reported this morning. The number of global cases was up to 1,413,415 cases with 81,200 deaths compared to 1,363,365 cases and 76,420 deaths reported Tuesday morning.
For more information on the coronavirus, visit www.floridahealth.gov/index.html. If you think you might need to be tested, contact your health provider, or call the state DOH's COVID-19 hotline at 1-866-779-6121 or the Pinellas County DOH's hotline at 727-824-6900. Both numbers are open 24/7.
Suzette Porter is TBN's Pinellas County editor. She can be reached at sporter@tbnweekly.com.