Pumpkin patches and demonic decorations herald the haunting season: Halloween will soon be upon us!
Bewitched and bedeviled, Pinellas residents busily prepare their costumes, stockpile sweets and seek out some of the area's most terrifying Halloween happenings. During this creepy season, communities throughout Pinellas and around the Tampa Bay area play host to horrifying haunted houses, fiendishly fun festivals and tantalizing trick-or-treating. With such a variety of activities, there's plenty to do for both the adult crowd as well as all the little ghouls and goblins.
Following is a list of other community events around the area:
Belleair
Halloween Bash
The town's Halloween Bash will be held Saturday, Oct. 26, 4:30 to 8 p.m. at the Dimmitt Community Center, 918 Osceola Road, Belleair.
The event is tailored for children ages 12 and under, including bounce houses, treat stops, glow dance party, costume contests and more.
Clearwater
Fall Festival & Trunk or Treat
A Fall Festival and Trunk or Treat event will be presented Saturday, Oct. 26, 5 p.m., at Feather Sound Church, 13880 Feather Sound Drive, Clearwater.
This will be a fun time with little ones to come to a safe environment and collect treats. There will be bounce houses, face painting, games, trunk-or-treating and food trucks. The event is free and sponsored by Feather Sound Church.
For information, visit www.FeatherSoundChurch.com.
Dunedin
Halloween in the Park
The Friends of the Island Parks Inc. will host the annual Halloween in the Park special event on Friday and Saturday, Oct. 25-26, 6 to 10 p.m., at Honeymoon Island State Park.
Honeymoon Island State Park is located at the extreme west end of State Road 586, north of Dunedin.
The event will feature a haunted house, scary trail, a mythical-magical children's trail, games, storytelling and more. A costume contest for children 12 and younger will be held each night at 7 p.m. Attendees should bring a trick-or-treat bag to collect candy prizes. This special event provides a safe alternative to trick-or-treating and a unique way to experience the Halloween season.
Halloween Happenings
The Halloween Happenings festival will be presented Saturday, Oct. 26, 5:30 to 9:30 p.m., at Highlander Park, 1920 Pinehurst Road, Dunedin.
The event will feature a Haunted Hayride, carnival games, crafts, bounce houses, costume contests for all ages, DJ music jams, as well as Boo in the Zoo and Little Goblins Hayride for little ones. Parking cost is $5. Cost for the Haunted Hayride is $5. A $10 wristband is required for bounce houses, games, crafts, Boo in the Zoo and Little Goblins Hayride.
Gulfport
Monster Mash Halloween Party
The eighth annual Monster Mash Halloween Party will take place Saturday, Oct. 26, 7 to 11 p.m., at the Gulfport Casino, 5500 Shore Blvd. S., Gulfport.
Organizers of this themed party will be adding décor featuring black cats, pumpkins and magic. Attendees should dress to impress the judges in imaginative, inventive and inspirational costumes to win prizes donated by local businesses. Monster Mash is a fundraiser for the Gulfport Multipurpose Senior Center Foundation. The foundation raises and distributes funds that support and enhance the recreational, educational, social and health-related programs and services of the center.
Tickets are $25 in advance and $30 at the door. Tickets can be purchased at Gulfport Beach Bazaar, 5413 Shore Blvd. S.; or online at ticketbud.com/events/00a534e4-d0b7-11e9-9129-42010a717007.
Largo
FBG Pumpkin Fest
The third annual Pumpkin Fest will take place Sunday, Oct. 27, noon to 4 p.m., at the Florida Botanical Gardens, 12211 Walsingham Road, Largo.
Participants will start with a pumpkin and leave with a jack-o-lantern just in time for Halloween. Templates, pumpkin carving stations and kid-friendly carving tools will be provided. Kona Ice will be scooping up shaved ice for the second year in a row, and St. Pete Concessions will be serving hot dogs on site. This year, the Florida Nursery, Growers and Landscape Association will join the fun, hosting a Spooky Planter Workshop. Halloween-themed music will set the tone for the Scarecrow Contest, presented by 4-H.
Cost is $5 per pumpkin. Attendees also may bring their own pumpkin. To register, visit www.flbgfoundation.org/pumpkinfest. There also will be a photo station.
Scarehouse Pinellas
Scarehouse Pinellas will be presented every Friday and Saturday in October, from 7 to 11 p.m., at Lowe's Commercial Painting, 12461 Creekside Drive, Largo.
Cost is $15 a person. For tickets, visit eventbrite.com. A portion of the proceeds benefit SPCA Tampa Bay.
The haunted house features 10,000 square feet of fright. A signed waiver is required for entry with a recommended age of 12 and above. Minors must be accompanied by an adult.
Owl-O-Ween
Owl-O-Ween will be presented Friday, Oct. 25, 6 p.m., at McGough Nature Park, 11901 146th St. N., Largo.
Attendees will stroll along the spooky, haunted trails at McGough Nature Park in search of bats, owls, ghosts and goblins. The event also will feature a raffle, candy and marshmallow toasting. Cost is $5 a person. Call 727-518-3047 to reserve a spot.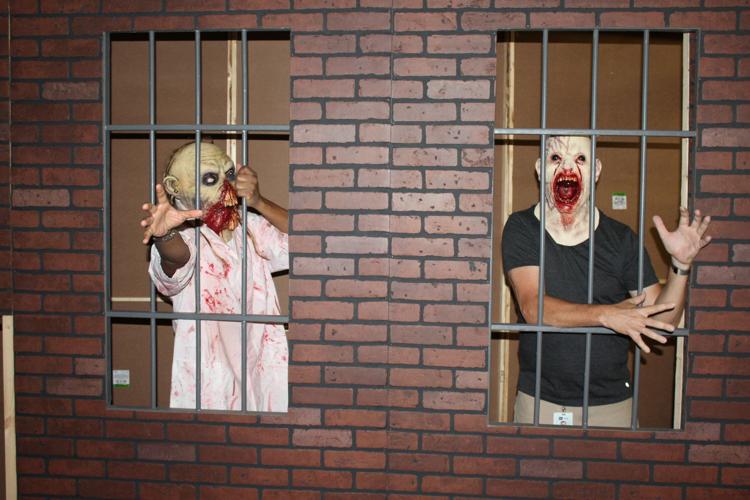 Forensic Technology will host its third annual Warehouse of Horrors Oct. 25-30, 6 to 10 p.m., in the STAR Center behind Raytheon on the corner of Belcher and Bryan Dairy roads.
Since inception in 2016, the event has raised more than $40,000 for local charities. This year, proceeds benefit Mason Dixon's Christmas Wish Fund and the Homeless Empowerment Program. Cost is $8 a person. Tickets may be purchased at the event (cash or credit card) or online at thewarehouseofhorrors.com.
Halloween Spooktacular
The family-friendly Halloween Spooktacular event will take place Saturday, Oct. 26, noon to 5 p.m., at Largo Central Park, 101 Central Park Drive, Largo.
The free trick-or-treat trail will be offered from noon to 4 p.m. The event also will feature games, inflatables, and a petting zoo. A $10 wristband is required for many activities. There will be a preschool Tot Zone and Kid Zone available as well as a free costume parade and costume contests.
For information, call 727-587-6740, ext. 5014, or visit LargoEvents.com.
Harry Potter-Palooza
The Harry Potter-Palooza will be presented Monday, Oct. 28, 5:30 to 7:30 p.m., at the Largo Public Library, 120 Central Park Drive, Largo.
Wizards of all ages unite for a magical evening celebrating all things Harry Potter. Dust off your best wizard's robes for a costume contest, throw your name into the Goblet of Fire to enter the Tri-wizard Tournament, and enjoy other food, crafts, and games inspired by the Harry Potter book series.
Trunk-or-treat
A Halloween trunk-or-treat event will take place Thursday, Oct. 31, 5:30 to 7:30 p.m., at Christ The King Lutheran Church, 11220 Oakhurst Road, Largo.
The event is open to the community.
Halloween Costume Bash
A Halloween Costume Bash will take place Thursday, Oct. 31, 1 to 3 p.m., at Largo Community Center, 400 Alt. Keene Road, Largo.
Cost is $8 a person. Attendees are encouraged to dust off their old costumes for dancing, a costume contest, games, light hors d'oeuvres and punch. Prizes will be awarded.
Madeira Beach
Wag-O-Ween
Wag-O-Ween will take place Saturday, Oct. 26, 10 a.m. to 4 p.m., at the Madeira Beach Recreation Center, 200 Rex Place, Madeira Beach.
The event will feature a dog costume contest for small, medium, large and extra-large breeds. Registration is $5. In addition, there will be pet-friendly vendors and activities, on-site animal adoptions, dog-friendly raffle prizes, local food trucks, craft breweries, and live music.
Admission is a recommended donation to CASA, which is in need of items to care for animals and families in their care. While all donations are appreciated, visit casa-stpete.org for a more specific list of items.
To register as a participating rescue or shelter or to become a sponsor or vendor, call 727-392-0665.
Oldsmar
Haunted Happenings
Haunted Happenings will take place Friday, Oct. 25, 6 to 9 p.m., at the Mobbly Bayou Environmental Education Center, 423 Lafayette Blvd., Oldsmar.
Parking will be available at Bicentennial Park, where participants can hop on a hay ride to be transported to the event. Always a community favorite, this free festivity features a haunted trail, costume contests, inflatables, and candy. Costume contest registration begins at 5 p.m. for ages 12 and younger. Empower Adventures Tampa Bay will be offering a $10 zipline experience that evening.
Palm Harbor
Hartley's Haunted House
The very young or faint of heart are invited to a special not-so-scary haunted house from 5 to 7 p.m. Friday, Oct. 25, and Saturday, Oct. 26, at the Palm Harbor Museum, 2043 Curlew Road, Palm Harbor.
Organizers say that this is perfect for younger children, who will receive free goodie bags and Culvers ice cream. Admission for youngsters is $5.
The very scary haunting for older children who dare to enter will beckon the brave from 7 to 10 p.m., with tickets being sold until 9 p.m. The cost for adults is $10. Long-dead members of the Hartley family, who built the house, will lurk behind every corner in darkened rooms to surprise those courageous enough to venture through.
The ghoulish happenings will take place on two floors inside the museum, and a free Halloween party will manifest in the courtyard.
Centre of Doom Halloween Carnival
The Centre of Doom Halloween Carnival will be presented Saturday, Oct. 26, 6:30 to 9 p.m., at the Centre — CSA Palm Harbor, 1500 16th St., Palm Harbor.
For children of all ages, the annual Halloween carnival will feature non-scary trick-or-treat, a haunted hayride, games, music and food. There also will be some haunted houses sponsored by local area groups. Attendees are encouraged to come in costumes.
Food and drink will be available for purchase. Rides and games will be available with the purchase of a $10 wristband.
For information, visit www.CSAPalmHarbor.org or call 727-771-6000.
Pinellas Park
Halloween Treat Trail
The city of Pinellas Park will host its Halloween Treat Trail Thursday, Oct. 31, beginning at 6 p.m., at England Brothers Park, 5010 Dave McKay Way, Pinellas Park.
This free event is for girls and boys of all ages where they may collect candy donated by local businesses and community organizations. Activities, costume contest, prizes, refreshments and popcorn will be provided.
Safety Harbor
Haunted Lore of Safety Harbor
Brandy Stark of the SPIRITS of St. Petersburg will present the Haunted Lore of Safety Harbor Wednesday, Oct. 30, 6:30 p.m., at the Safety Harbor Public Library, 101 Second St. N., Safety Harbor.
Attendees are encouraged to bring questions, images or experiences to this interactive presentation that explains the positive behaviors, research, and encounters of paranormal investigation. Stark is an authority of the paranormal world with 22 years of experience investigating local haunted locations, ghost lore, and urban legends. She founded the SPIRITS of St. Petersburg in 1997 and presents on ghostly lore for numerous organizations.
Call 727-724-1525, ext. 4112, for information or visit www.SafetyHarborLibrary.com.
St. Pete Beach
Horan Park Trunk-or-Treat
A Trunk-or-Treat event will be presented Thursday, Oct. 24, 5:30 p.m., at Horan Park, 7701 Boca Ciega Drive, St. Pete Beach.
This year's Trunk-or-Treat will offer an evening filled with Halloween fun. The event will get underway with trick-or-treating from spooky trunks in the parking lot. Then, attendees are invited to watch a family-friendly Halloween movie under the stars for free.
For information, visit www.spbrec.com or call 727-363-9245.
American Legion Post 305 Halloween party
A Halloween party and costume competition will take place Wednesday, Oct. 30, 6:30 to 9:30 p.m., at American Legion Post 305, 6999 Gulf Blvd., St. Pete Beach.
The event will feature live music, raffles, spooky snacks and more. Admission is free. This is a fundraiser. For information, call 727-367-1596.
St. Petersburg
Ghost Tour of St. Petersburg
Celebrate Halloween with spine-tingling tales of restless ghosts and haunted houses, and illuminate the dark side of the Sunshine City.
The Ghost Tour of St. Petersburg is offered Thursday through Sunday, 8 p.m., departing from Sweet Divas Chocolates, 181 Fourth Ave. NE, St. Petersburg. Cost is $20 a person for adults and $12 for ages 4 to 12. Private tours and group rates available. Call 727-894-4678 or visit http://www.ghosttour.com.
Wandering spirits and lost souls, ageless curses and hidden treasures: The tour guide will share stories that have been passed down from generation to generation, containing secrets only whispered about in history books. Attendees will visit the actual locations of these long-lost stories, with a costumed storyteller spinning tales of horror and hauntings.
Thrill the World
Thrill the Burg Children's Charity Inc. will host live lessons to teach anyone in the community the moves to "Thriller" so that they can be part of the fun as St. Petersburg joins the world stage on Saturday, Oct. 26, 6 p.m., with Thrill the World, a worldwide attempt to break the world record for the Largest Simultaneous Dance to Michael Jackson's "Thriller."
Thousands of people in cities around the world will learn the Thriller dance and perform it precisely at the same time. Here in St. Petersburg it will be the 10-year celebration of participating in the worldwide event and it will take place at Ferg's Sports Bar and Grill, 1320 Central Ave., St. Petersburg.
Anyone can learn the dance and join in. Live dance lessons have already begun and are being held at Ferg's Sports Bar & Grill, Broadway Arts and Dance Academy, the Bayou Dance Club and several other locations throughout the community. Video dance lessons are also available on the organization's website. Registration is now open for the Oct. 26 event at www.thrilltheburg.org. Cost is $10 per person with proceeds going towards the charity. Thrill the Burg is also seeking volunteers and those interested in dancing for special "Thriller" flash mobs being organized now through Halloween. Follow the group on Facebook and Instagram at #thrilltheburg for the latest updates and announcements.
Proceeds from this year's fundraising efforts will go to help local youth with the Kind Mouse, Lift Academy and Melrose Elementary. 
Novaween
Novaween 13 will be presented Thursday, Oct. 31, 9 p.m. to 3 a.m., at NOVA 535, 535 Dr. Martin Luther King Jr. St. N., St. Petersburg.
For those 21 and older, the event will feature aerialists, fire shows, sword play, tarot card readings, go-go dancers along with many scary surprises. A costume contest will take place at 1 a.m.
Cost is $26.75. Visit nova535.com.
D-Deuce "Punk It Up" Halloween show
D-Deuce is going back to their punk roots with a special "Punk It Up" Halloween show Thursday, Oct. 31, 6 p.m., at the Chattaway, 358 22nd Ave. S., St. Petersburg.
Starting out as Karyn Satin & the Bedsheets in New York's CBGB era, the iconoclastic blues-infused acoustic rock duo has just come off a cross-country micro-tour and is hitting the ground running in St. Pete with a new unplugged version of their signature showstopper, Dirty Window. D-Deuce features Karen Payne-Taylor on lead vocals and partner Christopher Payne-Taylor on acoustic rock guitar and back-up.
Seminole
Seminole Assembly Ministries' Zoofari Fall Festival
The Zoofari Fall Festival will take place Thursday, Oct. 31, 6:30 to 8 p.m., at Seminole Assembly Ministries, 10600 113th St. N., Seminole.
The free event will feature trunk-or-treating, a hayride, kids' activities, bounce house and inflatable games and food.
For information, call 727-391-9788.
Treasure Island
Halloween Spooktacular and Fall Festival
The Treasure Island Recreation Department's annual children's Halloween Spooktacular and Fall Festival will be presented Friday, Oct. 25, 6 to 9 p.m., at the Treasure Bay Golf and Tennis facility, 10315 Paradise Blvd., Treasure Island.
Activities will include a costume contest, carnival games, moonwalks and interactive inflatables, DJ spinning haunted tunes, interactive entertainers, haunted house, train ride and food and beverage concessions. Judging for the costume contest will begin at 6:30 p.m. with the 2-year-olds and younger age group.
For additional information, call the Recreation Department at 727-547-4575, ext. 237.
Pasco County
Shady Hills
Spook-a-thon at the Concourse
The Concourse will host its Spook-a-thon Halloween event every Friday and Saturday in October, as well as Sunday, Oct. 27., at 11919 Alric Pottberg Road in Shady Hills.
Featuring a wide variety of family friendly activities, the event will include the Spooky Train and Spooky Trail. Spooky Town and Spooky Fun will be open the last weekend only. The Grand Concourse Railroad club has designed a miniature train ride which winds past the spine-tingling morgue, the looney asylum, and other creepy creations that will delight and thrill.
Volunteer actors who previously created the wildly popular Angelus Haunted Halloween are bringing their terrifying talents to the Concourse. The Spooky Trail haunted walking path through the woods will feature animated special effects, live actors and unexpected chilling surprises.
The child sized village of Pasco Safety Town will come to life as Spooky Town with lighted buildings, face painting, and trunk-or-treat Friday and Saturday, Oct. 25 and 26 only. Spooky Fun at the jumbo Rotary Pavilion will offer spooky fun and entertainment for kids Friday and Saturday, Oct. 25 and 26 only.
Hours are from 5 to 7:15 p.m. for the Daylight Train, which may be best for young or sensitive children. The Spooky Train and Spooky Trail will run from 7:30 to 9:30 p.m. Spooky Town and Spooky Fun will be open from 5 to 9:30 p.m. on the last Friday and Saturday before Halloween.
The cost is $6 each for entry to either the Spooky Train or Spooky Trail, or $10 for both. Spooky Fun will also be $6 to enter or $15 for all three. There is no charge to enter Safety Town. Tickets are available at the gate only. Credit cards are accepted. Children 12 months and younger are free. Food concessions will be provided for purchase by the West Pasco Sertoma Club.
The Concourse is a private nonprofit unique park venue which operates for the enjoyment and benefit of the community. Visit the concourse.org or follow the Spook-a-thon on the Concourse Facebook page. For information on the Spooky Train or train club membership, visit the Grand Concourse Railroad on Facebook, or call Bill at 727-639-7639.
St. Leo
Haunted Marmion
The Office of Residence Life will host its annual Haunted Marmion Tuesday, Oct. 29, 6:30 to 8:30 p.m., in Saint Leo University's Marmion-Snyder Hall, 33701 State Road, St. Leo.
This student residence is the long complex formed by two conjoined buildings at the west end of university campus. Marmion-Snyder Hall is visible from State Road 52, and accessible to vehicles via the entrance just east of Benedictine Hall.
"Fear" is the theme for this year's haunted house in Marmion Hall. Guests are invited to "Fear the Dark Place" as they travel through an augmented reality within the haunted house. For children and those who want a tamer experience, there will be trick-or-treating in Snyder Hall within the building. Haunted Marmion will feature games, crafts, and other interactive Halloween-themed activities as well as Halloween treats in the Lion's Den in Marmion-Snyder.
The event is free and open to the community. Saint Leo also will be collecting canned/nonperishable food items at Haunted Marmion. In keeping with Saint Leo's core values, these items will be donated to those in need.
For information, email Kari Grippo at kari.grippo@saintleo.edu or call 352-588-8379.
Hillsborough County
Tampa
UNDead in the Water
UNDead in the Water, Tampa's only authentic nautical haunted attraction, will take place aboard the American Victory Ship located at 705 Channelside Drive, Tampa, FL, behind The Florida Aquarium. Hours for all event nights are from 8 to 11 p.m., and include every Friday and Saturday in October. UNDead in the Water also will be open Thursday, Oct. 31; and Friday and Saturday, Nov. 1-2.
Attendees may traverse multiple decks of this historic WWII cargo ship armed only with a blacklight flashlight as they try to avoid being eaten by the infected zombie stowaways. The merciless Ripper Squad will do what they were trained to do: search and destroy.
Admission is $15 for adults, and $13 for military, veterans and first responders. To purchase tickets, visit bit.ly/2EJHVDX. For more information, visit www.undeadinthewater.com or call 813-228-8766.
Spooky Empire
Spooky Empire will celebrate Halloween Thursday through Sunday, Oct. 31 through Nov. 3, at the Tampa Convention Center, 333 S. Franklin St., Tampa.
The opening on Halloween day will feature tricks and treats for guests of all ages and a discounted price tag of $20 for adults and free for kids 12 and younger. During Thursday's festivities, convention-goers can experience the "dark side of comic con" with a day full of exhibitors, after-parties, vendors, kids costume contests with prizes, and trick-or-treating. Throughout the weekend, guests will be able to meet and mingle with stars, buy collectibles from hundreds of vendors and artists, see new and emerging films as well as old favorites, and even get tattooed by some of the best artists in the world.
"Needless to say, Halloween is our favorite holiday and without a question, we needed to incorporate it as part of this year's Spooky Empire," said Gina Mongelli, co-owner of Spooky Empire. "We want our new fans to know and our longtime fans to remember that the convention is not only for adults, but it's also kid-friendly."
Celebrities and bold face names joining the festivities this year include some of the biggest names in horror and pop culture, such as Cassandra "Elvira" Peterson, Clive Barker, Sam Raimi, Bruce Campbell, Mia Farrow, Alice Cooper, Ted Raimi, Tony Todd and James Hong. Celebrities will be present on specific days. For a complete schedule, visit spookyempire.com.
A four-day pass costs $90. Single-day pass prices vary, starting at $20 for Thursday only.
Founded in 2003, Spooky Empire's Fall Convention has grown to become one of the largest thriller conventions in the nation with attendance increasing each year.