DUNEDIN — Each year, the Dunedin Fine Art Center looks to tie the themes of its fall exhibits to the year-long theme running in the center's hands-on Children's ART Museum. This year, things are expected to get a little bit wild as animals take center stage.
Following is a summary of the fall exhibit lineup:
"Beasts and Burdens" — Sept. 17-Dec. 23 in the Entel Family Gallery
"Beasts and Burdens" examines contemporary animal symbology. As human interactions with nature change in response to environment, what animals will serve as symbols for our needs, desires, fears and joys? The exhibit will feature work by Adonna Khare and Christian Zvonik. It is curated by Nathan Beard.
Khare is mainly focused on carbon pencil on paper drawings. She received her master's degree in fine art from California State University Long Beach. Her work has been collected by prestigious public and private collections throughout the world. In 2012 she won the world's largest art competition ArtPrize, competing against over 1,500 artists from all around the world. She has had group and solo shows throughout the country, including Long Beach Art Museum, City of Carlsbad Art Gallery, Nassau County Art Museum, Yellowstone Art Museum, Grand Rapids Art Museum and Crystal Bridges.
"Rebecca Sexton Larson: Man Made Cloud" — Sept. 10-Oct. 17 in the Meta B. Brown Gallery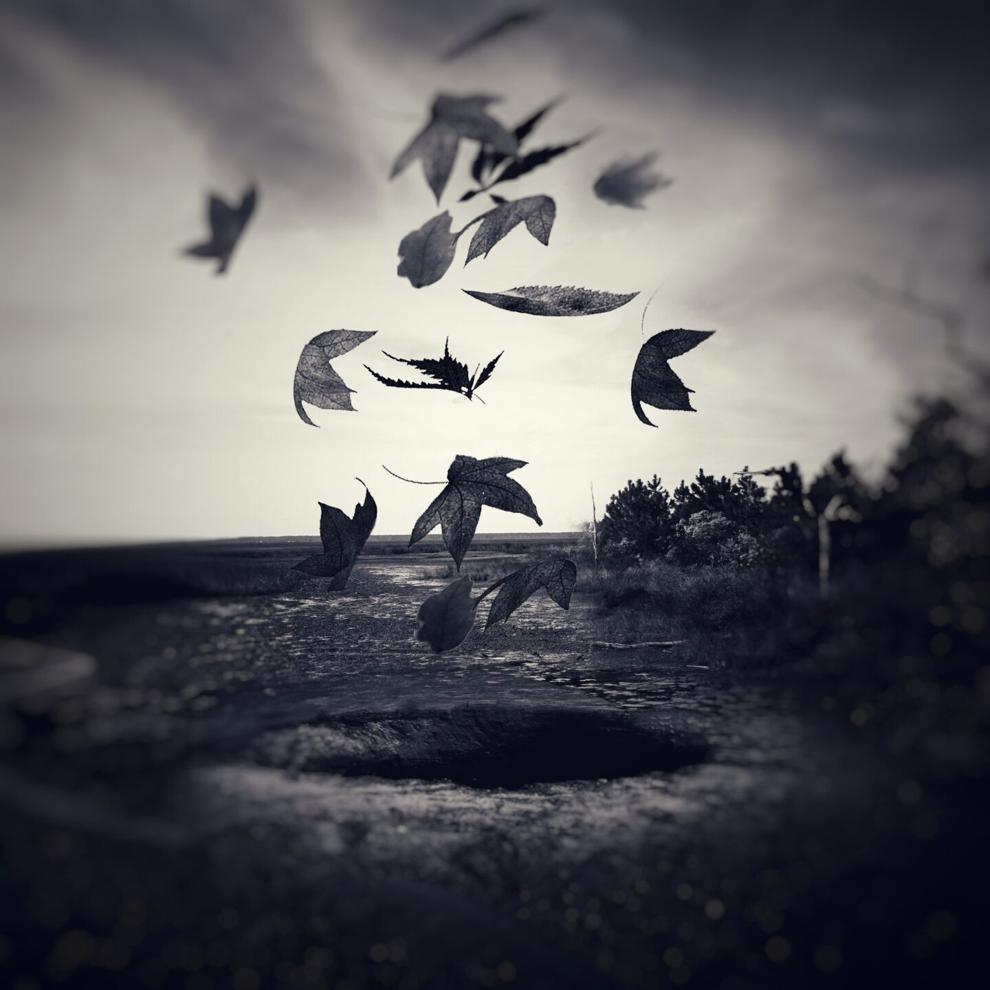 Known for her elegant explorations in alternative photo processes, Rebecca Sexton Larson presents her newest body of poetic images.
According to her website, Sexton Larson is a Tampa artist working with photography-based processes. She graduated from the University of South Florida with a degree in fine arts and a degree in mass communications.
Sexton Larson has taught, curated, lectured and exhibited work internationally at various arts institutions and organizations. Her photographs are in numerous major collections throughout the country, including Polaroid, Progressive Corporate Art, Graham Nash, Holland and Knight Law Firm, Polk Museum of Art, Museum of Fine Arts St. Pete, the Tampa Museum of Art, Palace of the Governors, New Mexico Historical Museum and Candela Gallery, Virginia.
"Anne Hieronymus: Envisioning the Particular" — Sept. 14-Dec. 24 in the Douglas-Whitley Gallery
Anne Hieronymus employs a multiplicity of forms to map out an intricate world of her own making. Drawings, sculpture, collage and photographs offer a meditation on the mystery of unrelenting change.
Hieronymus makes her drawings on large sheets of bright white gessoed paper, and the pencils are shaded from deep black to very light pastels. Layers of stylistically foreign visual material intermingle and overlap in an explosion of activity that creates an unexpected inner calm. Originally known for her work as a makeup artist in the film industry, she ultimately decided to return to art school. Hieronymus received her BFA in sculpture from the Art Institute of Chicago in 2006, and she continued her studies at the Claremont Graduate School where she earned an MFA with honors in 2009. Hieronymus has participated in numerous group and solo exhibitions in diverse venues
"Storied Lives: P.A. Kushner" — Sept. 17-Dec. 23 in the Gamble Family Gallery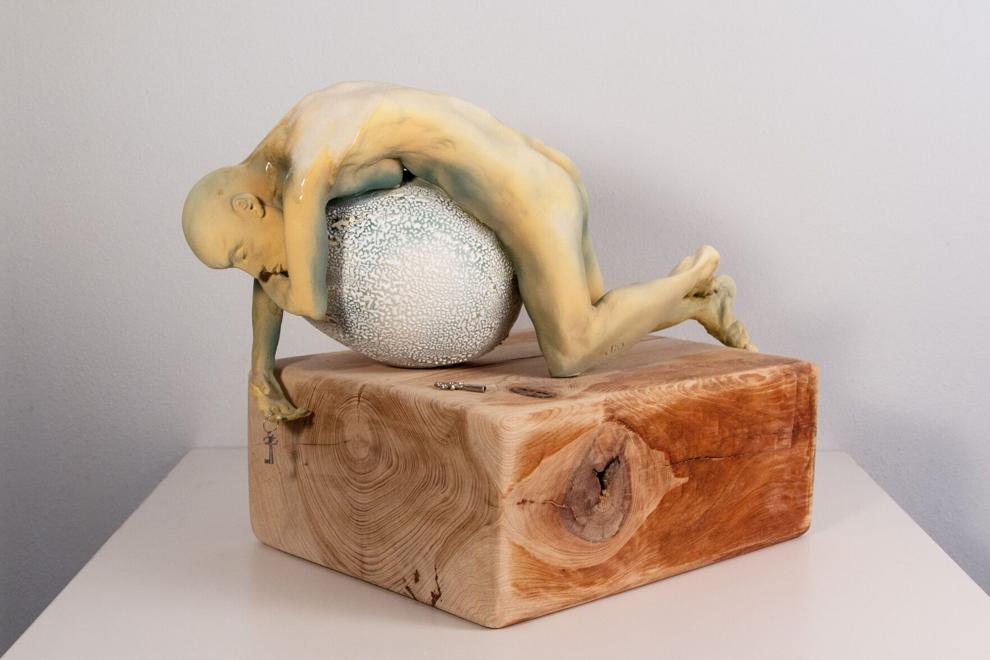 "Storied Lives: P.A. Kushner" features vivid sculptures celebrating the figure in contemporary ceramics by an extraordinary maker.
"Ceramic sculpture has become a passionate narrative for me," Kushner states on her website.
Her work is intended to engage a thought-filled dialogue informed from a collage of imagery. She conceptualizes the world and herself as being in a constant mode of transformation, examining change on the most basic levels to the more complex.
While her figures are often stylized they are gender specific. They are meant to be inclusive and expressive of the human condition.
"My invented narratives are laden with metaphorical dramas that are both autobiographical and socially universal," she explains. "I have found that humor in some cases can be more effective in engaging the viewer when dealing with difficult subject matter."
"Spirit Animals" — Sept. 10-Oct. 17 in the John and Pat Rossi Gallery
"Spirit Animals" is a call for artists. The exhibit will feature 2D and 3D works in all media. There are no size limitations. There will be a guest juror and cash awards.
"Zootopia" — Sept. 7-Oct. 8 in the Kokolakis Family Youth Gallery
Works from DFAC's award-winning Summer ART Academy fill the gallery for "Zootopia." The work of these young artists will amaze visitors.
DLM Children's ART Museum
DFAC celebrates the 23rd annual children's hands-on exhibit, "Zootopia." This interactive, hands-on experience for 4.5 to 12 years old provides an environment where you can explore how art and science go hand in hand in the wonderful world of animals. Create your very own gyotaku (Japanese fish print) in the yellow submarine as you explore the undersea world, customize your self-portrait as an animal with our giant magnetic eyes, paint an abundance of wildlife viewed through the windows of our safari tent, draw fun and funky animal patterns on giant horse heads as they glow in the blacklights, and experience giant dino puzzles, animal blocks, Stop Motion, giant chalk wall, a Taun Taun and more.
The Dunedin Fine Art Center is open Monday through Friday, 10 a.m. to 5 p.m. Gallery admission is free. The DLM Children's ART Museum is open Monday through Friday, 10 a.m. to noon and 2 to 4 p.m. Admission $4 for adults, $3 for seniors, and free to members and children 2 and younger. For information, call 727-298-3322 or visit www.dfac.org.