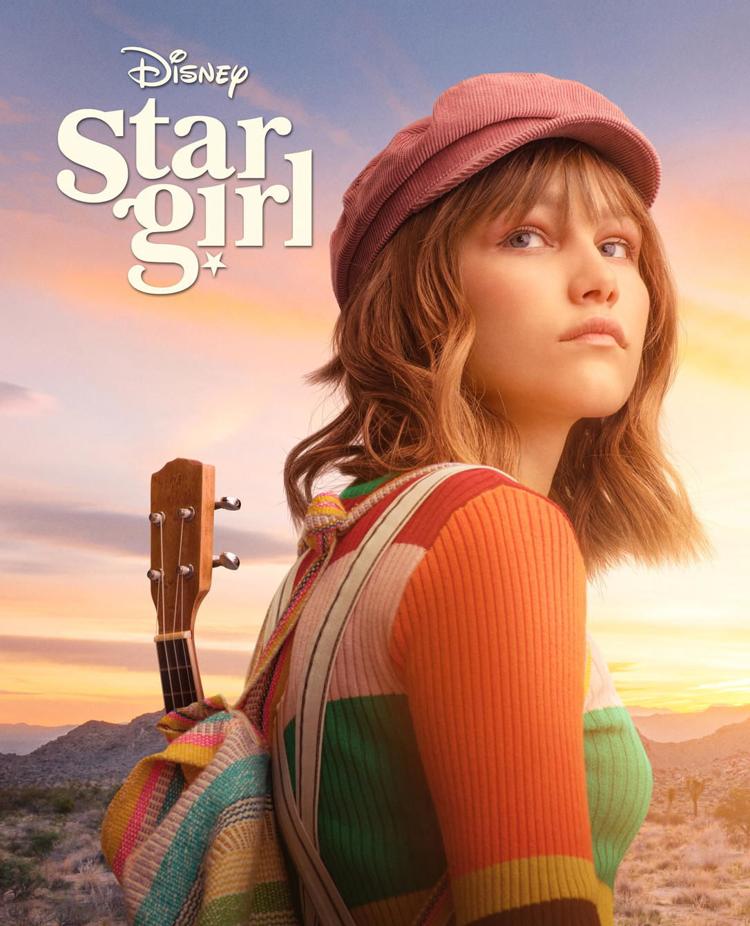 "Stargirl" certainly isn't what audiences generally expect from Walt Disney Pictures – and I mean that as a compliment.
It's neither flashy nor shmaltzy in its affectionate examination of first love and teenage social dynamics. "Stargirl" gently tackles everything from bullying and rivalry to ostracism and nonconformity.
Directed by Julia Hart, the film is based on the young adult novel of the same name written by American author Jerry Spinelli and published in 2000. "Stargirl" made its debut on Disney+ March 13. The coming-of-age story focuses on Leo Borlock, a high-school junior who prefers to blend in with the crowd; and Stargirl Caraway, a free-spirited former home-schooled student who shows up at Leo's high school carrying a ukulele, wearing unconventional clothes and championing an independent lifestyle. Stargirl is neither rebel nor maverick, though — she's eccentric, compassionate and hyper-intuitive.
Hart takes "Stargirl" and does it up in pure John Hughes style, maintaining the story's own quirks and character peculiarities with commitment to craft generally reserved for indie films. That's what makes "Stargirl" such an unusual choice for Disney: It's pretty far from mainstream fare. Both the introvert and the extrovert at the center of the romance are legitimately sympathetic characters, and conflict in the film is almost entirely internal.
The chemistry between Stargirl and Leo, portrayed by Grace VanderWaal and Graham Verchere, is restrained but charismatic. The supporting cast is superb.
Optimistic and rewarding, "Stargirl" is a melodious anthem for uniqueness played on a ukulele.
Assistant reviewer B.C. Zumpe, a 13-year-old, shares her thoughts on the film:
"Stargirl" is a movie about romance, coming of age and being yourself.
In the beginning of the film we learn that high school student Leo Borlock's dad is dead. Leo used to wear a porcupine tie every day in memory of his father until he was bullied about it. Still, he receives ties on his birthday every year from an anonymous person, so he doesn't forget who he is.
Years later Leo and his mom moved to Mica, Arizona and Leo goes to Mica High, where he is on the marching band and his friend Kevin hosts a show called "Hot Seat." One day, a new girl named Stargirl Caraway goes to his school and Leo's life changes.
Stargirl is free-spirited and kind and she isn't afraid to be different. She wears unique clothes and always brings her ukulele. Although, sometimes when she tries to do a good thing for someone, it doesn't turn out well.
Leo misses his dad and just wants to blend in, but he is loyal to his friends. Leo is fascinated with Stargirl and the effect she has had on the school. He starts spending a lot of time with her and is supportive of her. Stargirl helps Leo find himself and see the world the way she does. The two eventually have a romantic relationship, if you haven't already figured that out.
A message of this film is that you should stay true to yourself instead of trying to fit in. Stargirl demonstrates this when she chooses to be herself despite what others think of her. This message is clear and audiences will be able to learn from it.
I liked that the soundtrack included some classic rock, such as "We Got the Beat" by the Go-Go's and "Just What I Needed" by the Cars. There is also an openly gay character, though she is only seen with her girlfriend for a short time.
Stargirl is played by Grace VanderWaal, who is also a singer and plays ukulele. She won the 2017 Radio Disney Music Awards for Best New Artist. I think she was a great choice for this role. Leo is portrayed by Graham Verchere, who has a role in "My Little Pony: Friendship is Magic" and "Once Upon a Time."
Karan Brar is Leo's best friend Kevin. Disney Channel fans will recognize him as Ravi from "Jessie" and "Bunk'd." He is also important to the story. Maximiliano Hernandez is also in the film, and portrayed Agent Jasper Sitwell in the Marvel Cinematic Universe.
I think both teens and adults will enjoy "Stargirl" because it is inspirational and emotional.
Lee Clark Zumpe is entertainment editor at Tampa Bay Newspapers and an author of short fiction appearing in select anthologies and magazines. B.C. Zumpe, Lee's 13-year-old daughter, is a middle school student, film buff and aspiring writer and director.