PAVA opens art gallery, retail store in Dunedin
DUNEDIN — The Professional Association of Visual Artists recently opened Cool Art by PAVA, a permanent art gallery and retail shop that will feature and sell the various fine art and fine craft of its member artists.
Cool Art by PAVA is at 1240 County Road 1, Dunedin, in the Independence Plaza Square. Hours are Wednesday through Saturday, 11 a.m. to 6 p.m.
PAVA, which is widely known for the annual Cool Art Show that takes place in the St. Petersburg Coliseum in July, has moved around Pinellas County for the past three decades with the hope of one day having a home base that would serve as its office and gathering spot for artists, as well as a place to display its members' artwork. With more than 750 square feet, this location will serve as both a gallery and retail shop. Cool Art by PAVA offers an impressive collection of both visual and functional art for sale in both 2D and 3D mediums including painting, ceramics, photography, mixed media, drawing, pastels, sculpture, and jewelry in all price points. Artwork will be changed out once a quarter to rotate the artists, and keep the artwork fresh and new.
The Professional Association of Visual Artists is a nonprofit organization run by volunteer artists to serve local artisans and support the arts community in the Tampa Bay area. It provides exhibition, education and grant opportunities for its members and supports local art centers through scholarships for art instruction.
For more information, visit www.pava-artists.org.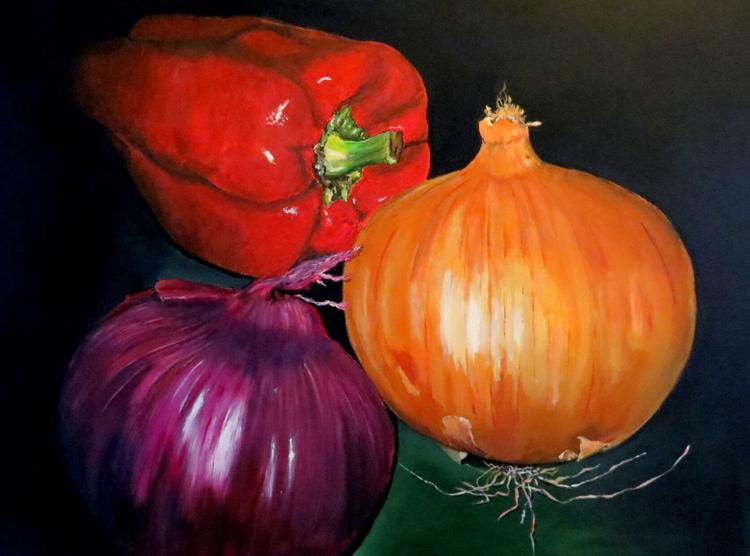 Tarpon Art Guild announces October exhibit
TARPON SPRINGS — Two of the area's favorite painters will share an exhibit at the Tarpon Art Guild gallery, 161 E. Tarpon Ave., Tarpon Springs.
"New Works," by Mary Beth McDonell and Tom Wilke, will be featured on the back wall of the gallery during October. An opening reception will take place Friday, Oct. 2, 5 to 7 p.m. The event is free and open to the public.
McDonell renewed her interest in painting after retiring from a lifelong career in nursing. A member of the Tarpon Springs Art Association, she has also studied at the Dunedin Fine Art Center and the Pasco Fine Art Center. Primarily an oil painter, her work has earned her many awards in local exhibits.
Wilke has done artwork as long as he remembers. For the last decade or more he has been painting on canvas, mostly in acrylics, although he also uses pastels and watercolors. He has won many awards for his work and believes in the adage that "art is 10% inspiration and 90% perspiration."
For information, call 727-744-3323.
ABBA The Concert reschedules Ruth Eckerd Hall performances
CLEARWATER — Ruth Eckerd Hall recently announced that ABBA The Concert, previously scheduled for Sunday, March 7 at 7:30 p.m., has been rescheduled.
Tickets will be honored on the new date, Sunday, July 25, at 8 p.m. Tickets are on sale now starting at $38.75. Tickets are only available by visiting www.RuthEckerdHall.com.
ABBA The Concert continues to be the top ABBA tribute group in the world, dazzling audiences with the most iconic hits from ABBA, including "Mamma Mia," "S.O.S," "Money, Money, Money," "The Winner Takes All," "Waterloo," "Gimme, Gimme, Gimme" and "Dancing Queen."
21st Century Artists Inc. has been presenting its ABBA tribute show throughout North America for well over a decade.
Cast, crew and volunteers needed for 'Rock of Ages' production
GULFPORT — ProjectFree RisingStarz is seeking cast, crew and volunteers for the spring 2021 project "Rock of Ages," a musical by Christopher D'Arienzo, based on the music and characters of the late 1980s.
Corinne Broskette of Venue Theatre will direct. The production will follow the stage script and will be edited to suit the abilities of the performers. ProjectFree is a nonprofit corporation founded to give developmentally challenged adults the opportunity to express themselves creatively and through performance and the arts. All principal actors will be developmentally challenged, on the autism spectrum, and those with Down syndrome. There are many opportunities for smaller roles.
ProjectFree RisingStarz is also seeking a stage manager, lighting design, choreographer, backstage personnel, props manager, costumes, set designer/workers, production assistants, publicity, advertising, program set up and more.
Due to the pandemic, the production will have a long preparation schedule to lessen the stress. Rehearsals will be twice a week, on Wednesday evenings for principals and scenes, and Sunday afternoon for music beginning in October. Rehearsals will continue for five to six months. All rehearsals will be conducted via Zoom and will be sectional rehearsals for all main characters. Larger group rehearsals will also be via Zoom, and may or may not include the principal actors.
Full rehearsals will begin in February and March when the April dates will be confirmed by the Hickman Theatre in Gulfport.
All in-person rehearsals will follow CDC guidelines. Masks will be required during those rehearsals.
For information, contact Broskette at venueactorstudio@gmail.com or 727-656-8525; or email Sharon Vanderlinde at sharonprojectfree@gmail.com.
Cracker Country to present Pioneer Saturday
TAMPA — Cracker Country, the Florida rural living history museum, will present Pioneer Saturday on Saturday, Sept. 26, at the Florida State Fairgrounds, 4800 U.S. 301, Tampa.
Attendees will have an opportunity to explore original buildings from Florida's pioneer past, including the iconic Okahumpka railroad depot, a one-room schoolhouse, a well-stocked mercantile, post office, the 1885 home of a Florida governor, and more. Visitors can stroll through four acres shaded by majestic live oak trees and enjoy the museum at their own pace. Along the way, guests will meet historical interpreters who are ready to share what life might have been like for rural Floridians living at the turn of the 20th century.
Cracker Country's General Store features nostalgic and reproduction items, historical toys and games, books, candy, and many other unique gift items. Proceeds from sales in the store help support Cracker Country's educational programs.
Admission to Pioneer Saturday is $10 for adults, and $8 for seniors and children ages 6-11. Visit www.crackercountry.org for ticket information. Advance ticket purchase is required. Children 5 and younger will be admitted for free. Parking cost is $8 per car, $14 per bus or RV. Enter the fairgrounds via the U.S. Highway 301 entrance.
Led Zeppelin tribute band to play Central Park Performing Arts Center
LARGO — ZOSO, billed as "the ultimate Led Zeppelin experience," has added a second show at Central Park Performing Arts Center, 105 Central Park Drive, Largo.
Because the tribute band sold out its Oct. 17 show at the venue, a second show has been added for Friday, Oct. 16, at 8 p.m.
This show will be presented in a limited-capacity cabaret setting to promote proper social distancing. Tables of four will be available for purchase as a package for $120. To avoid close contact with others outside each group, seats will not be sold individually. Tables are now available for purchase. Visit LargoArts.com or call 727-587-6793.
Formed in 1995, ZOSO performs one of the most accurate and captivating Led Zeppelin live shows since the real thing. ZOSO embodies Page, Plant, Bonham and Jones in their spirit through tightly-wound talent and authenticity. As one of the longest tenured Zeppelin tributes, they have perfected their performance with over 3,000 live shows around the world..
Pinellas Community Players announces fall concert
CLEARWATER — The Pinellas Community Players will perform Thursday, Oct. 22, 6:15 p.m., at Holy Trinity Episcopal Church, 3240 N. McMullen Booth Road, Clearwater.
Led by Derek Currier, this ensemble gives adults the opportunity to improve their skills on an instrument either new to them or from their youth. The concert is free. Donations are encouraged.
To register, visit mydms.me/event-3977013.
St. Pete ArtWorks presents 'Above & Below' collection
ST. PETERSBURG — "Above & Below," a collection of works by Lourdes Rosas-Rasdall, is on display through Sunday, Oct. 11, at St. Pete ArtWorks, 2412 Central Ave., St. Petersburg.
A closing reception will take place Saturday, Oct. 10, 5 to 8 p.m., at the gallery.
Rosas-Rasdall has been creating art in one way or another for most of her life. Today, she works in water-media, two-dimensional mixed media and kiln-formed glass. No matter the medium, her signature is a vibrant and bold palette, representative of the world around her. Growing up in the Caribbean and then living most of her adult life in the Tampa Bay area, water has been a constant source of inspiration and influence in her journey.
"Above & Below" is a collection of works inspired by a lifetime of coastal living.
St. Pete ArtWorks is open Wednesday and Sunday, noon to 4 p.m.; and Thursday through Saturday, noon to 8 p.m.
For information, email stpeteartworks@gmail.com or visit www.facebook.com/StPeteArtworksGallery.