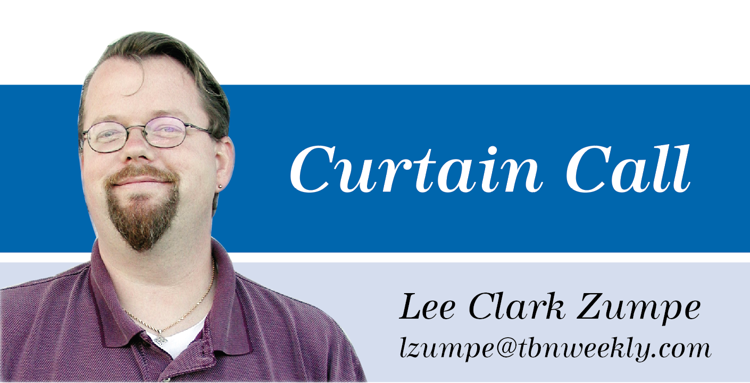 Asked to describe the final show of Eight O'Clock Theatre's 2018-19 season, I can emphatically declare: "It's ALIVE" — alive with wild and crazy lyrics sung by a talented cast and buzzing with dazzling choreography and a marvelous set.
"The New Mel Brooks Musical: Young Frankenstein" with book by Mel Brooks and Thomas Meehan, and music and lyrics by Brooks, opened July 12 at Central Park Performing Arts Center, 105 Central Park Drive, Largo. The production will run through Sunday, July 21.
Tickets are $28.50 plus applicable service fee. Call 727-587-6793 or visit www.largoarts.com. This production contains mature content and language.
"Stop me if you've heard this one before …"
It's a common phrase both class clowns and professional comedians utter as a preface to an anecdote or gag. There's an implication that through repetition, the return on humor is somehow diminished. But just because a joke is familiar doesn't mean it can't still induce laughter. If that were the case, someone will have to explain why I enjoy re-watching old George Carlin comedy specials and derive the same amount of amusement with each viewing.
It's been 45 years since Gene Wilder and Mel Brooks unleashed "Young Frankenstein" on unsuspecting moviegoers. The 1974 film is based on a script by Wilder and Brooks. Wilder starred in the title role and Brooks directed. The cast also featured Peter Boyle as the monster along with Teri Garr, Cloris Leachman, Marty Feldman and Madeline Kahn.
If you are 50 or older, chances are you've seen "Young Frankenstein" – and you've probably introduced children and grandchildren to the classic comedy, too. Ranking at No. 13 on the American Film Institute's list of the 100 funniest American movies, "Young Frankenstein" has become ingrained in pop culture. Its wisecracks enter into our daily discourse. When someone parrots a line, most people recognize the source.
If K-tel made a compilation album of "Young Frankenstein" quotes, the track list would surely include such memorable lines as:
– "There wolf. There castle."
– "Put … the candle … back."
– "Stay close to the candles. The stairway can be ... treacherous."
– "That's 'Fronk-en-steen.'"
– "Vould you like to have a roll in ze hay?"
– "A riot is an ungly thingk... undt, I tink, that it is chust about time ve had vun."
With "Young Frankenstein," familiarity doesn't breed contempt … it inspires affection and veneration. Brooks must have realized that when, in 2006, he began working on adapting "Young Frankenstein" for a Broadway musical. It didn't hurt that he's already found success with his 2001 musical "The Producers."
That brings us to the Central Park Performing Art Center in Largo where Eight O'Clock Theatre has thrown the third switch bringing its own electrifying production of "The New Mel Brooks Musical: Young Frankenstein" to the stage.
While Brooks' musical doesn't quite live up to the expectations set by his original film, Eight O'Clock Theatre manages to make the most of an imperfect show. It's almost as though it takes a gifted, enthusiastic cast and crew to shape this somewhat "abby normal" material into a genuine crowd-pleaser. EOT is up to the task.
Amy Fee championed the show, serving as director and choreographer. William Coleman is the show's music director while Jonathan Pouliot acts as assistant director.
Leading the cast is Steven Fox as Frederick Frankenstein, grandson of the infamous Victor Frankenstein. When Frederick inherits his family's estate in Transylvania, he becomes obsessed with jump-starting his grandfather's experiments by bringing to life a creature made up of spare corpse parts. Fox, who appeared in EOT's production of "Avenue Q" earlier this season, serves up an endearingly fixated mad scientist. He handles Frederick's transformation — from solemn scholar trying to escape the skeleton in his closet to nutty grave-robbing professor — skillfully.
Domenic Bisesti owns the role of Igor, Frederick's brain-snatching sidekick. Gloria Rice channels a bit of Madeline Kahn for her part as Elizabeth Benning. Miranda Wolf, playing Inga, sings "Roll in the Hay," one of the funniest songs in the show. Gay Lora Grooms has keen comic timing as Frau Blucher.
A.J. Quenell stars as The Monster. Quenell exceeds expectations as he performs "Puttin' on the Ritz" with other cast members in a recreation of one of the most beloved scenes from the film. Rand Smith does an outstanding job in the supporting role of Inspector Kemp.
Other members of the superb cast include James Holzwarth as The Hermit, Ben Taylor as Victor and Michael Sporck as Ziggy. The ensemble includes Rei Capote, Michelle Chrien, David Collins, Jonathan Foster, Jason Goldstein, Faythe Kelly, Sarah Libes, Gloria Moranski, Maggie Musco, David O'Brien, Alivia Quattrocki, Ashton Sarlo, James Sheppard, Caroline Simpson, Griffin Spriggs and Jenelle Vinachi.
The sheer number of people a production like this one involves never ceases to amaze me. Eight O'Clock Theatre's production staff is a small army of individuals dedicated to entertaining audiences. There are too many behind-the-scenes contributors to name that helped bring this show to the stage, but a few standouts include Mike Billings, scenic designer; Debbi Lastinger, costume designer; Dalton Hamilton, lighting designer; Sean Quinn, sound design; and Tony DiGiorgio and Charlie Mezzano, scenic builders. Since their creative efforts helped breathe life into this delightful production of "Young Frankenstein," they all deserve a mad scientist achievement patch.
Lee Clark Zumpe is entertainment editor at Tampa Bay Newspapers and an author of short fiction appearing in select anthologies and magazines.