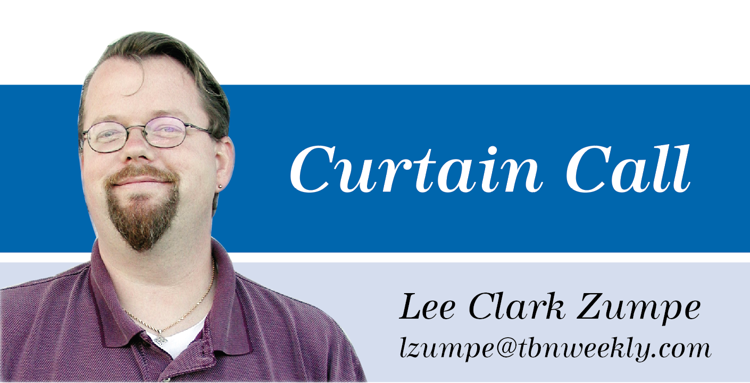 LARGO — It's no accident that the puppets who live on Avenue Q look very similar to those who populate the classic children's television series. They may even be distant cousins.
Once the show gets going, though … well, the warning included in the marketing makes it clear: "This production contains adult language, content and puppet nudity. Parental discretion is advised."
"Avenue Q" is easily the funniest 21st century musical comedy featuring puppets and human actors. It's a laugh-a-minute show, particularly for Gen Xers, that's packed with heart and social relevancy.
"Avenue Q," presented by Eight O'Clock Theatre, will run through May 19 at Central Park Performing Arts Center, 105 Central Park Drive, Largo. Performances are Thursday through Saturday, 8 p.m.; and Sunday, 2 p.m. Tickets are $28.80 plus applicable service fee. Call 727-587-6793 or visit www.largoarts.com.
Eight O'Clock Theatre approaches "Avenue Q" with equal parts glee and reverence. With an extremely talented cast, an insightful director and an industrious orchestra, the production is top-notch from top to bottom.
"Avenue Q" features music and lyrics by Jeff Marx and Robert Lopez, book by Jeff Whitty. It is based on an original concept by Lopez and Marx. The show first opened in 2003 before moving that same summer to the John Golden Theatre on Broadway. "Avenue Q" would go on to play over 2,500 performances, ranking 24th on the list of longest running shows in Broadway history. It eventually relocated to New World Stages where it will play its final performance on May 26, 2019.
Meanwhile, back in our neck of the woods, Largo's Eight O'Clock Theatre embraced the show for its 2018-19 season. EOT tapped Derek Baxter to direct. "Avenue Q" is Baxter's directorial debut at EOT. He has been directing professionally for more than 15 years and currently serves as artistic director for Off Kilter Theatre.
"At its core, this is a musical about hopes and dreams, love and friendship, and learning how to accept everyone and their truths," Baxter writes in his note from the director. "And that is exactly what you find throughout the show: truth. Truths about the pursuit of happiness, truths about society, and even truths about yourself."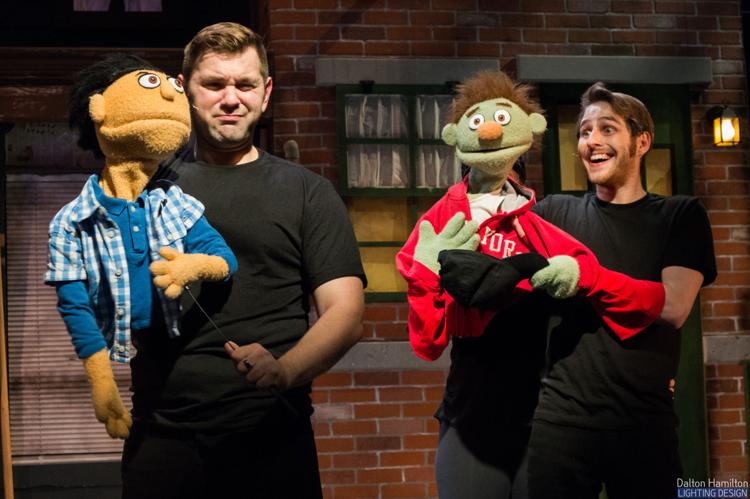 The story follows Princeton, a recent college grad looking for an apartment in New York City. He finally finds one he can afford way out on Avenue Q. There, he meets an eclectic group of residents that includes Kate Monster, a kindergarten teaching assistant; Nicky, a slacker; Rod, Nicky's roommate who is a "Republican investment banker with a secret;" Trekkie Monster, an internet porn addict; Brian, an unemployed stand-up comic; Christmas Eve, a therapist from Japan; and Gary Coleman, the superintendent of the apartment building.
Yes, that Gary Coleman.
Some characters are puppets and some are human. The puppets, Princeton, Kate, Nicky, and others, are played by unconcealed puppeteers alongside costumed human actors.
Cody Carlson plays Princeton as well as Rod. Much of "Avenue Q" is devoted to Princeton's quest for purpose. Having earned a bachelor's degree in English, he expects to conquer the world after graduation. Reality quickly crashes down around him: He gets laid off from his job before his first day of employment, bills start piling up and has issues with committing to a relationship.
Carlson bounces back and forth between roles seamlessly, making what must be a very challenging performance look easy.
Lauren Butterfield plays Kate Monster as well as Lucy. Both affection and physical attraction develop between Princeton and Kate, but on Avenue Q love is never painless. Butterfield has an incredible voice. She sings beautifully and she manages to get the audience to invest itself emotionally in Kate Monster. That's right: We actually care about what happens to these puppets.
The puppeteers in the cast succeed not only in bringing the characters to life but also in keeping the audience focused on the puppets, not their handlers. That's an impressive accomplishment.
The entire cast ranges from outstanding to inspiring. Among the human characters, James Grenelle plays Brian, Kara Sotakoun plays Christmas Eve and Latoya McCormick plays Gary Coleman. Rounding out the puppet cast, Steven Fox portrays Nicky, Trekkie Monster and Bad Idea Bear while Amy Dobbert portrays Mrs. T and Bad Idea Bear.
Let's not forget the memorable musical numbers. It bears repeating that the show seems geared toward jeering the Generation X crowd, and the mockery gets underway right off the bat with "What Do You Do with a B.A. in English?" and "It Sucks to Be Me." Other songs in the show tackle social issues, as when Nicky sings "If You Were Gay" to Rod and when the cast comes together on stage for "Everyone's a Little Bit Racist." Butterfield's delivery of "There's a Fine, Fine Line" is stunning. It's a safe bet that a significant portion of the audience empathizes with Kate Monster, Nicky and Princeton when they sing "I Wish I Could Go Back to College."
"Avenue Q" is irreverent in all the right ways: mocking but not belligerent; cheeky but not abusive; saucy but not lewd. It's got everything: profane puppets, existential crises, sexual identity dilemmas and covert racism. Eight O'Clock Theatre captures its R-rated charm perfectly in a production that is both funny and deeply poignant.