The Majesty of Rock set to perform at First Friday Seminole
SEMINOLE — The Majesty of Rock, one of Florida's most prestigious bands, will salute the music of Journey and Styx at First Friday Seminole, on Friday, Nov. 5, 6 to 9 p.m., on the main street in front of Studio Movie Grill at Seminole City Center, 11201 Park Blvd. N., Seminole.
Sponsored by Seminole City Center and The Rotary Club of Seminole Lake, this will be the final First Friday Seminole of 2021. The event will feature a variety of Seminole City Center merchants, food, prizes, and games, as well as a special concert by The Majesty of Rock. Attendees are asked to bring their own chairs. Coolers are not allowed. Vendors other than Seminole City Center tenants are not permitted.
The Majesty of Rock features the voice of John D'Agostino, coupled with the exceptional musical talents of four equally sophisticated and experienced musicians. That combination soon propelled the group to become one of the premier Journey reverence bands of our time. The band strives to re-create the exact sounds and nuances of Journey. Their passion for authenticity and attention to detail go a long way toward ensuring that the audience feels like they're at a real Journey concert.
While the band has enjoyed performing the music of Journey, front man John D'Agostino also loves another American super group: Styx. Turns out the rest of the band are huge Styx fans, too. So, they began adding some of Styx's best tunes to their already expansive repertoire of Journey material.
CWP to stage 'Vanya and Sonia and Masha and Spike'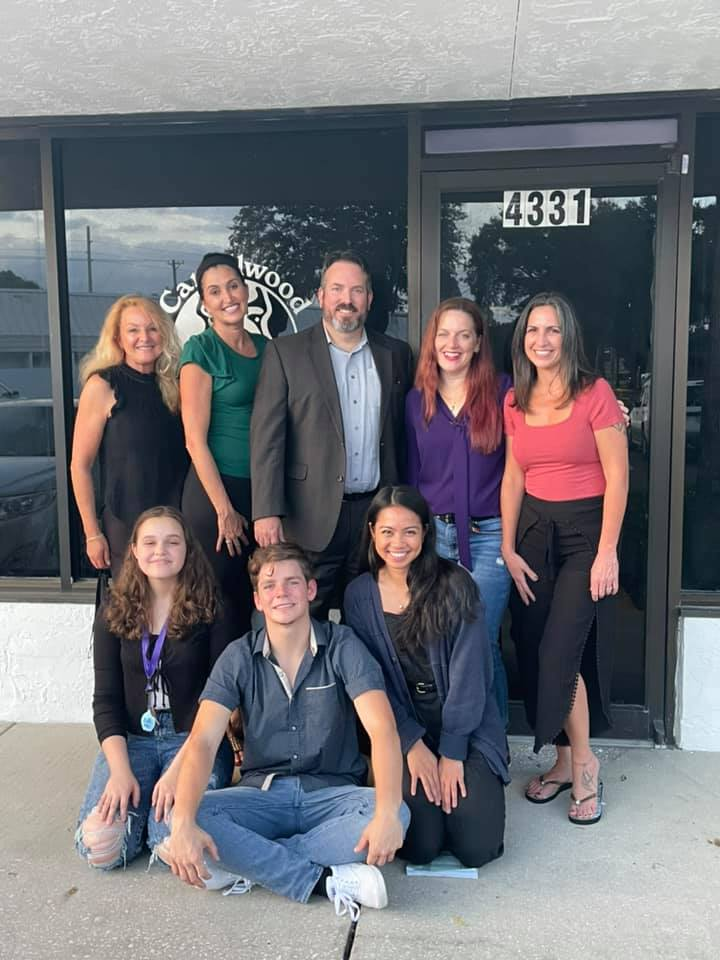 TAMPA — Carrollwood Players Theatre will present its production of "Vanya and Sonia and Masha and Spike" by Christopher Durang, running Oct. 15-30, at the theater, 4333 Gunn Highway, Tampa.
Tickets are $24. Tickets now on sale at tinyurl.com/vanyacwp. Performances will be Fridays and Saturdays, 8 p.m.; and Sundays, 2 p.m. For information, call 813-265-4000 or visit carrollwoodplayers.org.
"Vanya and Sonia and Masha and Spike" won the 2013 Tony Award for Best Play.
Middle-aged siblings Vanya and Sonia share a home, where they bicker and complain about the circumstances of their lives. When Marsha, their movie-star sister, swoops in with her new boy toy, Spike, old resentments flare up, eventually leading to threats and chaos. Contributing to the excitement are a sassy maid who can predict the future, and a lovely young aspiring actress who can't. Audiences will discover why Durang is lauded as the master of mining the absurdities of human folly.
Presented with the support of the Arts Council of Hillsborough County and the Hillsborough County Board of County Commissioners, this production will be directed by Alicia Spiegel.
"'Vanya and Sonia and Masha and Spike' is not exactly a well-known show, and the title can be a bit hard to remember … but audiences won't soon forget the hilarious storyline," Spiegel said. "I think everyone will relate to the family/relationship dynamics in this modern comedy laced with emotional baggage and heartfelt moments."
The cast features Kenneth Grace as Vanya, Se'a Ryan as Sonia, Kari Velguth as Marsha, Jason Goetluck as Spike, Pauline Lara as Nina, and Stephanie Russell Krebs as Cassandra.
"Our cast has been perfecting their characters for almost a year a half since we were supposed to put this show on in April 2020 before the world changed," Spiegel continued. "Luckily, CWP has decided to put it on this season and we are very ready to entertain audiences. They will be treated to sibling rivalry, a sexy young man barely wearing anything, a clairvoyant housekeeper whose predictions can't be trusted, and a sweet girl next door who doesn't know what she's in for."
"Vanya and Sonia and Masha and Spike" is presented by special arrangement with Dramatists Play Service Inc., New York.
Carrollwood Players offers a limited number of free tickets to every performance for low-income families receiving Florida SNAP benefits. For more information, visit carrollwoodplayers.org/theatreforall/.
Syd Entel Galleries to present Borowski glass exhibition
SAFETY HARBOR — An opening reception for a new glass exhibition by the world-famous Glass Studio Borowski will take place Friday, Nov. 12, 4 to 7 p.m.; and Saturday, Nov. 13, 11 a.m. to 5 p.m., at Syd Entel Galleries and Susan Benjamin Glass Etc., 247 Main St., Safety Harbor.
The Borowski's "Odd Birds Walk of Fame," a tribute to 20th century celebrities in glass, will run through Nov. 27. The show is open to the public. Gallery hours are Tuesday through Friday, 9:30 a.m. to 5 p.m.; and Saturday, 10 a.m. to 3 p.m. For information, call 727-725-1808 or email linda@sydentelgalleries.com.
Borowski is one of the leading modern glass studios worldwide. Stani Jan Borowski transforms the iconic Fat Gonzo light object into the wildly successful Odd Bird Series. The Odd Bird series has continued to grow into a collection of 22 famous celebrities from the world of art, music, media and science. These hand-blown glass creations are a work of art, unique and distinctive. All are wildly imaginative with recognizable characteristics of the many famous characters, such as Pablo Picasso, Vincent van Gogh, Elton John, Micheal Jackson, and Marilyn Monroe.
In addition to the Odd Bird Series, the gallery will have on hand a huge selection of work from the Borowski art objects, studio line and outdoor collection.
Cool Art Shop presents artisan holiday ornament tree
DUNEDIN — The Professional Association of Visual Artists will celebrate the upcoming holiday season with the annual Holiday Ornament Tree featuring handcrafted artisan ornaments, holiday décor, small gift items, and holiday greeting cards by various PAVA fine art and fine craft artists.
The tree is on display at The Cool Art Shop, 1240 County Road 1, Dunedin, in the Independence Plaza Square, through Thursday, Dec. 23. An open house reception will take place Friday, Oct. 15, 6 to 8 p.m., at the shop.
In addition to the Holiday Ornament Tree, The Cool Art Shop also displays and sells PAVA's artists' artwork which is comprised of an impressive collection of both visual and functional art for sale in both 2D and 3D mediums including painting, ceramics, photography, mixed media, drawing, pastels, sculpture, and jewelry in all price points. The artwork is rotated on a 6- to 8-week basis to keep the artwork fresh and new. Shop hours are Wednesday through Saturday, 11 a.m. to 4 p.m.
PAVA is a nonprofit organization run by volunteer artists to serve local artisans and support the arts community in the Tampa Bay area. It provides exhibition, education and grant opportunities for its members. Additionally, PAVA supports local art centers, and is a local sponsor of the Pinellas County Regional National Scholastic Art Awards where scholarships are provided to students for art instruction. Visit www.pava-artists.org.
Mat Kearney concert canceled
CLEARWATER — The Mat Kearney concert scheduled at the Nancy and David Bilheimer Capitol Theatre on Wednesday, Nov. 3, has been canceled.
Ticket holders will be contacted about refunds. For more information, visit www.RuthEckerdHall.com.
Creative Clay virtual exhibit opens
ST. PETERSBURG — Creative Clay presents "Celebrating Disability Employment Awareness," October's virtual exhibit, featuring artwork by Creative Clay's member artists who actively create, market and sell their work. The exhitib opened Oct. 9.
This new exhibit coincides with National Disability Employment Awareness Month. According to the United States Department of Labor, the theme this year is "America's Recovery: Powered by Inclusion," which reflects the importance of ensuring that people with disabilities have full access to employment and community involvement during the national recovery from the COVID-19 pandemic.
Creative Clay promotes inclusion by empowering its artists to create art that is exhibited in its Good Folk Gallery, exhibited throughout the community and online, and market themselves as working artists. Many of Creative Clay's member artists engage in training for potential employment. Creative Clay's artists receive commission on all works sold.
NDEAM is held each October to commemorate the many and varied contributions of people with disabilities to America's workplaces and economy. Employers, community organizations, state and local governments, advocacy groups and schools participate in celebrating NDEAM through events and activities centered around the theme of America's Recovery: Powered by Inclusion.
Creative Clay's Virtual Gallery also includes the artwork of many of Creative Clay's member artists. All artwork is for sale through our online gallery at creativeclay.org.
St. Pete Arts Alliance awards to help young artists
ST. PETERSBURG — Awards received from the St. Petersburg Arts Alliance's Funding Futures Program allowed 14 talented Pinellas County students to attend an arts camp this summer.
These students aspire to be musicians, actors, dancers, writers or visual artists. Creative Clay, American Stage, St. Pete MAD and others nominated creative, aspiring at-risk and/or low income students to attend their arts programs for the summer while parents of these students filled out applications showing artistic and financial need.
St. Petersburg Arts Alliance's Funding Futures programs are dedicated to helping students nurture their creative interests and develop their expressive talent by providing funding to eligible students and connecting them to local after school arts programs or summer arts camps.
"It's not just about the art for these students," said Tracy Kennard, associate director of the St. Petersburg Arts Alliance. "It's about gaining confidence, understanding collaboration and feeling compassionate towards others and how the simple act of learning new artistic traits, can teach skills that are the building blocks of a promising future in any industry."
The St. Petersburg Arts Alliance's Funding Futures Student Award program is designed to identify and encourage talented at-risk and/or low income emerging artists, ages 10-17 in Pinellas County seeking St. Petersburg programs in the categories of dance, music, jazz, voice, theater, digital arts, photography, cinematic arts, literary or visual arts. Funding Futures is open to all talented artists regardless of ethnic, social or economic background, or ability/disability.
Major funding sources from Tampa Bay Times Employee Matching Gifts, Suncoast Credit Union Foundation, and the Jacarlene Family Foundation have helped build the Funding Futures Grant Program for the past six years. For information on supporting this program, visit stpeteartsalliance.org/donate.
Livingston Taylor, Tom Chapin concert rescheduled
CLEARWATER — Due to a scheduling conflict, Livingston Taylor and Tom Chapin have rescheduled their concert at the Nancy and David Bilheimer Capitol Theatre.
Tickets purchased for the concert on Friday, April 1, will be honored on the new date, Sunday, April 3, at 8 p.m. Tickets, starting at $29, are on sale now. Visit www.RuthEckerdHall.com.
Sinbad show postponed
CLEARWATER — The Nancy and David Bilheimer Capitol Theatre recently announced stand-up comedian Sinbad has postponed his upcoming performance scheduled for Saturday, April 16, at 8 p.m.
Tickets will be honored on the new date to be announced soon. For more information, visit www.RuthEckerdHall.com.
Steep Canyon Rangers reschedule Capitol Theatre show
CLEARWATER — The Nancy and David Bilheimer Capitol Theatre recently announced that the Steep Canyon Rangers concert originally scheduled for Saturday, Nov. 13, at 8 p.m., has been rescheduled.
Tickets will be honored on the new date Saturday, Nov. 5, 2022, at 8 p.m. Tickets, starting at $25, are on sale now. Visit www.RuthEckerdHall.com.