Florida native Selwyn Birchwood will release "Living in a Burning House," his highly anticipated third Alligator album, Friday, Jan. 29.
The rising guitar and lap steel player calls his original music "electric swamp funkin' blues," defined by raw and soulful musicianship played with fire-and-brimstone fervor. His gritty, unvarnished vocals draw his audience deep inside his unforgettable tales of love, passion, pain and pleasure.
"With my music, I tell my stories in my own way, with my own voice," Birchwood said. "You won't ever hear me on stage telling someone else's stories. Muddy Waters, B.B. King and John Lee Hooker all told their own stories. That's what I'm doing."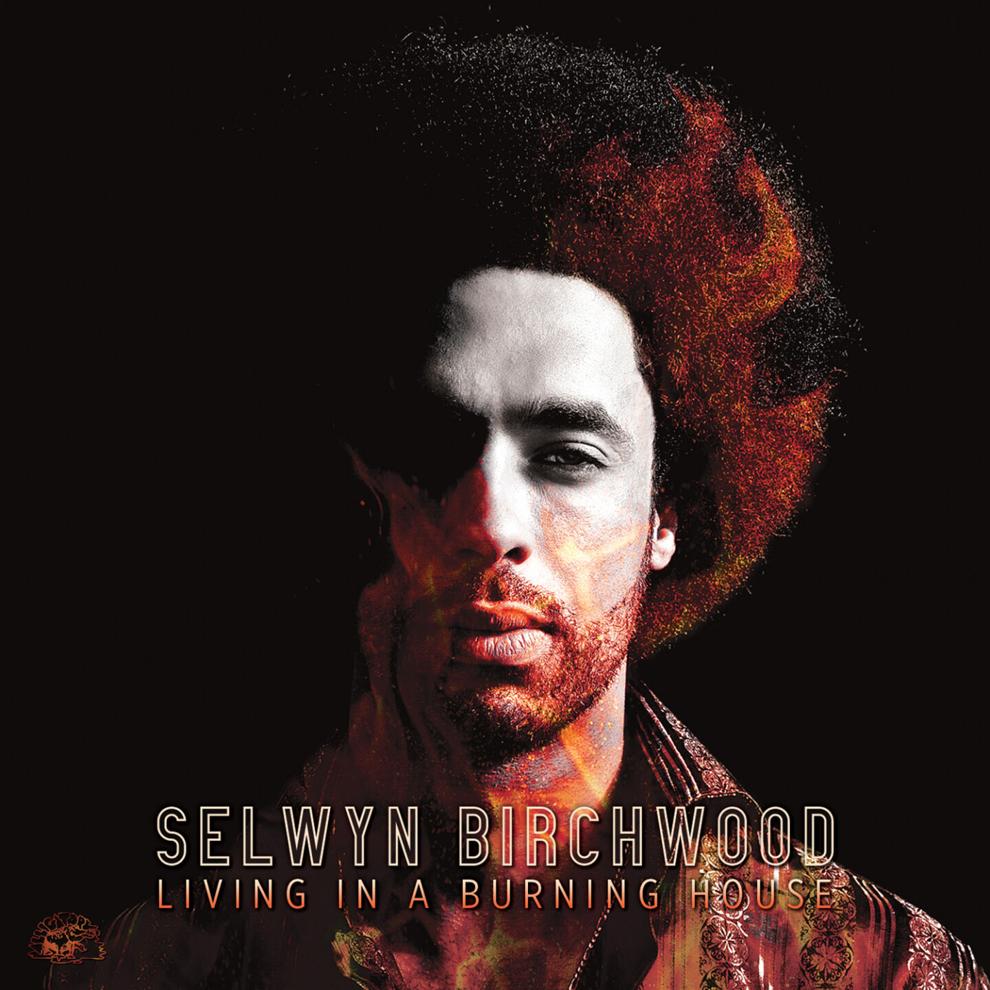 It's not a stretch to say that Birchwood's band is unique on the contemporary blues scene. In addition to Birchwood's electrifying guitar and lap-steel playing, the other featured instrument is Regi Oliver's baritone sax. The group is rounded out by bass, drums and newly added keyboards.
"With the keyboards, it's like we're a whole new band with a bigger footprint," Birchwood said. "I can really stretch out on guitar while still featuring the baritone."
With his band feeding off his energy, the 6'3" musician with his trademark Afro roams the stage — often barefoot — ripping out memorable guitar licks with ease. With two previous Alligator Records releases and countless performances under his belt, Birchwood is riding high. Wanting to capture the power of the larger band, Birchwood brought in Tom Hambridge to produce the new album.
"Living in a Burning House" was recorded in Birchwood's home state of Florida. The album features 13 songs written and arranged by Birchwood. Among the tracks on the new release are "I'd Climb Mountains," "She's a Dime," "One More Time," and "Revelation," as well as the title track.
Birchwood was born in 1985 in Orlando. He first grabbed a guitar at age 13 and soon became proficient at mimicking what he heard on the radio. But the popular grunge rock, hip-hop and metal of the 1990s didn't move him, and he quickly grew bored. Then he heard Jimi Hendrix and by age 17 was deep into the blues, listening to Albert King, Freddie King, Albert Collins, Muddy Waters, Lightnin' Hopkins and especially Buddy Guy.
As his guitar proficiency grew, a friend told Birchwood that his neighbor was a blues guitarist and had a band. The 19-year-old went over to check it out and jam. The guitar-playing neighbor turned out to be the Texas-born blues legend Sonny Rhodes, who was instantly impressed with the enthusiastic young guitar slinger. Within one month's time, Rhodes asked Birchwood to pack his bags and join him on the road. It was an incredible experience for Birchwood, as Rhodes took the youngster under his wing, not only teaching him guitar and lap steel, but also how to conduct business, how to run a band, and how to reach an audience.
Rhodes insisted Birchwood go to college and always held the guitar spot in his band open for Selwyn whenever he was available. It was a win-win situation, as Birchwood – through hard work and scholarships – received his MBA from the University of Tampa.
Combining the musical lessons learned from Rhodes and his business acumen, Birchwood established the Selwyn Birchwood Band in 2010. The lineup included seasoned, veteran musicians who chose to play with the new kid on the block.
Birchwood released the self-produced "FL Boy" in 2011. The debut helped the band land gigs outside of their Florida base, where they were becoming local heroes.
In 2013, Birchwood and his band won the International Blues Challenge in Memphis, besting 150 other bands. The win led to more success, and in 2014 Birchwood had signed with Alligator Records. "Don't Call No Ambulance," his first Alligator album, earned rave reviews in publications from Rolling Stone to The Wall Street Journal. The album won both the Living Blues Award and the Blues Music Award for Best New Artist Debut. He followed in 2016 with "Pick Your Poison."
"I write and sing what I know," said Birchwood. With the new album, the visionary bluesman is looking forward to winning over thousands of new fans. "They say everything is better when it's made with love," Birchwood added. "That's how we play our music and that's how we made the new album. I want my audience to say, 'I know exactly what that feels like,' when a song hits them. Because that's when it stops just being music and starts being medicine. After all, we are all stricken with the condition of being human."
Quick Takes
Tampa Bay Newspapers spoke to Birchwood last March as he was preparing to perform at the Safety Harbor Art and Music Center. That concert was canceled due to the emerging COVID-19 pandemic.
Tampa Bay Newspapers: What brought you and Sonny Rhodes together and what was the most important lesson you learned from him?
Selwyn Birchwood: Sonny was actually a neighbor of a friend of mine in high school, which is how we met. It was really cool to be picked up in a band by a musician like that, especially at such a young age. I started touring with him at 19 and continued off and on for about four years before focusing on my own music. The most important lesson I learned from him was to search for my own sound and be myself. He said there's always better guitar players, but no one else can be a better YOU.
TBN: Tell me how your experience at the University of Tampa helped shape your identity as a musician.
Birchwood: I don't think it has shaped my identity as a musician in any way, but it definitely makes me less vulnerable, when dealing with business matters, to have a good grasp of what is going on.
TBN: What, if anything, would you change about "FL Boy," your 2011 self-released debut album?
Birchwood: "FL Boy" was my first release and first attempt at recording, and it was definitely a learning experience. I don't think we have the luxury of changing the past, because it changes the present. And in the present, I am set to release my third record for Alligator Records this year, with Grammy winning producer Tom Hambridge. We have 13 brand new songs recorded on it and I don't think this band has ever sounded better!
TBN: If you didn't become a musician, what would you be doing right now?
Birchwood: I would still be playing music and touring in some capacity, I might just have a "second job" to help keep bills paid. Playing and sharing music is what makes and keeps me happy.
TBN: Tell me about your favorite performance venues both in the Tampa Bay area and beyond.
Birchwood: It is hard to pin down a "favorite," because we perform so often. We have performed in 16 countries the past six years and we enjoy every performance. One of our favorite Tampa venues is definitely Skipper's Smokehouse.
Editor's note: Sadly, Skipper's Smokehouse was a victim of the pandemic. The legendary Tampa restaurant and music venue closed its doors in October.