LARGO — As the city gets ready to celebrate the completion of one major community streets project at Trotter Road, it's gearing up to begin another one.
Construction of a long-awaited project to make Rosery Road safer for drivers, cyclists and pedestrians is expected to begin in early October, engineers told city commissioners June 11.
Phase 1 of the Rosery Road Community Streets improvement project, which is at the 90% design stage, intends to make a number of repairs and improvements to the corridor's 0.8-mile stretch from the Pinellas Trail to Missouri Avenue.
Phase 2, which will be done at a later date, will provide similar improvements between Missouri Avenue and Eagle Lake Park.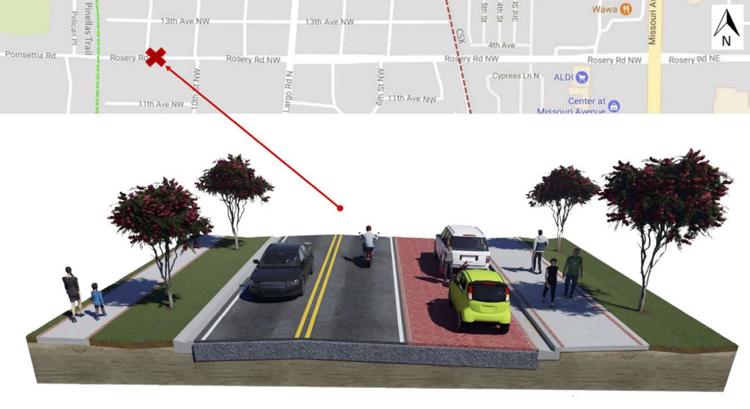 Senior Engineer Barry Westmark said the project, when completed, will provide an important east-west multimodal connection from the trail to the park.
"The Rosery Road project includes improving bicycle and pedestrian facilities by increasing safety, closing sidewalk gaps and improving intersection crossings," he said. "One of the unique features of the Rosery Road project is the construction of a path for people walking and bicycling that's completely separated from the roadway."
The scope of the $7 million first phase includes:
• Reconstruction of the existing roadway;
• An 8- to 10-foot multimodal path on the south side of the entire stretch of road;
• A 5-foot sidewalk on the north side of the road, with ADA improvements on both sides, including a sidewalk crossing at the CSX railroad tracks;
• A median island and midblock crossing with flashing signals next to the Aldi just west of Missouri Avenue;
• Bicycle accommodations;
• Stormwater and sanitary sewer improvements;
• Landscaping throughout featuring a mixture of crape myrtles and sabal palms.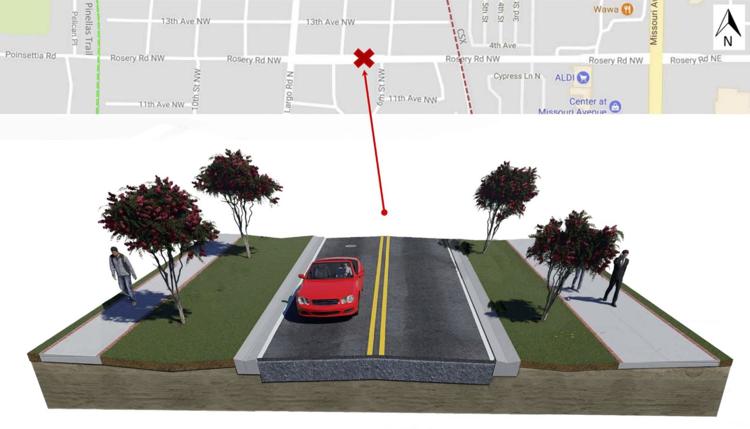 One of the only concerns expressed by commissioners was the feasibility of having a 10-foot path and 5-foot sidewalk along certain sections of a narrow stretch of road.
"So, you're going to be in the front yard of those houses on the north side?" Commissioner Curtis Holmes said.
Westmark acknowledged that some design challenges remain because there were some driveways that don't meet the city's standards.
15 to 18 months of construction
Westmark said city staff will host an open house in August to provide the community an update on the final design, project schedule and temporary construction impacts.
Much like the Trotter Road project, which is scheduled to be completed in July, construction is expected to take 15 to 18 months.
Construction Manager Brian Highnote said the city's contractor, David Nelson Construction, suggested shutting down the entire road instead of doing it in pieces.
"Due to a limited laydown area and construction staging areas in the vicinity, and the amount of crews they can dedicate to the job to facilitate movement of the job at a quicker pace, they believe that shutting it down will be the best avenue for safety for the public and for themselves," Highnote said. "Plus, for time scheduling, they could dedicate more crews to it, do multiple phases at one time versus doing a singular phase."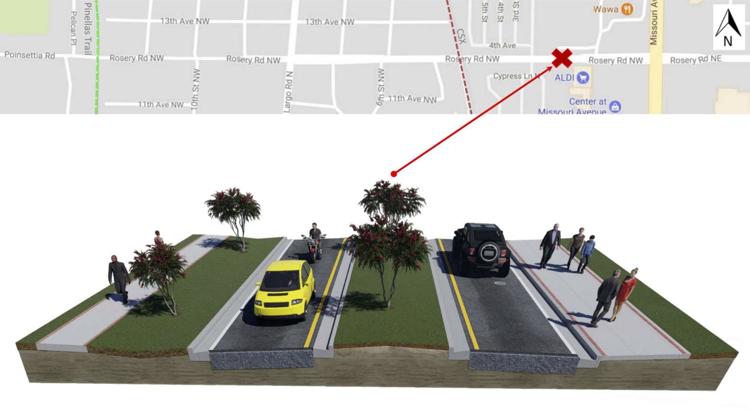 He added that there would still be varying degrees of closures for different sections of the road.
There will be a hard shutdown from the trail to Clearwater-Largo Road, a soft closure from Clearwater-Largo Road to the CSX tracks, a hard closure from the tracks to Second Street Northwest, and a soft closure from there to Missouri Avenue.
Because the final stretch affects the shopping plaza and Teakwood Village and Shangri La mobile home parks, Highnote said the contractor hopes to expedite completion of that area.
"They believe they can get that done in anywhere from 30 to 45 days, that little bit of work that is needed in there," he said. "So, if they do that in the phases they're talking about, I believe they can get done in a quicker pace."
Highnote added that the road will still be open on a limited basis to the public that lives there, and the city plans to give those who travel the area 30 days' notice.
"I don't think residents will have as much problem as we had on Trotter Road getting accustomed to it," he said.