LARGO — When Bayhead Park opened in 1970, the city of Largo had a population of just 22,000. Times have changed over the years for both the city and the park at 375 Seminole Blvd.
In the past decade, the city has made piecemeal improvements to the property. In 2013, it added some amenities to better incorporate the nearby lake and pond. That year, it also added a skate park, leading to a new name, Bayhead Action Park. The next year, a dog park was added.
Some parts of the park, however, such as the recreation building at the heart of the property that serves as a summer camp location, are outdated. Therefore, plans have been in the works to give it a makeover for several years.
Fitting an overhaul of the park into the budget, however, has not been an easy task.
But a combination of $3 million in Penny for Pinellas sales tax revenue and a $200,000 state grant are making the $3.2 million project possible, and the city is forging ahead.
On Nov. 2, the City Commission approved a $34,800 contract with Biltmore Construction Co. for pre-construction services, and the city will be seeking public feedback via a virtual session Monday, Nov. 15.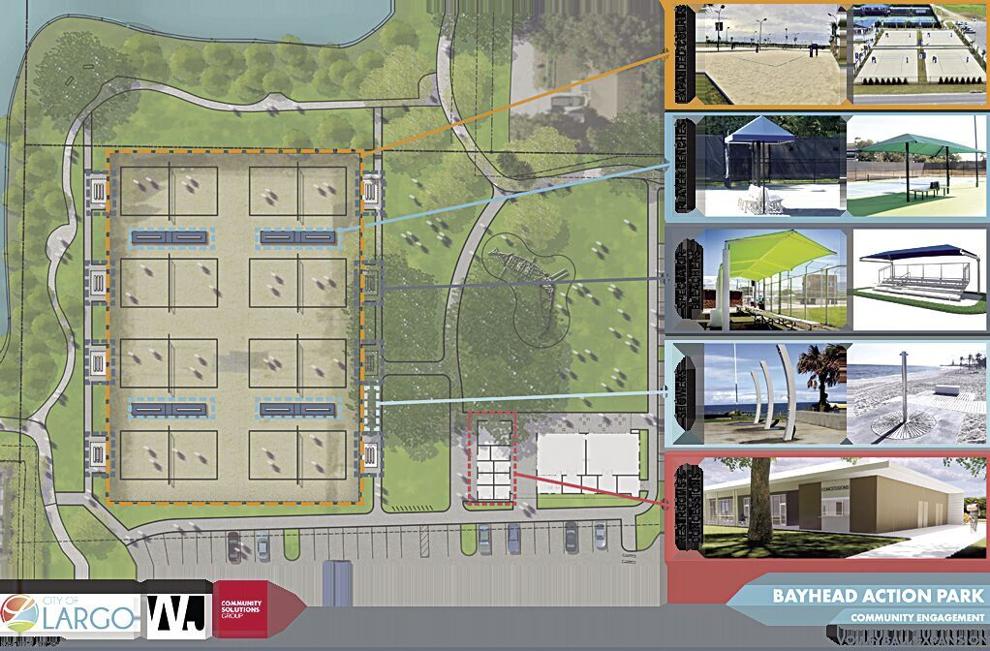 About the project
During the session, the public will see preliminary design plans for the park, which include an expansion of the volleyball courts, parking updates, solar panels, and a new teen activity center.
Mayor Woody Brown, himself a volleyball player, has stated several times during city workshops that the courts are popular and have potential to attract more tournaments.
The skate park and dog park will remain, but the basketball court will be striped so that it can also be used for pickleball.
Other additions include teen outdoor play equipment and a fitness course.
Jerald Woloszynski, director of the Engineering Services department, told Tampa Bay Newspapers the city hopes to award a construction contract in fall 2022, and the project is expected to take 16 months to complete.
Other projects
On Nov. 2, the commission also voted to approve a $1.62 million contract with Crisdel Group Inc. to improve 20th Street Northwest.
According to Senior Engineer Barry Westmark, the project will reconstruct the roadway from West Bay Drive to Mehlenbacher Road and construct a 10-foot-wide multiuse path separated from the road on the east side of 20th Street Northwest.
Westmark said work is expected to begin in the next couple of months and wrap up in about 330 days.