LARGO — A friend to countless Largo citizens and civic leaders, attorney John H. Pecarek died unexpectedly Jan. 16.
"He had just made my mom a cup of coffee," recounts daughter Holly Pecarek, who now lives in Atlanta.
According to Holly, the 73-year-old Pecarek asked for a heating pad to relieve a sudden severe neck pain, which would be diagnosed later as an aneurysm.
"I'm grateful he left us just as he was in life," Holly says of the sudden nature of his passing.
"He was the absolute best dad anyone could ever hope for."
Pecarek is also survived by Holly's sister, daughter Beth Pecarek of Jacksonville, and sister Carol Moffett of Chester, Virginia, and "loving granddogs." He specialized in estate planning, trusts and probate law.
"Everyone liked John," shares lifelong friend Charlie Harper, vice president of the Largo Area Historical Society. "He was an upstanding guy, but he wasn't pious."
The former city commissioner assures that Pecarek didn't let his successes go to his head, and he offered pro bono legal assistance to friends who'd fallen on hard times.
According to Harper, Pecarek had an impeccable reputation to match his towering stature. "He was 6-foot-5 at one point but had shrunk to 6-foot-3.5," Holly stipulates.
Holly said her dad reminded people of Gregory Peck, and friends would call him Atticus after Peck's most famous lead in the film adaptation of "To Kill a Mockingbird." Her sister, Beth, named her cat Scout after Atticus' daughter.
Despite their recent geographical distance from one another, the Pecarek family continued to get together often and converse about anything and nothing, Holly reminisces. John told dad jokes and grilled into them good dental hygiene habits.
Shortly before he died, Holly shares that he observed the lack of closeness some of his colleagues felt with their children. Pecarek told Holly that he was grateful that she and her sister don't just love their parents but actually like them, and he got to see them often.
"He taught us to do the right thing," Holly continued, "to be fair, and do the right thing. He was never about making a buck. … He always taught us that integrity is what we do when nobody is watching."
Inspired by their father, Holly and Beth have talked about getting bracelets made that say WWJPD (What would John Pecarek do).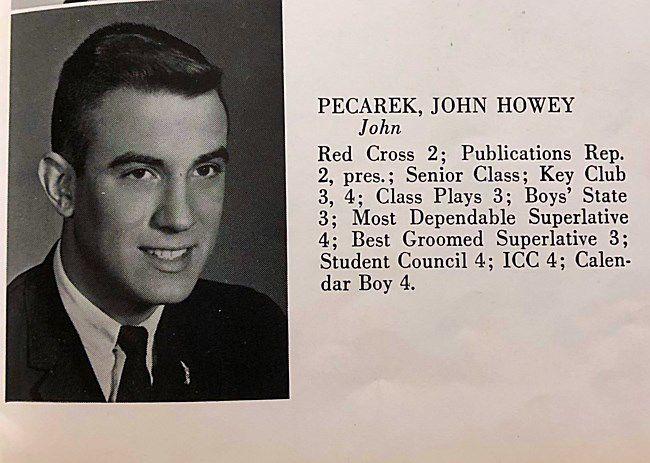 Early years
Born on Oct. 5, 1945, in Clearwater to the late John "Stan" and Helen (Howey) Pecarek, John Howey Pecarek was class president during his senior year and graduated from Largo High School in 1963.
Pecarek's dad, Stan Pecarek, owned and was editor of the Largo Sentinel. Stan hired both his son and Harper to fold newspapers when they were 12.
Growing up, Harper recalls John as intrepid but disciplined and good-natured. They would swim in the lake behind the Pecarek home on Fourth Street NW despite warnings of snakes and alligators. The house was not far from John's law practice, Pecarek and Herman, 200 Clearwater-Largo Road S.
"His mother would worry about us swimming in that lake — she would pretend not to watch," Harper recalls. "After, she would make us boys a homemade pie — my favorite was cherry."
He was a consistently "diligent" student and churchgoer who wouldn't engage in mischief with friends, added Harper. He was either at home doing homework or involved in a church-related activity.
He served in the U.S. Army, received his business degree from the University of Mississippi in 1967, married wife Paula, a schoolteacher, in 1968, and earned his Juris Doctor degree from Stetson University in 1971.
His memberships included the Clearwater Bar Association, the Probate and Trust Law Section of the Pinellas County Estate Planning Council, Municipal Police Officers' and Firefighters' Retirement Board (1997-2012), the Suncoast Hospital Board, Star Lodge No. 78 F & AM of Largo (since 1978); and Anona United Methodist Church.
Behind-the-scenes man
Pecarek also served as guardian ad litem to look after the interests of Terri Schiavo, a woman whose coma and disputed care made national news in the 1990s. Schiavo, who had a cardiac arrest on Feb. 25, 1990, was provided food and water by means of a percutaneous endoscopic gastrostomy (PEG) tube and never regained consciousness.
Pecarek reported that husband Michael Schiavo — who was refused by Schiavo's parents the right to remove her feeding tube — acted appropriately and attentively. Terri Schiavo died in 2005.
"It was a brief interaction," Holly Pecarek emphasizes while discussing his involvement with Schiavo. "It was a tragic, sad case. He didn't really like his name tied to it and didn't boast about it."
Kimball Adams, finance director for the city of Largo, is among the numerous citizens who have checked in at dignitymemorial.com to share his thoughts on Pecarek:
"John was extremely intelligent and could quickly grasp the important points of any topic, whether it was making million-dollar investment decisions, digesting arcane details of an actuarial valuation report or reviewing a request for disability benefits. John was sharp, but just as impressive was his demeanor. He was a consummate professional, really more of an elder statesman. He knew how to ask questions directly, but diplomatically, always looking for an answer, rather than trying to make a statement or put someone on the spot. And he could disagree with anyone without being disagreeable; a skill that is sorely needed these days.
"A nicer, more humble individual you will never find. He will be greatly missed and forever appreciated."
In lieu of flowers, memorial contributions may be offered to the Greater Largo Library Foundation.