LARGO – About 10 days after Waypoint 6 Tavern & Geekery opened, a patron of the bar that had been there before, O'Houston's Irish Tavern, walked in, looked around and ordered a beer. When he finished, he paid and told co-owner Kevin Daniels his bar would be shut down in three months and walked out.
"Whoever that guy is, come July 21 is one year, and we won," Daniels said.
Tampa Bay's first geek bar, which caters to avid gamers, cosplayers, fans and nerds, didn't just win by surviving the always difficult first year.
As it prepares for its first anniversary party later this month, it has plenty more to celebrate, including recently being selected by the Syfy network's website, Syfy Wire, as the fifth-best geek bar in the U.S. or Canada.
"The only way it could get better is if George Lucas walked in here and gave us the thumbs-up and went nice job," said Daniels, a Star Wars superfan who owns the tavern off Ulmerton Road with his wife, Stephanie, and mother, Marsha.
When Stephanie found out about the list via Twitter in June, she was so excited she couldn't even get the words out to tell Kevin, so she just pulled the article up online for him.
"I mean we're in the list with places in New York, California, Canada, Las Vegas and then there's Largo, Florida," Kevin said.
This isn't the first time Waypoint 6 has received national attention online.
About a month after opening, when football season was ramping up, Stephanie placed a sign on the door in an effort to inform new customers of what they were walking into.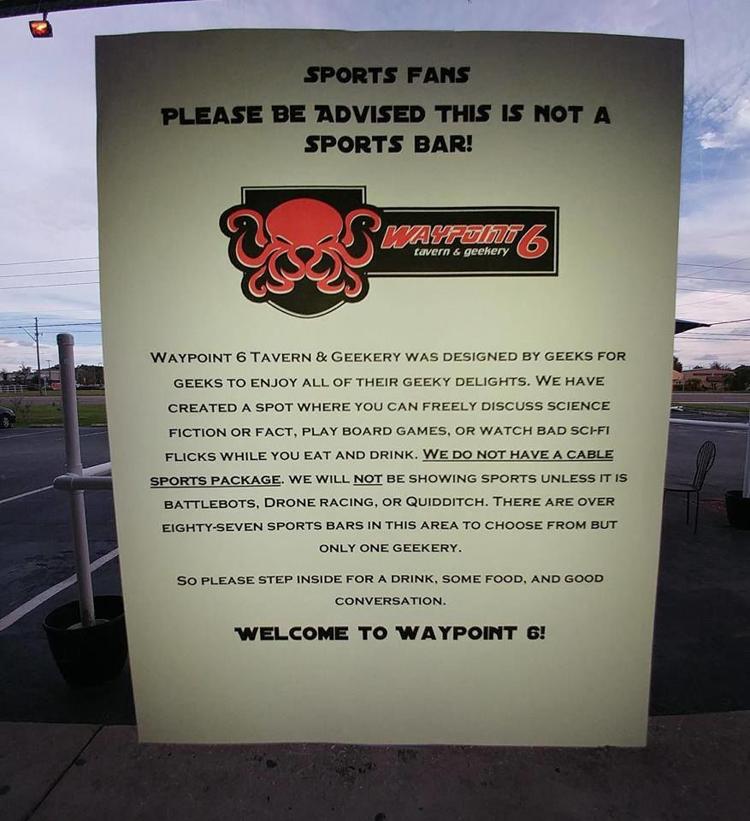 It read in part: "Sports Fans. Please be advised this is not a sports bar! Waypoint 6 Tavern & Geekery was designed by geeks for geeks to enjoy all of their geeky delights. … We do not have a cable sports package. We will not be showing sports unless it is BattleBots, drone racing or Quidditch. There are over eighty-seven sports bars in this area to choose from but only one geekery."
It didn't take long for a picture of the sign to go viral and for the nerd community to rejoice.
"Last time we looked, it had like 700,000 views," Stephanie said. "We were getting messages from people in like New Zealand, Australia, Germany asking when are you going to open one here?"
"The guy from Australia was like, 'I'm digging a hole from Brisbane right now to you,'" Kevin added.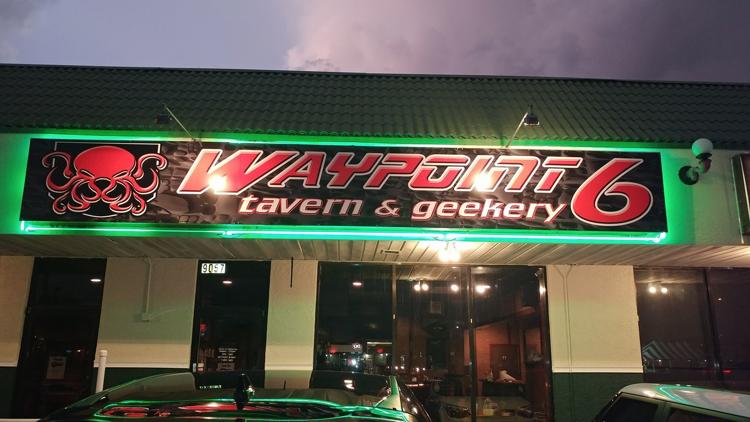 Local customers are also starting to take notice, if only by reading the sign.
"We had one guy who said, 'I drove by and saw your sign. It looked weird. I pulled in. I looked at the sign and it said Geekery. It can't be. Is this place all about stuff for nerds and geeks?' We were like, yes it is," Kevin said. "He was like, 'I'm home.'"
Lifelong geeks
While Internet fame happened upon them quickly, the road to opening Waypoint 6 was much longer in the making for Kevin and Stephanie, who say they were proud geeks long before it became trendy.
"From Day 1, I grew up watching 'Star Trek' with my dad, or Creature Feature on Channel 44 every Saturday," said Kevin, whose family moved to the area at a young age.
Not to be outdone, Stephanie, who was raised in Largo and went to Ridgecrest Elementary and Seminole High School, said she remembers faking an illness just so she could stay home and finish the "Lord of the Rings."
The self-proclaimed theater nerds even met at the Bay Area Renaissance Festival when it was in Largo. Kevin was directing the human chess match and Stephanie was part of the street cast.
Kevin continues to work at festivals and conventions, performing a stage combat comedy show.
His skill isn't limited to swords, though.
For 10 years, Kevin served as a Kenneth City police officer. He had hoped to keep his job and still run the tavern, but he learned a state statute makes it a misdemeanor for a sworn law enforcement officer to own an establishment that sells liquor.
So, now he teaches firearms and vehicle operations at the police academy.
"I still get to do all the fun stuff, all the driving and shooting and not all the paperwork," he said.
The tavern's about what?
Before law enforcement, he was a commercial fisherman with his family, who had owned a seafood restaurant on Seminole Boulevard.
About two years ago, his family was looking for a new venture when Kevin suggested giving the food and beverage business another shot – but with a twist.
"We pitched them this idea, and it was met with some skeptic looks," he said.
Family members weren't the only ones who needed convincing.
When hunting for locations, the couple had to find a simple way of explaining the business to real estate agents.
"We eventually had to start explaining it like someplace the guys from the 'Big Bang Theory' would go hangout," Stephanie said. "Or like a Beef O Brady's for nerds. You can bring kids. There's no sports. Some people are going to be drinking, some people aren't."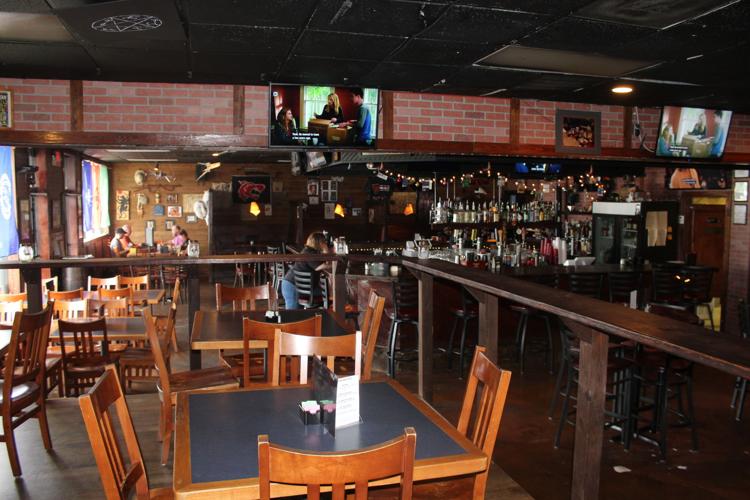 A year's worth of hunting paid off when they came across the former Irish pub that already had the look and feel they were hoping for. All they had to do was change some of the decor by adding some nerdy touches, such as paintings, comic books and memorabilia.
"Eighty percent of everything on the walls is ours from our house, and then the rest of it is from artists and people who have donated," Kevin said.
The tavern also features a full menu of comfort food and drinks that reflects genres from Star Trek to Harry Potter. Some of the items include Dragon Ball Cheeze (pimento cheese fritters), Alien Eggs (jalapeno poppers) and Mario's fried mushrooms, while the kids' menu is under the heading – you guessed it – "The Next Generation."
Waypoint also hosts several events, such as watch parties for shows like "The Walking Dead," trivia nights or most recently its Summerween, which gave the Danielses an excuse to celebrate their favorite holiday, Halloween, twice.
Something for everybody
While the point of Waypoint might be fun and games, the couple said the most satisfying part of the first year has been how the tavern brings different kinds of people together.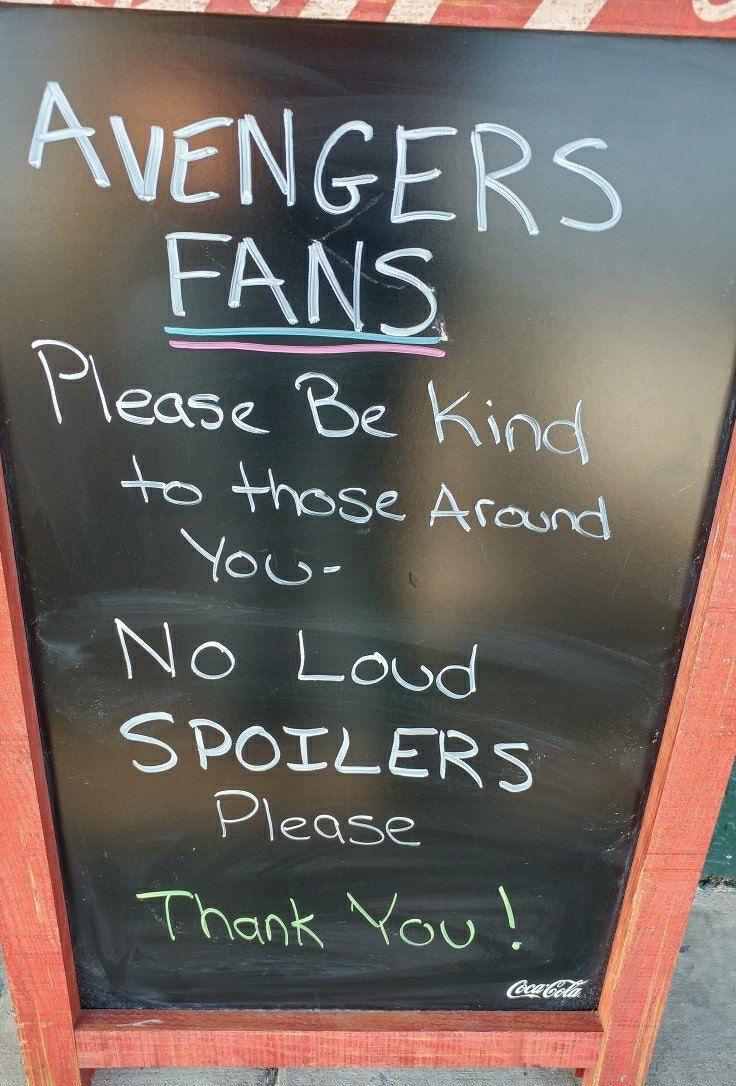 Whether it's the customer who comes in with a tie and briefcase to play Magic the Gathering or a woman who learns about live-action role playing from other patrons so she can better understand her grandson, the Danielses say the tavern is for everybody.
"That's the best thing about this place," Stephanie said. "You don't have to be a fan of everything, but somewhere they (patrons) are going to find that common ground."
The tavern is also a place to gather for like-minded patrons to discuss or argue their favorite topics, such as the Marvel Cinematic Universe.
When "Avengers: Infinity War" came out, "we practically had to have support groups in here," Kevin said.
"These groups like to come here because we cater to them. We're their people."
With Orlando and its scores of themed restaurants and bars nearby, Stephanie said the hardest part has been living up to everybody's expectations.
Thus far, it must be, because the coolest nerd bar in Pinellas County will be holding its one-year anniversary party July 21 featuring live music by the Bawdy Boys.
"I'm still not 100 percent sure that we're cool," Stephanie said.
"We're definitely cool amongst nerds," Kevin responded.