LARGO — Largo's efforts to construct a new mixed-use City Hall complex on West Bay Drive are picking up steam.
According to the architectural firm working on the $58 million project, design is nearly complete, building permits are expected to be filed March 7, and early sitework could begin by mid-April.
But that doesn't mean obstacles don't lie ahead for the facility titled Horizon West Bay on the 400 block of West Bay Drive.
During a City Commission workshop Feb. 22, city leaders discussed a wide range of topics, including traffic concerns, branding and marketing, design, and the future of the commercial space of the facility.
The public will also have a say on that space in a referendum on the November ballot, officials said.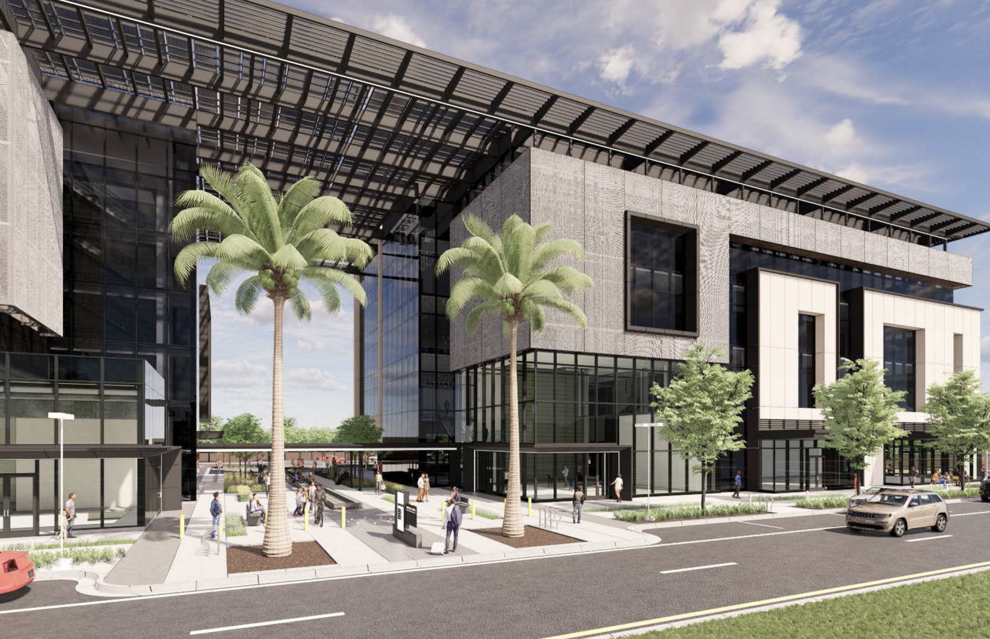 Design
"These three months we're in right now are very critical," said John Curran of ASD | SKY.
During that time, officials will be seeking permit approvals, the contractor will be pricing the project to make sure it's on budget, and demolition of existing buildings on the 400 block could commence.
If all goes well, construction will begin in July and last roughly two years.
The project, he said, will include two five-story buildings that include municipal services, a parking garage and about 18,000 square feet of retail space on the ground floors.
It also will feature a public plaza, indoor and outdoor event spaces, and a 37,000-square-foot solar array.
Commissioners were pleased to hear that parking at the 300-space garage would be free to the public and feature plenty of electric vehicle charging stations, which will cost a fee.
"I'm glad to hear that there's no charge for parking, because I could not find a place to park in Clearwater that didn't feel like it was a hundred dollars an hour," said Commissioner Samantha Fenger, referencing a recent visit to Largo's neighbor to the north.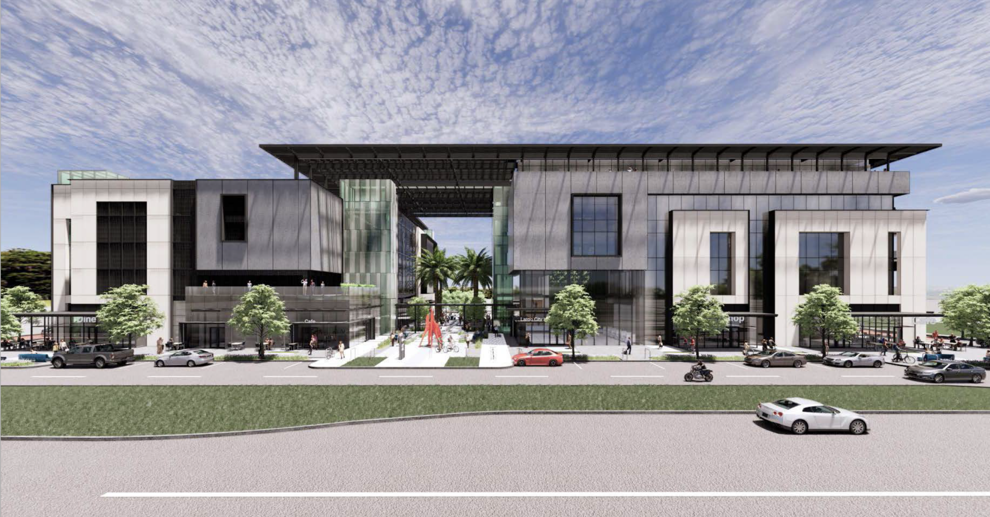 Charter referendum
While most aspects of the project appear to be forging ahead, the city charter has presented a potentially big problem for the commercial space of the site.
It limits the lease of property owned by the city to five years.
"Nobody in their right mind is going to build out a restaurant on a five-year lease," Mayor Woody Brown said. "How are we going to reconcile that?"
City Manager Henry Schubert said the answer is to change the charter.
He said staff will be proposing a charter amendment for the November ballot that would allow the city to lease spaces in the complex for up to 10 years.
He added the city is still in the process of finalizing an agreement with a leasing agent, Colliers International. When that's completed, they'll seek Colliers' input on how long the lease would need to be.
"I would suggest that that's done tomorrow," Commissioner Jamie Robinson said.
He noted that voters have twice rejected charter amendments on the leasing of city property during his time on the commission.
Therefore, he said the city needs to begin educating the public as soon as possible.
"My concern is that we're not already doing that now and that education process is not already happening," he said.
"It needs to get solved sooner rather than later," Brown added.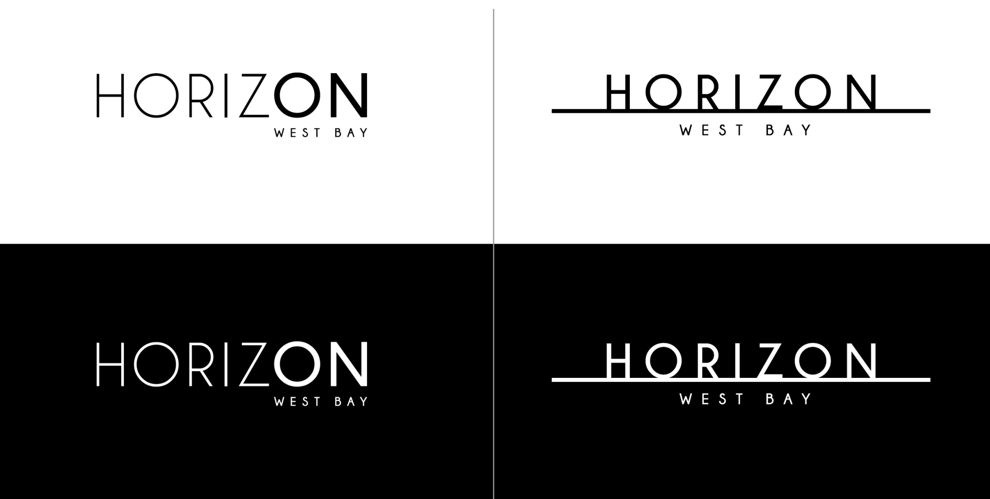 Branding and marketing
Officials say the public needs to know the complex is going to be much more than just a City Hall. It's envisioned as a catalyst for the entire downtown, and it needs a name to relay that message.
Horizon West Bay is officially that title.
ASD | SKY sold commissioners on the name and now it also has a logo to help define it after they settled on their preferred choice.
The logo features the word Horizon in all capital letters with the words West Bay in smaller type underneath. Also, to emphasize the project is on West Bay Drive, the "on" of the word Horizon will be bolded.
"It looks cool. It's a good looking, modern design and that's what people are going to be attracted to," Commissioner Eric Gerard said.
The logo will be used throughout the project and facility and will help create consistency between City Hall, retail partners, and the parking garage, Curran said.
Some commissioners were concerned that the play on words using the bolding would be lost on many people. Most agreed, however, that the public would have the final say on what the facility is called and it wouldn't matter as long as it was successful.
"What it's called is going to be left up to the public," Brown said.
Curran added that the "On West Bay Drive" portion of the branding could be used throughout downtown and would create an identity for the area.
Following that train of thought, Brown suggested merchants could create an "On West Bay Drive" business directory.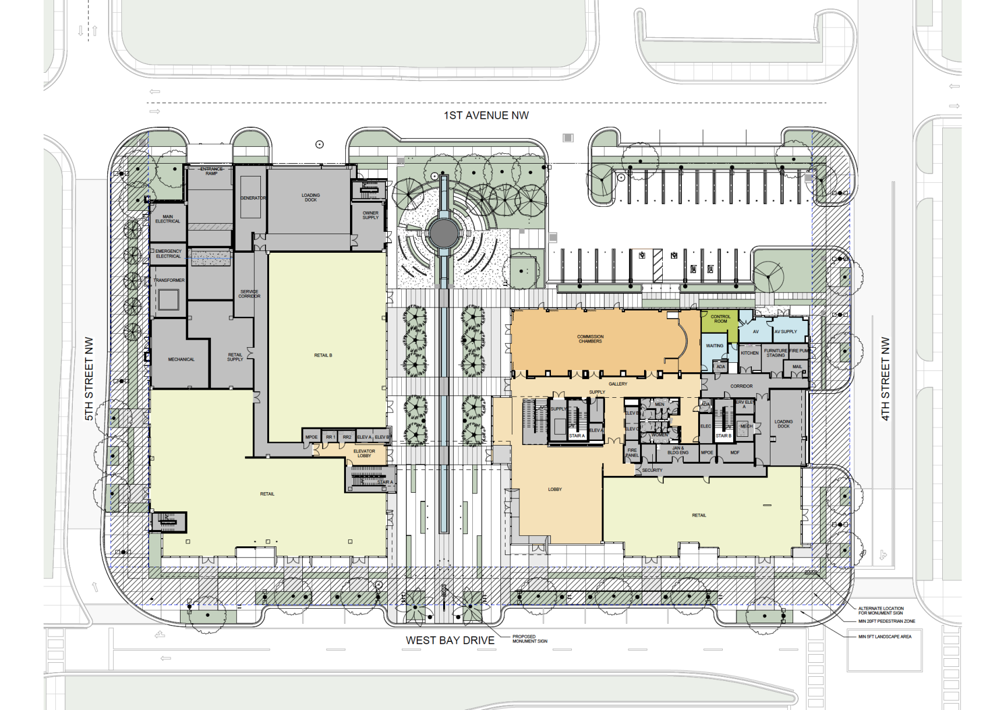 Traffic
Commissioners Michael Smith and John Carroll said residents have been positive about the project except for one concern: traffic.
"I just don't want people to refer to it as stuck on West Bay instead of Horizon on West Bay," Carroll quipped.
Smith said traffic concerns on West Bay, a major thoroughfare to the beaches that sees roughly 40,000 cars pass through it each day, are nothing new.
But some residents he's spoken with can't understand how this development won't exacerbate the problem.
In the most densely populated county in the state, Robinson said traffic is unavoidable. But bringing more traffic downtown, he said, is exactly the point of this project.
"There's always going to be traffic problems and especially in downtown areas," he said. "That's what we want, and that's the problem we're trying to bring to that area."
Residents always think new developments like this are going to create congestion, but those worst fears rarely come to fruition, he said, citing The Rosery apartment complex on Clearwater-Largo Road as an example.
Carroll agreed but said the city needs to be sensitive to the concerns of residents and needs a good rebuttal.
"Yes, we want people downtown," he said. "But we don't want people that are trying to get through downtown that have no intention of stopping calling up pissed off all the time because traffic's not moving."
Curran said his firm did an intensive traffic study of the area, and it showed the development having little impact on traffic.
It did suggest adding a turning lane on Fourth Street Northwest, so the entire block from West Bay to First Avenue Northwest will be three lanes with a dedicated turn lane to go east.
Brown said the city has targeted this area and other activity centers like it for this kind of development.
More people are moving to Pinellas County each day and by focusing on these areas, it will keep traffic out of neighborhoods.
"In Largo, we're trying to plan for that increase and we're trying to push density into our activity centers and preserve neighborhoods … and keep those neighborhoods the way they are and the way they have been," he said.