LARGO — Dreary weather caused by a tropical storm in the Gulf of Mexico couldn't dampen the spirits of a single mother of six children as she received the keys to a new house courtesy of Habitat for Humanity of Pinellas and West Pasco Counties on Sept. 14.
The event, a collaboration with the charitable foundations of former Tampa Bay Buccaneer Warrick Dunn and former Major League Baseball player Denard Span, as well as Aaron's Furniture, Publix and Cigna, saw a woman identified only as Allison unlock the door to her home, which was filled with new furniture, electronic equipment, groceries and appliances. Habitat for Humanity requested her last name not be released.
In addition to the stocked house, Allison, a patient care technician with kids ranging in age from 4 to 12, received the keys to a new van courtesy of the Denard Span Foundation, a gift that proved to be the icing on the cake for the first-time homeowner.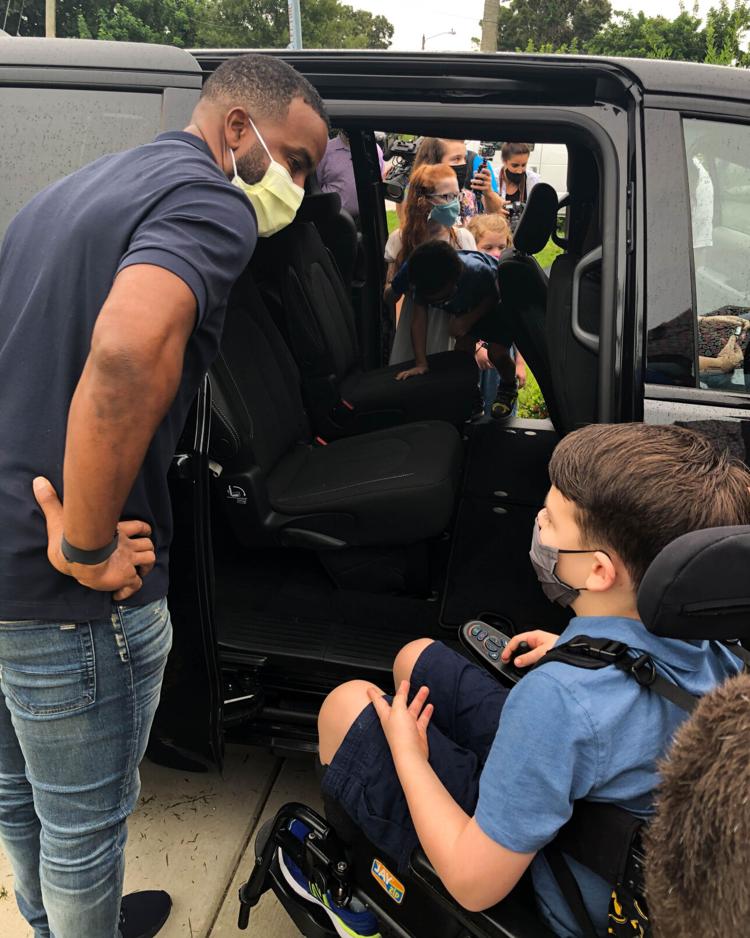 "There was so much going on that it didn't click that, hey, I have a car, too!" she told the media during a press conference held on the front lawn of her new home, which is located off Ulmerton Road near Ridgecrest Park. "They were like, 'Here's your keys,' and I was like, 'I already got keys, what do you mean?!'"
The home giveaway was the latest for Habitat for Humanity, which requires the recipient to take home ownership courses, contribute 350 "sweat equity" hours of work on the house and save for closing costs through the organization's homeownership program, and it marked the 182nd time Dunn has handed keys to a family in need of new housing through his charity, which he founded a decade ago as a tribute to his late mother, a police officer who was shot and killed in the line of duty in 1993 when Dunn was 18.
While the former Florida State great said it's been difficult to keep up the pace due to COVID-19, being able to help families during the pandemic is extra special.
"Our first one during the pandemic was in Iowa, and I had to travel, so that was a challenge," the longtime Bucs running back said after the family walked through the home, which at 2,000 square feet is the largest one Habitat has built to date. "But there's still a need, probably today more of a need than anything because people are losing their jobs and they don't have the finances to maintain, so can we help create that stability, but also create programs and support for them so they can move forward in their lives.
"We spend a lot of time at home now," he added. "And I just think now this actually gives a family a place of comfort. It's safe, a place they can retreat to and not have to worry about, 'Am I going to be kicked out at the end of the month for (not paying) rent?' So, having a place that you can call home creates a lot more stability and a peace of mind for families, and if we can solve some of those problems, that's what we're trying to do."
The commotion surrounding the event, which saw dozens of cars and news vehicles lining the narrow street, could've been overwhelming for Allison and her kids, who had no idea they were moving into a new home.
But as the proud mom pointed out, her children are very well-behaved, and they took the "surprise" in stride, although she admitted it was tough to keep such a big secret from them for so long.
"I'm so open with my kids so to hide that from them (was tough)," she said, adding, "So I nicknamed my house Phillip so I could talk to my family about it — like, 'Oh, I saw Phillip today!'"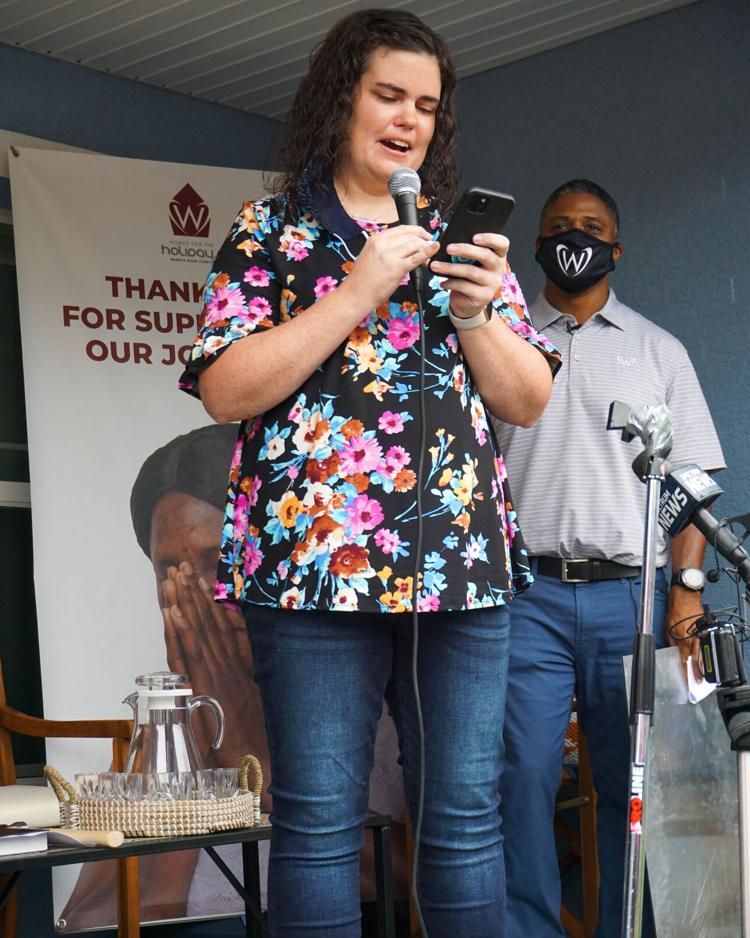 Allison praised Habitat for Humanity officials, including president and chief executive Mike Sutton, for making the entire process as smooth as possible, noting it's "such a great program and they really walk you through the process." She said she was thrilled to finally be able to settle into her first home with her family.
"I know we're staying here forever and it's huge. It just means so much," she said. "To give us a sense of stability is huge. People don't always think the best of big families. They think they're gonna be crazy and messy … so to have something that is safe, it's stable, nobody is saying, 'You have to move, we're gonna take it away,' is just crazy. To know that they can plant their feet, they can come back here with their grandchildren 40 years from now. We'll always have a home, and there's no better feeling."