LARGO — After more than three years of planning, construction will finally begin on Largo's first mixed-use project, West Bay Lofts, on June 5.
Developer Gary Tave, owner of Largo Central LLC, announced the date for the groundbreaking May 7 to a pleased group of city commissioners, who hope the project will provide a catalyst for redevelopment downtown.
West Bay Lofts is a $48.8 million project that includes a five-story building on the 500 block of West Bay Drive and a three-story building on the 600 block.
The project will be comprised of 123 market-rate apartments above 40,000 square feet of ground-floor commercial space in both buildings. It also will include one of the largest rooftop solar power installations in the county, the region's first automated valet parking garage, and a bridge on the second floor connecting the two structures and providing access to the apartment amenities for residents.
Those amenities will include a fitness facility, business center, guest suites, rooftop pool and entertainment areas. Each unit will have 9-foot-high ceilings, ceramic flooring and stacking washer/dryer units.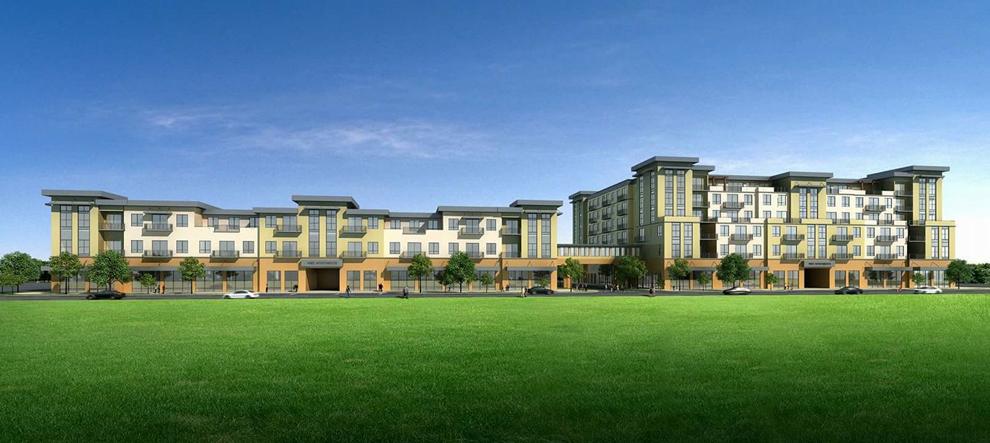 Mayor Woody Brown is one of the officials who has been eagerly awaiting for the project to rise up.
"The project will bring much anticipated activity to the downtown as well as providing another new housing opportunity for the many workers in the area. I am looking forward to the re-emergence that this project will provide in downtown once it is completed," Brown said in a press release.
The city's Community Redevelopment Agency, which sold the land on the 500 block to Tave in early 2016, had the option to repurchase the property if construction didn't commence by June 9.
Overcoming obstacles
Economic Development Manager Teresa Brydon said the nature of the facility has meant it's been a difficult one to get off the ground.
"Constructing a mixed-use project is extremely difficult," she said. "Each one is unique, and because of this, they do not always fit within the traditional processes for development, financing and even leasing."
For some of those reasons, the project had been in a holding pattern, but Tave said progress is being made.
"We have a letter of intent from a local restaurateur to lease 6,700 square feet in one of the buildings," he said, adding that there is also a list of others interested in the commercial space once the project breaks ground.
He wouldn't disclose the names of those tenants to Tampa Bay Newspapers, however, because he said they are subject to confidentiality agreements.
On the other hand, Tave said leasing the apartments won't be a problem.
"From a residential standpoint … I'm receiving regular phone calls from people who want to know when they can rent an apartment," he said.
Financing and construction schedules have also been obstacles for the project.
The initial plan had called for the construction of both buildings simultaneously, but Tave said he will likely start with infrastructure work on the 600 block.
"The construction business is booming and trying to drop a project of this magnitude into contractors' schedules is challenging, so we're finalizing subcontractor bids, making those selections and trying to work as much work into contractors' schedules as we can," he said.
Tave said he still plans to raze the buildings on the block, which includes the former Barley Mow Tavern, shortly after the groundbreaking.
The biggest roadblock, however, has been finding investors who believe in the potential of downtown Largo.
Tave said the project still needs funding, but he has faith the private sector will jump on board once it sees what's on the horizon.
"It (financing) is still in progress," he said, "but it's far enough along that I'm willing to start construction on my own capital with the confidence that the rest of the money is coming on a schedule that will allow us to continue to work."
City leaders believe in it, too, which is why they had previously voted to award Tave a development grant that could net him an estimated $1.7 million. The incentive program, which had not been used before, could award Tave 50 percent of Largo's portion of tax increment revenue generated by the project over the next 10 years.
Commissioner Jamie Robinson said Tave's hard work deserves to result in success for him and for downtown.
"I will be there to gladly dig some dirt for you," he said, referring to the groundbreaking event 9 a.m. Wednesday, June 5, on the 500 block of West Bay Drive.