LARGO – The Oct. 16 meeting of the City Commission proved to be an important one for the future of both Largo Fire Rescue's leadership and employees.
It has been more than six months since Shelby Willis resigned as chief of the department, setting off two nationwide searches that ended in late August when City Manager Henry Schubert selected Chad Pittman, deputy chief of Palm Harbor Fire Rescue, to replace her.
It became official Oct. 16 when Pittman was sworn in as the department's new leader, taking the reins of the agency that has more than 150 employees, serves several jurisdictions, including unincorporated portions of Pinellas County, Belleair and Belleair Bluffs, and is one of less than 150 in the U.S. to have an ISO public protection rating of Class 1.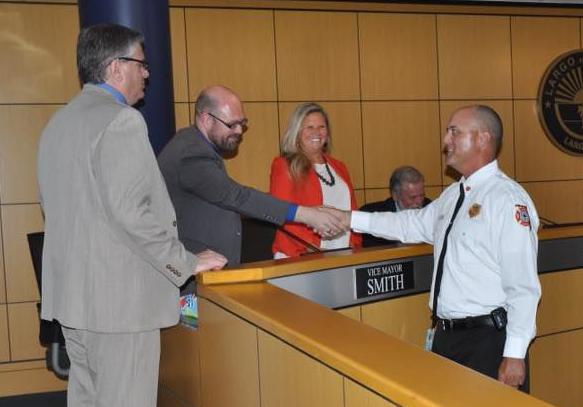 "Chief Pittman is dedicated to continuing this legacy of excellence and furthering the city of Largo's vision to be the community of choice in Tampa Bay," Schubert said of Pittman, who was selected after a pair of searches that produced 119 applicants.
Pittman, who started his new role Oct. 8, has been employed by Palm Harbor Fire Rescue since 1992, rising through the ranks to his current position of deputy chief of operations in 2013.
Agreement ratified
The evening also was important for the department's rank and file, as commissioners voted 7-0 to ratify a collective bargaining agreement with the Pinellas County Professional Firefighters IAFF Local 4966 for a three-year term that began Oct. 7.
The previous agreement with the union, which represents firefighters/EMTs, firefighter/paramedics and lieutenants, expired on Sept. 30.
Union membership voted 82-13 to ratify the deal that includes a 3 percent general wage increase and pay-range adjustments that allow the city to be competitive in attracting and retaining paramedics, EMTs and lieutenants, according to Human Resources Director Susan Sinz.
"It does provide for a 3 percent annual increase, it maintains benchmarks and it maintains a pay raise structure, with increases to the minimum and the maximum that keeps us competitive in the local area," she said. "That's obviously what we're all shooting for together."
In other news
• Commissioners approved authorization to pay $125,000 for cable TV and internet services from Spectrum for fiscal year 2019.
Spectrum's all-digital transition, which means each television requires a cable box, will cost the city at least $15,000 annually.
An analysis shows the city will need 137 cable boxes at an annual cost of approximately $15,000. Including installation charges and additional cable service levels, the total for FY 2019 cable TV service will be approximately $25,000. Internet service will cost $55,000 and leased network connection will be $45,000.
• Commissioners authorized staff to purchase services from Rubber Designs LLC for the installation of a rubber trail system at McGough Nature Park for $73,543.
The project, which is using funds from the BP oil spill settlement, aims to renovate the trails at the park and involves replacing a 2,500-foot section of sidewalk with a 5-foot-wide rubber trail system.
The original proposal was to replace the asphalt trail with concrete, but because of the cost of concrete and restrictions on equipment that can be brought into the park and trail area, only 800 feet of sidewalk could be poured.