LARGO — The Largo Police Department will add a little spark to its fleet when it soon becomes the first agency in the Tampa Bay area to use all-electric motorcycles.
The new bikes are two of several expenditures totaling $174,000 that city commissioners recently approved.
Other purchases from a variety of funds include $10,000 for a new police dog, $29,000 to help fund a new mental health program for officers, $43,000 for outer-worn protective vests, and $51,000 to supplement the purchase and upfitting of a new police van.
The new bikes, which are manufactured by Zero Motorcycles and will cost a combined $41,000, are a step toward reaching the city's goal of having a 100% alternative-fuel light-duty fleet by 2030, the city's sustainability coordinator, Laura Thomas, told Tampa Bay Newspapers.
The department was also able to secure a $7,000 grant from Duke Energy to aid in the purchase, which is expected to occur in late February.
"We had kind of a presentation with the electric motorcycles to kind of get them out there and show everybody what they were," Maj. Ann Starling said. "We invited Duke to come along and they were thrilled."
Starling said the department has the largest motorcycle fleet in Pinellas County, but the new electric bikes compare well with the Harley-Davidsons officers use now.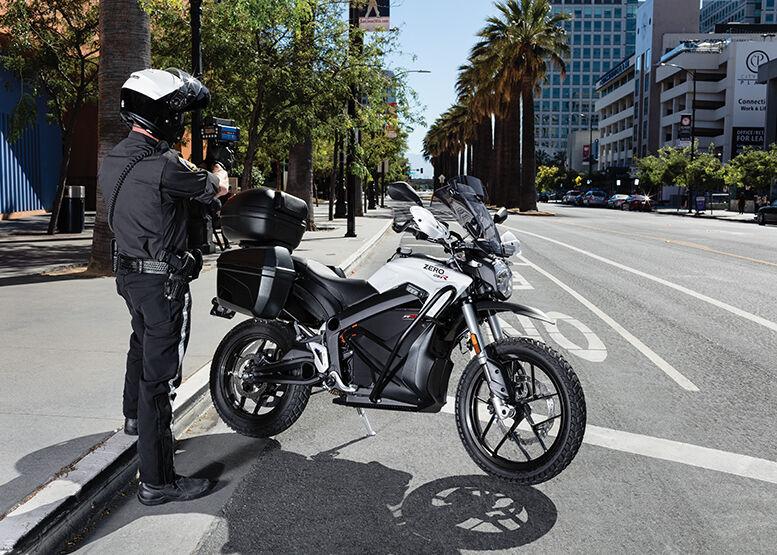 "Zero has been around for several years," she said. "We went and test drove it. They loaned it to us … for several days, and we were able to work through it. The only maintenance this has is really just a carbon fiber belt. That's it."
According to Zero's website, the motorcycles feature a powertrain that is nearly silent and a "fuel" cost of a penny per mile. They can also reach a top speed of 102 mph, and can travel 176 miles on a charge.
The motorcycles are just a small part of the department's sustainability efforts, Thomas said.
The department currently has 16 Ford Expedition full-hybrid electric vehicles and are ordering 26 hybrids next year, mostly Ford Interceptors, as part of the city's standard vehicle replacement plan. She added the hybrids are typically more expensive than traditional fuel vehicles by $5,000 or less, but can save approximately $3,000 annually on fuel and maintenance costs.
Other purchases
The department will be trading in its older military-style Humvee for a new civilian-style van that it plans to upfit for high-risk calls.
The purchase and upgrades to the van will be supplemented by $51,000 in federal forfeiture funds, which are from the seizures related to criminal activity.
City Manager Henry Schubert said the decision to start using the van was just a functional one.
"This is a vehicle where we can provide appropriate protection for our police officers, but do it in a way that doesn't look like it's a military approach to dealing with problems in the community," he said.