LARGO — City leaders got a glimpse at the future of the new City Hall on Sept. 8 when architectural firm ASD|SKY presented its preferred locations and designs along West Bay Drive.
For the past nine months, city staff and the firm have been working to answer two of the biggest questions looming over the project that aims to relocate City Hall and revitalize a long-dormant downtown: Where would it go and what would it look like?
After analyzing sites all along the corridor, ASD|SKY narrowed it down to three and presented preliminary design concepts for each of the potential facilities that include a parking garage and commercial space.
Preliminary construction estimates of each design, however, far exceed the $25 million budgeted by the city. In fact, the least expensive is $38.2 million, which doesn't include land acquisition that would be required for all three locations.
City Manager Henry Schubert said he and staff would be discussing financing options before moving forward, but commissioners were enthusiastic nonetheless.
"They (businesses) are excited to see a real renewed focus on kind of moving back downtown," Mayor Woody Brown said.
The process
John Curran, principal designer with ASD|SKY, said the firm's first goal was to understand the vision for the city and to create a building that would withstand the test of time.
That multistory building would include a modern mix of public and private space, "which is a very unique thing for a city hall facility," he said.
For two months, a series of workshops with staff and commission were held to understand the needs of the 190 employees who work at City Hall, which is 46 years old and 57,740 square feet.
"We ultimately came to a conclusion where city hall will be a building that's about 82,500 square feet," he said. "This satisfies all the needs of every department as well as future growth."
He added that the building would be more vertical than horizontal in order to provide more space for private-sector development and minimize the need and cost to acquire land.
A market and economic analysis was also conducted to make sure the project could support a significant amount of retail and commercial space.
"The ultimate result of that report and analysis is that, even in a post-pandemic era, it could easily support 20,000-25,000 square feet on West Bay Drive," he said.
A parking study showed about 360 spaces are needed in and around the site, so each design also included a garage.
The options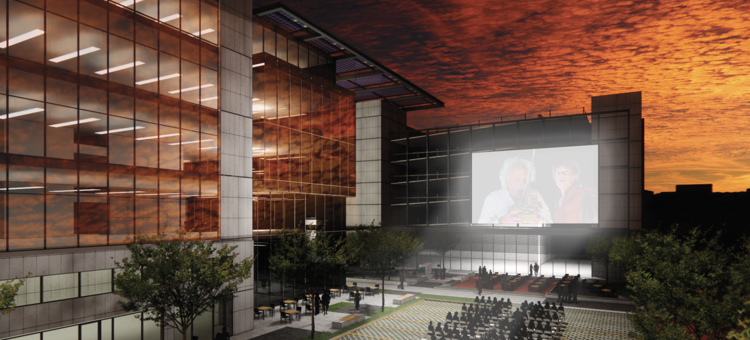 • Fourth Street and Fifth Street Northwest
From a cost standpoint, Curran said the preferred site is a full block between Fourth Street Northwest and Fifth Street Northwest on the north side of West Bay Drive.
He said the block is one of the longest along the corridor and the city's Community Redevelopment Agency already owns two-thirds of it, leaving seven parcels with a market value of just over $1 million to purchase.
The site would be home to a five-story project featuring two structures — a parking garage on the west side and city hall on the east — that are connected by a canopy with a solar array. Between the two buildings would be a public space that incorporates commercial space.
Curran showed commissioners a video of the facility that shined under the sunlight as it featured floor-to-ceiling glass with sunscreen and shading devices.
He said the goal was to maximize daylight and activate the area with retail establishments and plenty of meeting space.
"Instead of meeting someone at a local coffee shop, you could meet them at city hall because the environment is that sort of open and collaborative and it's a comfortable environment," he said.
The property would also feature surface parking on the northern portion, which would allow for special events such as markets or movies on the lawn.
"This is an opportunity that sort of jumped out at us," he said.
Commissioner Michael Smith agreed and said the idea of having an active area appealed to him.
"Something I've also seen when I go places is city halls at 5 o'clock, they are basically dead zones, and I think moving forward this is a wonderful design," he said.
At $38.25 million, Curran said this was the least expensive of the three options.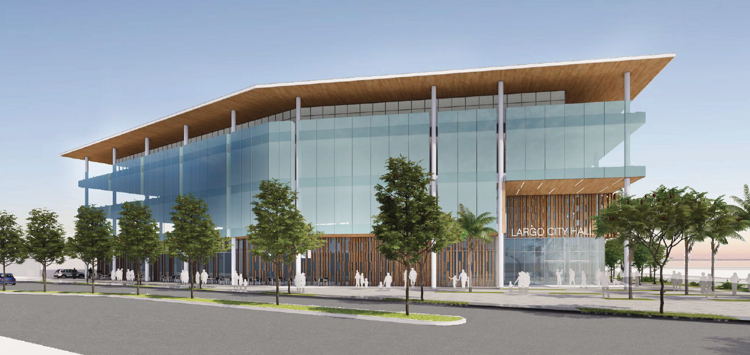 • Corner of First Street Northwest and West Bay Drive
Another option presented was a four-story building on the corner of First Street Northwest and West Bay Drive just west of CVS.
City Hall would face West Bay Drive with a parking garage behind it, but it would require seven land purchases that have a market value of almost $1.2 million to bring it to fruition.
Curran said closing First Street and First Avenue Northwest would allow it to expand its footprint, but it would add to the price tag.
Another benefit of this site, he said, is its proximity to Central Park, so the garage could also be used for special events.
"We kind of recognize this particular project as sort of the gateway into the West Bay Drive or gateway into downtown," he said.
Brown said he liked the design of this option the best, adding that the preferred site felt the least modern of the three.

• Corner of Fourth Street Southwest and West Bay Drive
A third option included a four-story building on the south side of West Bay Drive just north of Liberty Worship Center at 400 First Ave. SW.
He said the city would have to purchase property from the church, where it would put a parking garage, but it would allow City Hall to be right on West Bay Drive.
The project would require five land acquisitions that have a market value of just more than $2 million.
Moving forward
Public Works Director Matt York said the city is currently in negotiations with Biltmore Construction after the firm was chosen out of nine construction companies that applied to build the project.
Before approving another contract with ASD|SKY to move to the next phase of design, Schubert said staff had to address the financing.
He added a commercial Realtor has been tasked with engaging property owners on all three potential sites to determine availability of properties that need to be purchased.
"Obviously you need to have information on both property availability and cost and the full budget information before we proceed with additional design," he said.