LARGO – The City Commission's approval of an incentive utilized for the first time has paved the way for the development of a 224-unit apartment complex on an 8.8-acre site at the southwest corner of Clearwater-Largo and Rosery roads.
The property was formerly the Rainbow Mobile Home Park, which had 121 mobile homes at its peak, but is no longer operational and most of the site is vacant land, Economic Development Manager Teresa Brydon told commissioners Oct. 16.
Since the site is located within the Clearwater-Largo Road Community Redevelopment District, Brydon said adding affordable housing was a priority, which led to the Affordable Housing Density Bonus.
"When the Clearwater-Largo Road Redevelopment Plan was written in 2000, it took into account the need for affordable housing and established the ability to increase density in exchange for an affordable housing component to market-rate projects," she said.
Atlanta-based Pollack Shores Real Estate Group, which also developed the Gateway North complex off Roosevelt Boulevard near U.S. 19, has agreed to set aside 20 percent of its units for affordable housing, meaning the city is allowing 12 extra units an acre, from 15 to 27.
The bonus, therefore, has allowed Rosery Apartments to nearly double in size, adding about 100 extra units.
"It's a sizable commitment and that's why it's a 30-year agreement," Brydon told Tampa Bay Newspapers on Oct. 18, noting that the pact runs with the land and not just the developer.
Pollack Shores isn't the first development group that has targeted the property.
Developer Steve McConihay, owner of Dockside Investors, had a plan in place for a 200-plus unit complex last year, but it fell through and he parted ways with the property owner, Gordon McBride, opening the door for Pollack Shores.
"We've actually been looking at this site for many years and we've been trying to figure out a way to make it work," said Anthony Everett of Pollack Shores.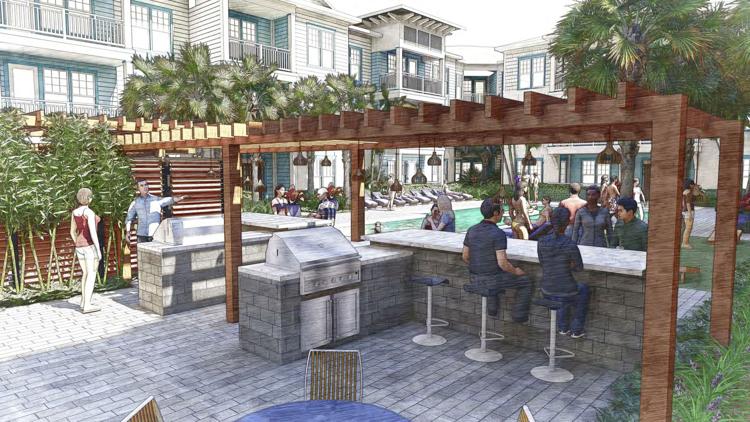 'Pedestrian-friendly community'
One way of making it work, Everett said, is to have the project complement the city's goal of making the district safer and more accessible for pedestrians.
Some of those features include courtyards with connections to streets, a connection to the Pinellas Trail, which is just to the west of the complex, and stoops that allow residents to enter onto streetscapes.
Other amenities will include a pool, fitness club, outdoor kitchen space with seating areas and a firepit, bocce ball or shuffleboard courts, on-street and off-street parking, and a plaza at the corner of Rosery and Clearwater-Largo roads.
"We're trying to do a plaza there that would have some public art and create an amenity space there for the public," Everett said. "We're trying to create streetscapes that are very interesting and provide for a very pedestrian-friendly community."
Brydon said Pollack Shores also has been coordinating with city engineers and consultants on the Rosery Road reconstruction project, which intends to transform the road into a multimodal corridor.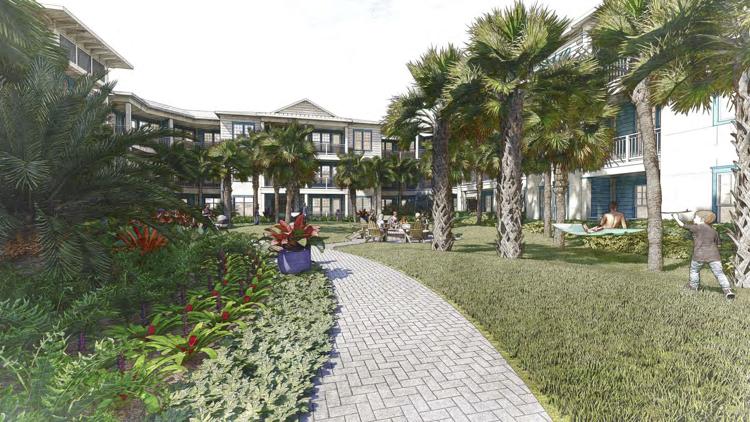 "That's been a challenge," Brydon said, "but I have to say that it's been a real good team effort and I think that we've been able to work and integrate things to help their project as we create a street that really functions well for us."
She said the project is moving along quickly, but the next step will be a neighborhood meeting at 6 p.m. Wednesday, Nov. 14, at City Hall to inform and get input from nearby residents.
"It's really important to us that the neighbors know what kind of project is going in, but I think they are going to be very happy with it," she said.
If all goes to plan, Everett said Pollack Shores expects to submit permits soon and intends to break ground quickly.  
"Our hope is to start construction in the first quarter of next year," he said. "It will really depend on how quickly we can get our permits. The city has been terrific to work with in the past."