The numbers are crunched and the brackets are set.
High school football programs wrapped up regular season schedules last week and many had to wait almost two agonizing days before finding out if they were practicing again or not. Gone are the simple days of district champions and runners-up advancing to the postseason. The Florida High School Athletic Association switched to a points-based system a few years back. This year, the organization tweaked it into its current Ratings Percentage Index existence.
For Pinellas County, so far so good with the new system. Thirteen programs will keep their seasons going Friday night. Hillsborough has 15 qualifiers, Pasco has four and Hernando has two.
An interesting effect of the new points system is that it can set up local games in the first round. Games between in-county or even in-district foes typically have to wait until the region semifinals or region finals.
Not anymore.
In Class 6A Region 2 alone there are two such head-to-head matchups. Dixie Hollins hosts Clearwater and Countryside heads to Largo. In Class 3A Region 3, in-town rivals Clearwater Central Catholic and Calvary Christian square off. The teams didn't play in the regular season for the first time since 2012. Problem solved.
Class 7A: No. 8 East Lake (6-4) at No. 1 West Palm Beach Palm Beach Lakes (9-0)
East Lake's roller coaster season took another dip last week at Countryside, but it wasn't steep enough to drop the Eagles out of the postseason. Friday's 34-27 defeat left East Lake clinging to the eighth and final seed in the Class 7A Region 3 bracket. That sets up a nearly four-hour road trip to No. 1 Palm Beach Lakes.
The Rams are 9-0 and steamrolled their competition this season. Only one team, Class 8A Wellington Palm Beach Central, kept the margin of defeat under 20 points against Palm Beach Lakes and that Oct. 4 final wasn't exactly close. The Rams were up 28-0 at halftime and won 31-14.
A focus for East Lake will be containing running back Antonio Outler, a junior who's surpassed 1,500 yards on the ground.
East Lake came out a little flat against a fired-up, determined Countryside team last week. Falling in an early hole on the road against an opponent that averages nearly 40 points a game will likely result in another loss and early postseason exit. Coaches love to say how important it is for players to learn from losses and a big takeaway from Friday would be the importance of finishing drives. The Eagles settled for three field goal attempts and turned the ball over in the end zone another time.
Friday's winner advances to face the winner of No. 4 Lehigh Acres Lehigh and No. 5 Venice. East Lake would travel to either opponent.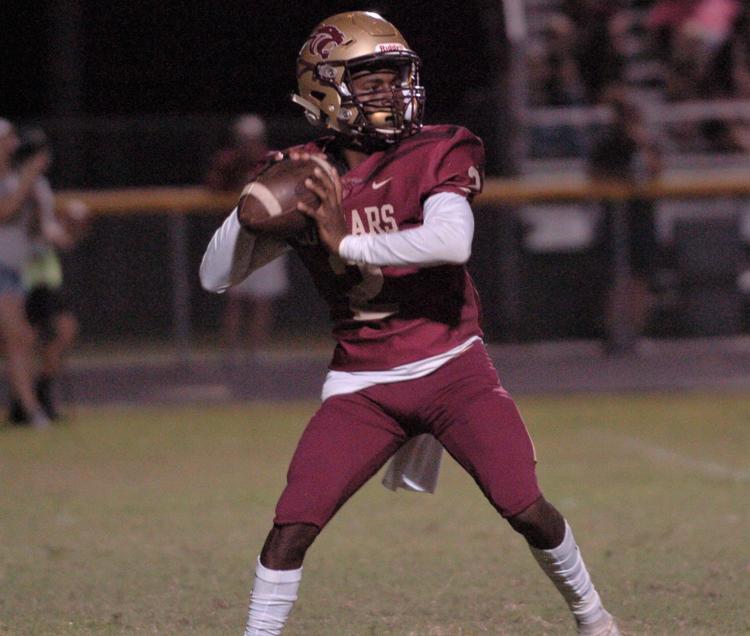 Class 6A: No. 7 Countryside (6-4) at No. 2 Largo (7-3)
Countryside played itself right into the Class 6A Region 2 bracket last week and snapped a three-year postseason drought in the process.
Like East Lake, the Cougars qualified as an at-large bid and go on the road Friday. Unlike East Lake, C-Side doesn't have to travel far.
Countryside gets a rematch against in-county district foe Largo. The No. 2 Packers beat the Cougars at Countryside 42-31 on Sept. 27. The Cougars surrendered 339 yards and four touchdowns through the air that night, allowing Largo quarterback Brandon Coppola to have the best game of his season.
Largo ended its regular season with a quality 17-16 win over Class 7A playoff qualifier Wiregrass Ranch, rebounding nicely from a 35-3 loss to unbeaten Lakewood.
Largo may have won the district and the previous head-to-head matchup, but Friday's game is anyone's to win. If the Cougars take care of business, it will be their first playoff victory since reaching the Class 5A region final in 2010.
Whoever comes out on top will face the winner of No. 3 Lake Minneola or No. 6 Springstead. Regardless of the opponent, Countryside would be on the road and Largo would stay home.
Class 6A: No. 5 Clearwater (8-2) at No. 4 Dixie Hollins (8-2)
Pinellas vs. Pinellas, Game 2.
Despite owning the region's second best RPI (.646), Clearwater is No. 5 because the Tornadoes allowed Largo to win the district. That sets up a first-round date with Pinellas County's biggest surprise: Dixie Hollins.
The Rebels are 8-2 and in the postseason for the first time since 2005. And there's nothing fluky about it, either. Dixie Hollins beat fellow Class 6A playoff qualifiers Countryside and Boca Ciega and handled its business against lesser opponents.
Don't expect Clearwater to be caught off-guard, though. The Tornadoes have won five straight since losing an overtime thriller to Clearwater Central Catholic. Quarterback Rent Montie has thrown for 23 touchdowns and more than 2,000 yards and favorite target Keedrik Murray is 64 receiving yards away from 1,000.
The Rebels allowed only one opponent, Kissimmee Tohopekaliga, to score 30 or more points. Clearwater will be the best offense Dixie Hollins has faced all season. The big question heading into Friday will be if the Rebels defense can hold up.
Awaiting the winner will be either No. 1 Gaither or No. 8 Boca Ciega. Clearwater and Dixie Hollins would travel to Gaither or host Boca Ciega.