LARGO — When city leaders first discussed building a new City Hall downtown, the preliminary cost estimate was about $25 million.
That cost has officially more than doubled, officials told city commissioners Nov. 10 during a work session.
The first portion of a three-phase project is complete and the cost to buy land, design, build and furnish a mixed-use City Hall and parking garage is now up to just over $51 million.
"Hold your hearts and make sure they keep beating while we talk about these things," joked Matthew York, the public works director and project manager, when beginning to review the numbers.
In September, architectural firm ASD | SKY presented commissioners with preliminary design concepts at three possible locations along West Bay Drive downtown. The firm's preferred location was a full block between Fourth Street Northwest and Fifth Street Northwest on the north side of the heavily trafficked corridor. The site would be home to a five-story project featuring two structures — a parking garage on the west side and City Hall on the east —connected by a canopy with a solar array. Between the two buildings would be a public area that incorporates commercial space.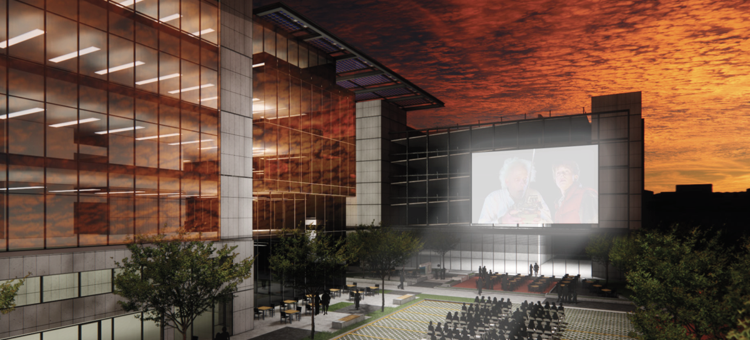 But first, the city needs to purchase several properties on the block that include three different owners.
"We're hoping that the purchase price of that ranges somewhere between $2 (million) to $3 million area," said York, who added the city is currently working with a Realtor who is in discussions with the property owners.
Combined with additional contracts with ASD | SKY and contractor Biltmore Construction, the city will need to pay just over $5.26 million before construction even begins.
The majority of the expense will come with construction and post-construction costs.
Officials estimate building the roughly 80,000-square-foot City Hall and accompanying parking garage will cost $38.25 million.
Furnishings and public art are expected to add another $3 million.
Other expenses will include technology costs, contingencies and another contract with ASD|SKY for oversight.
York said once the property is acquired, a 13- to 15-month design phase will begin that will include community involvement.
Construction could start in January 2022, he said, and would last 16 to 19 months.
City Manager Henry Schubert said the project would be the city's most expensive, surpassing the $20 million to construct the Largo Public Library, but it would also come with a big upside if it can successfully revitalize downtown.
"This is the one of the most significant projects that the city is going to ever enter into," Schubert said.
The city's current City Hall, which is 46 years old and 57,740 square feet, is in need of numerous costly repairs and won't be able to accommodate the needs of the 190 employees who work there, officials have said.
But Schubert said the new building is for more than just city employees.
"We're not just building a new City Hall for city administration, but, more importantly, this is moving City Hall back to downtown, where I think most people believe that it belongs."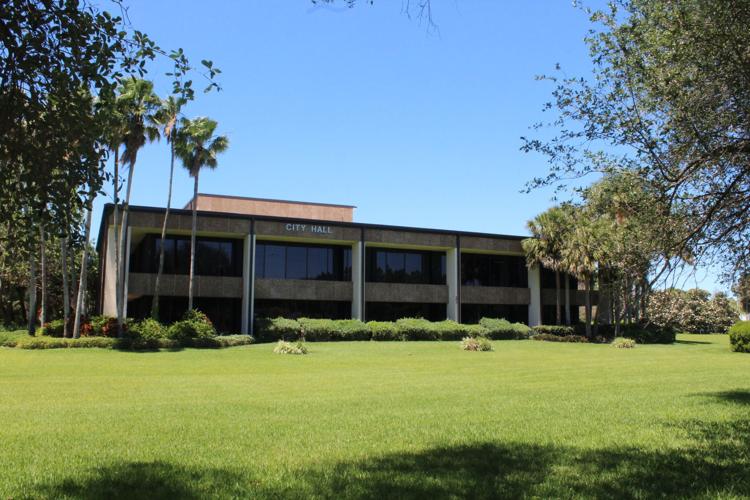 How to pay for it
When discussing the options to finance the project, Finance Director Kim Adams prefaced the conversation by stating many decisions lie ahead.
"Everything is subject to change," he said. "We don't know where interest rates will be a year from now and we don't even know how we're going to borrow the money exactly."
That being said, he went on to say city staff does have some suggestions, but they are more complicated than the short-term bank loans utilized for past projects like the library.
The majority of the borrowing — $50 million to $55 million — would likely be done by issuing bonds, which is unusual for Largo.
"The city of Largo hasn't issued bonds in 25 years," Adams said, noting the city doesn't even have a bond rating so hiring a financial adviser would be recommended.
Assuming interest rates remain steady at 2 to 2.5%, payments of $2.4 million to $3.4 million each year would be made over a 20- to 30-year span.
Adams said bank borrowing hasn't been ruled out yet, though, because it's simpler and would save the city about $650,000 compared with bonds. However, the annual payments would be much higher because it would have to be a shorter-term loan.
"We want to put everything on the table. We want to look at everything and we want to get the best financing that's out there," he said.
Adams added the sale of the existing City Hall site sale might generate about $2 million that could be used to pay a portion of the debt.
The city's Community Redevelopment Agency could also help fund a portion of the project, such as the $9 million parking garage.
Schubert also pointed out the project will be mixed-use so revenue created from the commercial component could be used toward repayment of the debt.
"The revenue from the retail/commercial component could easily be $300,000 a year," he said.
Many more steps in the next year will need to be taken before a long-term financing plan can be finalized.
Adams also reminded commissioners that their decisions will be felt for decades to come.
"One of the biggest things to always think about when you're borrowing money is you're committing somebody in the future to repay it," he said. "So it is an awesome decision."