LARGO — A ride down Rosery Road looks and feels much different than it used to, and it's taken a lot of time and money to make it happen.
The upgrade is thanks to the near completion of a $7 million road improvement project and a new $11 million apartment complex.
The east-west corridor is just about wrapped up, but there is still some work to be done at the CSX crossing, said Barry Westmark, senior engineer with the city of Largo.
The road has been under construction for more than a year as part of a project to transform it into a multimodal corridor.
Phase 1 of the $7 million-plus project made a number of repairs and improvements above and below ground to the road's 0.8-mile stretch from the Pinellas Trail to Missouri Avenue.
Upgrades include an 8- to 10-foot multimodal path on the south side of the entire stretch of road, a 5-foot sidewalk on the north side of the road, a median island and midblock crossing with flashing signals next to the Aldi just west of Missouri Avenue, new landscaping, and bicycle accommodations.
Phase 2 of the project, which will provide similar improvements between Missouri Avenue and Eagle Lake Park, has been broken up into two segments, Westmark said.
The next step is the design and construction of about 1,100 feet from Missouri Avenue to the Walmart truck entrance.
He said about 60% of the design work on that portion is done, and the city is projecting construction in the first or second quarter of 2021.
Construction on the remaining part to Eagle Lake Park is scheduled for 2024.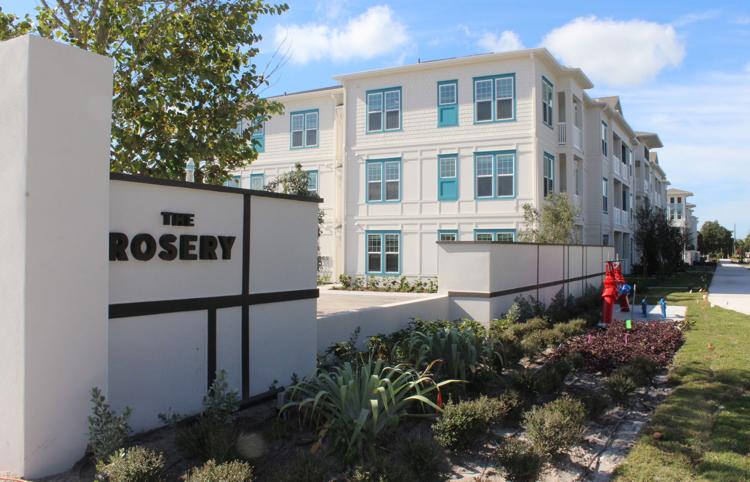 The Rosery
To go with the new road is a new 224-unit apartment complex, The Rosery.
The developers of the project, Rangewater Real Estate and Carlyle Realty, invested over $11 million into the new community at the corner of Rosery and Clearwater-Largo roads, said Karisa Rojas-Norton, economic development manager for the city.
Jen Larimer, community director for The Rosery, told city commissioners Dec. 8 that the first two buildings on the 9-acre property received their certificates of occupancy in November and 33 families have now moved in.
Two more buildings are still under construction, Larimer said, and they are expected to be ready by February.
The complex also entered into an agreement with the city to reserve 44 units for affordable housing for 30 years. In exchange, the developers were allowed to build more units on the property.
Larimer said 22% of the complex is leased and she hopes to have it filled by Sept. 30.
"I'm excited for how nice the place looks," Mayor Woody Brown said. "I'm excited for the new families that are moving into Largo."
The complex is going to look even nicer soon, Larimer said, because a new public art sculpture along Clearwater-Largo Road is set to be installed next month.