LARGO — When Village Inn officials contacted local artist Rob Sardella about painting a mural on the side of one of their Pinellas County restaurants, the Palm Harbor resident jumped at the opportunity.
"I've always loved Village Inn!" he said recently. "Especially their pies!"
But after COVID caused delays with the mural proposed for the Bay Pines eatery, Sardella and Village Inn's operations director, Dean LaFollette, came up with a solution — paint the mural at another location.
"We were brainstorming what we'd like to do, and after COVID shut us down at Bay Pines, we thought it was such a good idea we decided to do it here," LaFollette said from outside the Village Inn at 13105 Walsingham Road in Largo, where the Bluffs Business Association held a ribbon-cutting ceremony for Sardella's colorful postcard mural Dec. 16. "This was Rob's inspiration, and we loved it. We think it really pulls the community together."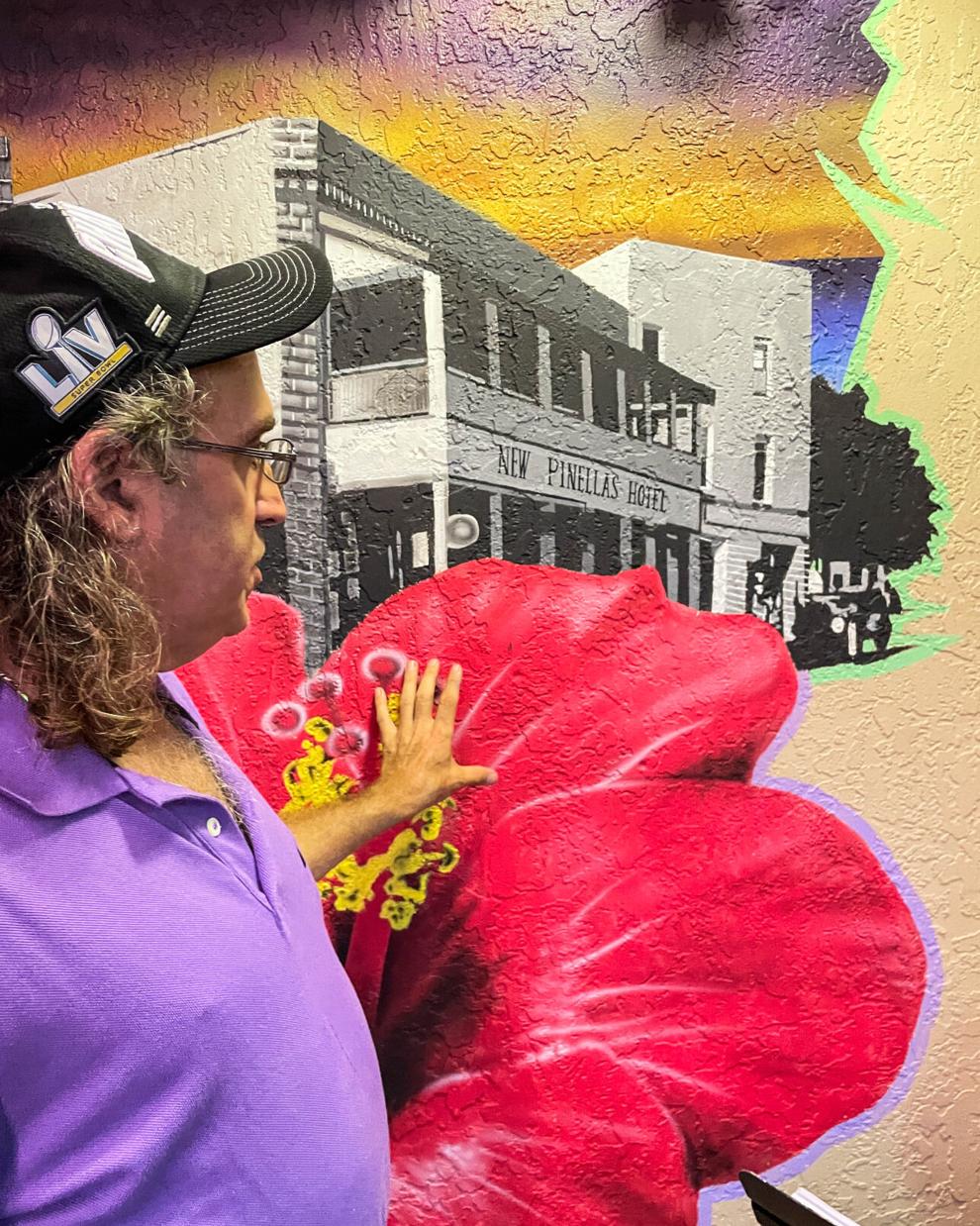 Indeed, the piece, which was completed over the summer and spans the length of the outdoor patio, is filled with tributes to and depictions of Largo, including the Largo Central Park train, the landmark New Pinellas Hotel and flowers that can be found in town and at the nearby Florida Botanical Gardens.
According to Sardella, the mural highlights some the many beautiful elements of the city.
"I'm in Largo a lot, and I know all the iconic landmarks here, so this mural is like my love letter to Largo," Sardella said before the ceremony. He noted he's "always been a big postcard mural fan" as the style allows the work to "tell everyone there are things to see here. It's like an open-book test."
The official unveiling was filled with applause and universal praise for Sardella's work.
"I was born and raised here and started working here when I was 14, so this restaurant is very, very important to me," said Danny Lehan, who owns three local Village Inns. "When I was 16, I said I'd own it someday and 10 years ago it happened, and that was a special day, but this is a great day for Village Inn, too. Thank you, Rob, for this awesome mural."
With the Largo mural done, both Sardella and LaFollette said the Bay Pines project is moving forward, featuring a patriotic theme to reflect that community, as the artist said he would fit the job into his extremely busy schedule.
"I couldn't be any busier right now," Sardella said, noting he's been painting Christmas scenes on residential and commercial properties as well as perfecting the art of bottle engraving. "But I love Village Inn, and I get to eat a slice of pie every day after I'm finished work! How can I refuse that?"