LARGO — Unless city leaders have a sudden change of heart, the property tax rate for fiscal year 2020 will take a dip. 
City commissioners voted 7-0 on first reading Sept. 3 to decrease the rate from 5.7413 to 5.62 mills, with one mill equal to $1 for every $1,000 of assessed property value.
The decrease doesn't mean tax bills will be lower for residents, though. 
Since Largo's total taxable property value spiked 7.96%, homeowners with a homesteaded property with the city's average taxable value of $94,852 will see the Largo portion of their tax bill increase $4.
Will Payne, Office of Performance and Budget manager, told commissioners that the new rate would still generate an additional $1.389 million in total revenue in the general fund, and would aid the city's progress in building and maintaining a balance in the general fund near the target of 20%. 
City Manager Henry Schubert's budget originally called for a tax rate of 5.6 mills, but members of the Finance Advisory Board and City Commission agreed that a $3.5 million project to reconstruct the city's 43-year-old Parks Division building needed to move forward. 
Therefore, budget officials proposed the alternative rate to fund the estimated $400,000 in annual debt to reconstruct the 7,434-square-foot facility, which the city says lacks enough space and has ventilation and plumbing problems.
The commission also gave initial approval to the $174.35 million budget itself. Of that, general fund expenditures total $86.2 million.
OPB Director Meridy Semones said the budget continues to follow the direction provided by the city's strategic plan and offers several noteworthy projects. 
"Our focus on community pride offers the preliminary design phase for the City Hall reconstruction project, launching a new brand in downtown, replacing dilapidated signs throughout the city, investing in programming and facility improvements at the Central Park Performing Arts Center and rebranding of the communications and marketing division to focus on community engagement," she said.
Other initiatives include a Largo Central Park 25th anniversary event, installing a new self-checkout system for the library, the launch of a new $3.5 million Enterprise Resource Planning system to modernize most of the city's "back-office" processes, and implementation of a new homeless outreach team to help facilitate access to regional resources.
The budget also calls for a 25 percent increase in wastewater fees in fiscal year 2020, which begins Oct. 1. The hike would be the first since 2007.
A second and final public hearing for both the millage rate and budget will be held Tuesday, Sept. 17.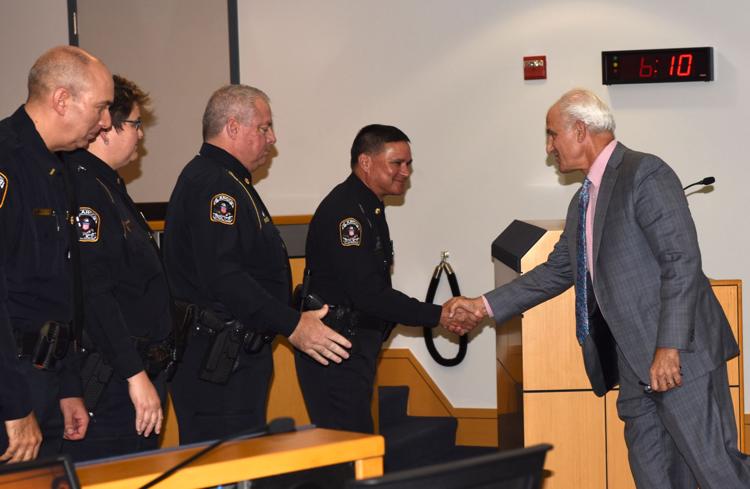 In other news
• Chief Jeffrey Undestad announced the promotions of seven employees whose experience totaled some 140 years.
Those promoted were Lt. Randall Chaney to major, Lt. Joseph Coyle to major, Sgt. Ann Starling to lieutenant, Sgt. Scott Gore to lieutenant, Detective Michael Vegenski to sergeant, Officer Jeffrey Losinski to sergeant and Officer Kreig Lake to sergeant.
• Commissioners voted 7-0 to adopt an ordinance to amend the Comprehensive Development Code to establish standards for hotels. The move, planning officials say, will open the door for more hotels in Largo by allowing them in more land-use classifications. 
• Commissioners approved the renewal of the Largo Police Department's School Resource Officer agreement with the Pinellas County School Board for the 2019-2020 school year. 
LPD has assigned four full-time officers to SRO duties. Two are at Largo High School and there are one each at Largo Middle School and Gulf Coast Academy. In exchange, the School Board pays the city $237,916 for all four officers.