LARGO — Since it was proposed in 2016, city leaders and staff have had faith that local developer Gary Tave could bring his project fusing retail and residential elements to fruition in downtown Largo. They had hoped that this would be the spark needed for a section of the city that has failed time and again to show life.
Unfortunately, Tave found out that lenders don't share that faith.
Now, without financial help from the city, the West Bay Lofts project planned for the 500 and 600 blocks of West Bay Drive may collapse before construction even begins.
That was the message Tave delivered to city commissioners Jan. 14 during a work session focused on the stalled project and how to potentially salvage it.
In Tave's development agreement with the city, he had until June 2019 to begin construction and until February 2021 to complete the complex. If he didn't meet the deadline, the city retained the right to repurchase the 500 block, which it sold to Tave for $200,000 in 2015.
"At this point, I think it's quite obvious to everyone that it's not possible to complete a project by that completion date," said City Manager Henry Schubert, adding that it's not viable as currently designed.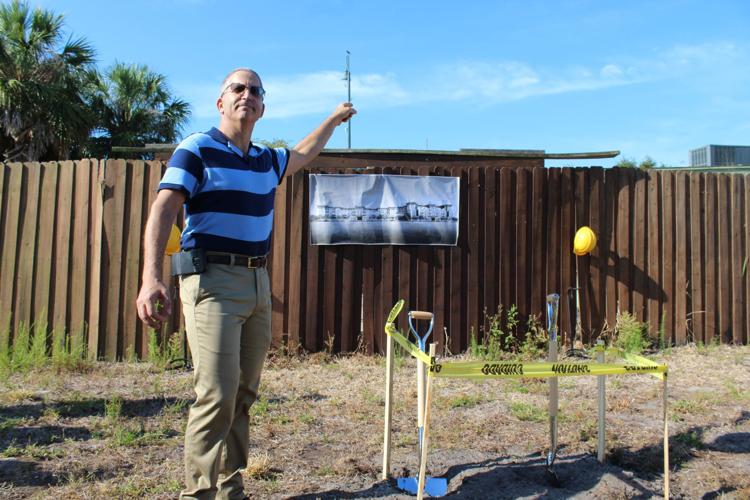 Financial roadblocks
According to Schubert, Tave hasn't begun because of his inability to obtain financing for the project, which was to be comprised of 124 market-rate apartments above 36,000 square feet of ground-floor commercial space in two buildings. 
Tave told commissioners that it's not for a lack of trying.
"We were prepared twice in the last 12 months to close financing," he said. "On each occasion, we were thwarted by appraisal."
Tave said the first appraiser in June was from Jacksonville, never visited the site and said since there weren't any other similar projects, there wasn't any demand. Therefore, the project by default was not feasible.
Tave engaged another lender, he said, and was prepared to close financing at the end of the year. 
That appraisal, conducted by the Tampa-based CBRE Valuation & Advisory Services, went into more detail.
Tave said that report stated the project wasn't feasible because there's no demand for parking and all revenue related to parking was stripped out. He added that it went on to say both commercial and residential rents were limited by the existing facilities in the downtown Largo market. 
"So, it's not just a question of my inability to get financing," Tave said. "I think it's a general statement on any similar project in that location."
The 251-page appraisal obtained by Tampa Bay Newspapers goes further, though, stating that the complex's total development cost — $62.9 million — far exceeds its projected value of $41.75 million.
It also questioned Tave's experience and stated that high rents would be needed to justify the complex's total development cost.
"Based on conversations with multiple apartment and retail developers active in the Largo area, the subject's proposed characteristics are highly unusual and considered super-adequate for the area," the report states. "None of the developers felt that the subject property, as proposed, could achieve rental rates great enough to justify the cost to build."
Some of those so-called "super-adequate" characteristics that developers are skeptical of include using concrete block rather than wood frame, a skybridge, rooftop solar panels, rooftop pool, and an automated parking garage.
"Any apartment property building with masonry and including structured parking is building a development that is super-adequate and not financially feasible," according to the report.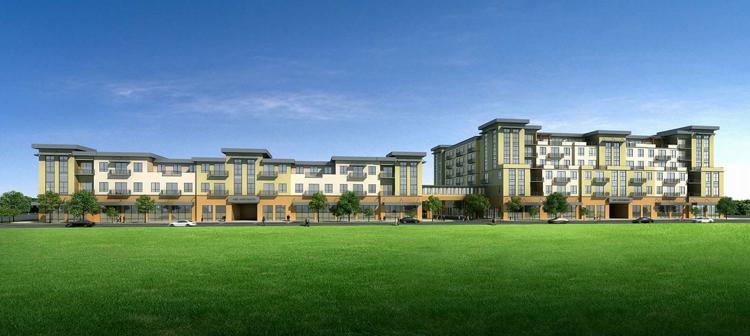 Where to go from here
Unfortunately for city leaders, that is exactly the kind of complex they were hoping to see. 
After some discussion, Mayor Woody Brown said commissioners' goals were aligned in that they'd like to have a project that was something more than a three-story apartment complex with wood.
So Brown tasked city staff with answering the question at the forefront of commissioners' minds.
"Is it possible to do a project like this in the future or now, whether Mr. Tave was the developer or somebody else is?" he said.
Until that question can be answered, the commission also had to ponder its options, which included buying back the 500 block for $200,000 or giving Tave an extension, which he said would be pointless.
"An extension of the current project as its currently designed would not accomplish anything," he said, referring to the appraisals.
If the city bought the block back, Tave said it would mean the 600 block would remain vacant for some time. 
"More likely than not, I would end up sitting on that land until the market conditions allowed me to do something," he said.
Tave said he could alter the project and just build a parking lot on the 600 block as a temporary solution until the market allows for financing of the second building, but both he and commissioners were cool to that proposal.
Tave, however, did present another option that staff will further examine: the city subsidizing the parking garage.
"I have a number of ways to skin that cat, but they all involve participation of the city either in some sort of public-private venture, leasing of parking, granting of temporary variances," he said. "But as the project is currently designed, there's no answer that I can come up with, or do I believe that anybody is going to come up with."
Tave said roughly 20% of the cost of the project is wrapped up in the parking. So, if the city helped in some way by building the garage itself or leasing the spaces, he said he could finance the project "without question."
Commissioners Michael Smith and Samantha Fenger said they were uncomfortable with the idea of buying into the parking, but Jamie Robinson said he was open to new ideas.
"Being that this is such an unusual project, something that we have never seen before, maybe we should start looking at some things that we have never looked at before," he said.
He pointed to cities such as St. Petersburg and Dunedin.
"These cities who are doing this stuff, they are actually putting their money where their mouth is," he said.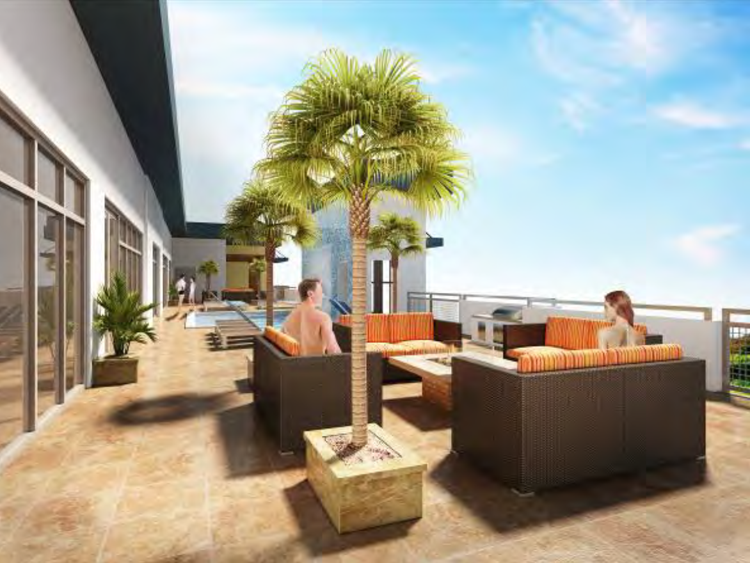 Time passing by
Before making any decisions, commissioners said they would need to see the appraisals and find out from Tave exactly how much the parking elements of the project cost. 
That kind of analysis will take time, however. Community Development Director Carol Stricklin said a study on the feasibility of a parking trust fund could take as much as a year. 
Fenger pointed out that altering the design of the project would also take a considerable amount of time, so she was not interested in partnering for a parking garage and wasn't afraid to repurchase the block and start over.
"Maybe it has to be with a different partnership or a different developer or something new," she said. "… The best may not be in front of us just yet."
Whatever path the city takes, Brown said it needs to find a way to get more people into downtown. 
"I don't know what the answer is. I had hoped for a few years now that this is going to be the answer to higher density," he said. 
"Whether it's with Mr. Tave or with another developer, we have to figure out what the strategy is to make this work."