LARGO — With sparkling smiles and style to match, Chris and Jessica Hargiss could be the latest Hollywood "it" couple.
In reality, they're both educated entrepreneurs. Jessica is a doctor — a dentist to be exact — and they both sell an all-natural alternative to pills that can be used to relieve a wide range of ailments.
The couple say their new shop, Your CBD Store at 1901 W. Bay Drive, is the only dedicated CBD-seller of non-psychoactive, cannabinoid-derived products in the Largo/Belleair Bluffs area. It's an affiliate, not franchise, of a corporate CBD supplier that offers a line of high-quality products, Jessica explained.
More of a boutique than a store, Your CBD Store welcomes customers with contemporary decor and natural light that's enhanced by antique fixtures. While inside, you can't help but be calmed by its light blue walls, aromatherapy diffuser and comfy, chic lounging area.
Smart displays throughout the modest-size store shelve beauty ointments with collagen, honey sticks to stir into your tea, pet treats, gummies with a slow release to help you sleep and a variety of oils at different price points.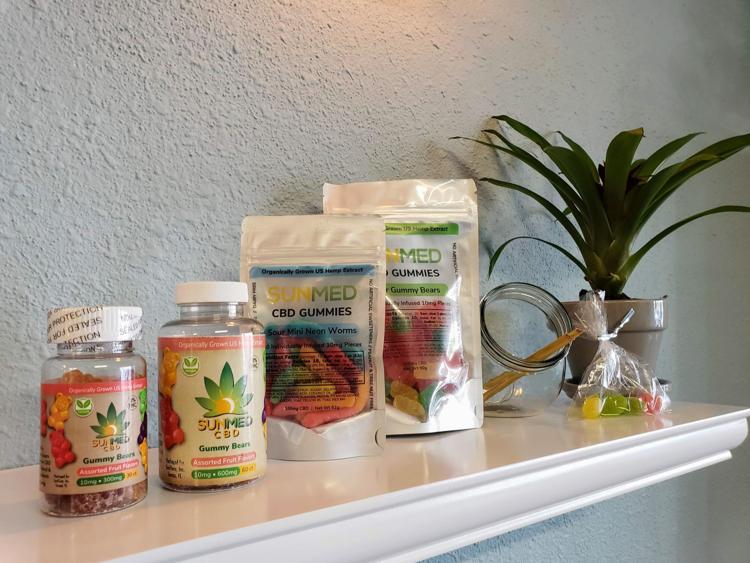 When it comes to price and dosage, Jessica emphasizes that she works with customers to buy the right dose and product for their needs — and not buy more than they need or can afford.
"While you can't OD on CBD, you certainly can waste it," she cautioned.
Jessica also took time to explain to one of the several customers who streamed in recently that there are around 114 strains of cannabis that they work with.
"Most of our customers are looking for alternatives to prescription drugs for pain, inflammation, anxiety, insomnia and many more conditions," she explained. "The majority of our customers are between the ages of 50 and 85-plus. … Our customer base has grown massively, and the results can be seen widespread."
The backstory
Both Chris and Jessica grew up in Tampa, but they met after college, in Sarasota, about a year and a half ago.
Jessica's involvement with CBD goes back a few years, when she was in dental school at Temple University. Jessica's mother had cancer and opted for a homeopathic treatment that involved an IV drip with a high-potency extract of the plant-derived remedy and Vitamin C.
Jessica researched CBD's benefits and became trained in its uses. When her mom went into remission, she became all the more impassioned to educate the public and provide CBD's all-natural relief.
After managing a couple of other CBD stores, customers returned to thank her, she said.
"People were coming back saying, 'You've saved my life,' and it just felt so good," Jessica beamed.
Some people need convincing, though. Back then, Chris was like a nonbeliever.
"'Just do it,' I told him, because he complained to me every single day about his back."
"I would take Aleve, but the pain would come back," Chris added.
Jessica started treating him with a CBD ointment and the pain subsided so much that the MBA grad decided to partner with her to launch a new retail business selling CBD products. Their Largo store opened on Feb. 27.
The testimonials are also streaming in. One recent customer with peripheral neuropathy said she was surprised by the relief she received from the sublingual oil purchased in the shop. Another claimed that she forgot she had restless leg syndrome, which had been keeping her awake at night.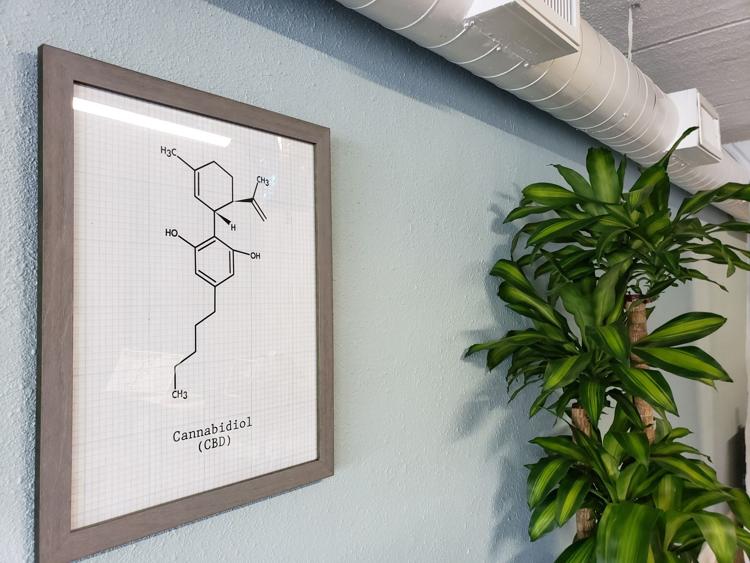 A CBD primer
Because our earliest ancestors used cannabis thousands of years ago, humans have evolved to possess an endocannabinoid system of cell receptors that help regulate biological processes, such as appetite, mood, pain levels and homeostasis. CBD works with this system to provide relief and acts as an antioxidant against disease.
According to Chris, lower-grade products have flooded the unregulated CBD market. These impure compounds contain hemp seed extracts mixed with chemicals.
Your CBD Store, he said, offers lab-tested products with a QR code on the label that you can scan with your phone to learn about the third-party laboratory test results and other information.
Your CBD Store doesn't offer products with THC, as Jessica's goal has been to emphasize the therapeutic, not recreational, use of cannabis.
She shows a laminated chart that illustrates all the ailments that can be treated with CBD. Maladies like intestinal distress, anxiety, seizures and chronic pain and many more are listed.
Their products, Jessica explained, contain cannabinoids and terpenes, which create "unique synergies that increase efficacy, target specific ailments and promote the production of cannabinoids within our bodies."
Jessica added that they plan to be involved with the community and live near the shop. They recently took part in the Bluffs Wine Walk and plan to be out and about representing Your CBD Store to spread the word about CBD.
For more information about the store, call 727-509-3403 or visit its Facebook page at www.facebook.com/YourCBDStoreLargoFL.