LARGO — The question of whether to stick with the city's rules or give Largo's two Walmart supercenters an early holiday gift by temporarily allowing outdoor storage containers proved to be a tough one for the City Commission to answer Sept. 3. 
The stores at 990 Missouri Ave. and 2677 Roosevelt Blvd. informed the city in June that they wish to use the steel containers for additional holiday inventory for about 90 days starting in October. But they risk hefty fines if they do so, Planning Manager Rick Perez told commissioners.
The city's codes limit temporary storage containers on commercial properties to one container for a maximum of 30 continuous days, and they are also not allowed in the commercial general land-use classifications where the stores reside.
The retailers learned that the hard way in December, when complaints about the containers led the city to investigate. As a result, a special magistrate gave the Walmarts 30 days to remove the containers or face $500 fines per container each day. 
Perez said Walmart representatives are concerned because they say the alternatives — storing holiday inventory offsite or expanding the store itself — are expensive and impractical.
Therefore, city staff sought advice on three suggestions:
• Impose short-term minimal limitations so the stores can operate as usual, and then possibly come up with a long-term solution;
• Amend the Comprehensive Development Code and Code of Ordinances, which could take six or eight months and be too late to help the stores this year;
• Leave the codes unchanged.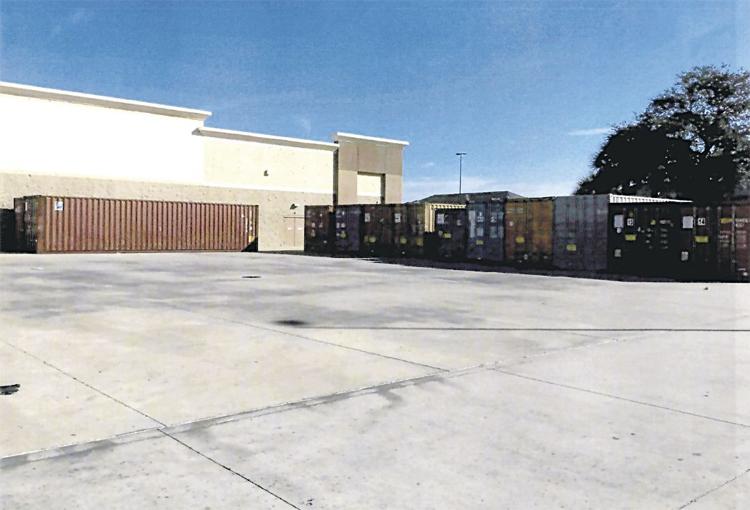 Commissioners conflicted
Since the Roosevelt Boulevard store was able to keep most of the containers in the back, Mayor Woody Brown said most of the complaints he heard stemmed from the store at the intersection of Missouri Avenue and Rosery Road. 
"They were extremely visible. They took up a lot of parking places very close to the store. They cause some challenges for some of the people who live near there and people who shop at that store, frankly," he said.
Brown said the thought of changing the city's codes to accommodate two stores' business practices gave him "heartburn," but he was sympathetic to their situation. 
"I think there's a solution, but I'm hesitant to just say, 'OK, we're going to change our rules because this is the way you do business now,' to the detriment of the people that shop there, the people that live by there," he said. "So I don't know what the solution is."
Commissioner Jamie Robinson, who lives near the Rosery Road store and also does business with Walmart, said he was also torn because it's a standard business practice for the retailer.
"I'm a little conflicted about what I want to see because I also know that both of those Walmarts … have been really good partners with the city of Largo," he said. "Outside of this one issue, they have done a lot of good things."
That being said, he added that the containers pose a problem. 
"In the Rosery Road store situation, there's no way that you could put 12 or 15 or 16 storage containers out in that side parking lot and make it fit into the character of that neighborhood," he said. "You just can't do it."
Commissioner John Carroll also expressed concerns about how a decision could affect the city's other two big-box stores, Home Depot and Lowe's.
"It's not just Walmart. There are other retailers around town who, over time, have used their parking lots more and more for other purposes," he said, citing the storage of rental equipment or putting up tents to sell Christmas trees.
Sticking by the rules
Commissioners Curtis Holmes and Samantha Fenger, however, did not express the same reservations.
"I'm not in favor of changing whatever it is that we are doing to make someone else happy or feel better or whatever the case may be," Fenger said.
She said big or small businesses should play by the same rules, but, if more retailers expressed concerns, she would be in favor of the long-term solution, which would include input from the Community Development Advisory Board and Planning Board.
"The only reason that they've come forward is because an individual site has been cited by our Community Standards for not following what we've put in place for our community vision," she said. "So I don't know why we would go ahead and stray from that and make something up in the middle that very well could set a precedent … and I find it very unnecessary."
City Attorney Alan Zimmet said setting a precedent shouldn't be a concern because the stores would have to acknowledge that the changes are only till the end of the year.
"We are going to specifically have them acknowledge that we're not setting precedent," he said.
The commission remained deadlocked until Zimmet suggested directing staff to draft a short-term resolution so that the commission can see it in writing at the next meeting Sept. 17. 
He added it would also give Walmart representatives and the public an opportunity to have their say. 
Brown and the consensus of commissioners signed off on Zimmet's suggestion.
"Walmart's been a pretty good partner with our city in multiple facets," Brown said. "Retail as we know it is changing and has changed and sometimes we have to change the ordinances. I don't want to knee-jerk change the ordinance across the board."