LARGO — Walter Tuglus, a Battle of the Bulge veteran, was honored by friends and family March 27 during a small parade to celebrate his 100th birthday.
The event occurred at Oak Manor Nursing Home in Largo.
"He is an amazing person; his mind is sharp as a tack and he loves to talk," said Sandy Snyder, a local resident and the veteran's daughter.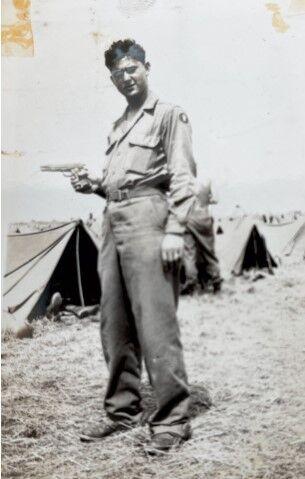 Tuglus served under Gen. George Patton in Company B during World War II. He earned the Bronze Star for saving his captain's life.
Tuglus earned his Ph.D. in mechanical engineering from Oxford University while in the Army.
During his career, he was a diesel 18-wheeler truck mechanic, an X-ray technician, a mechanical and electrical engineer, and an electrical inspector for the city of Pinellas Park. He owned a repair shop in Redington Shores named "Tugs Fit It Shop."
Tuglus was born in Chicago on March 31, 1921.
"If you have any mechanical or electrical questions, he most likely has the answers for you," Snyder said.
Tuglus has four children: Terrie, Walter Jr., Sandy, and Peter. His wife, Mary Haag Tuglus, died at the age of 73.
"My dad saved every picture, article, brochure, and letter he received when in the Army. The collection is priceless and I am amazed that he kept his memories so preserved over all these years," Snyder said.