LARGO — Just over a year ago, city leaders banned the sale and distribution of several single-use plastic items on city property.
Commissioners called it a good step toward promoting Largo's sustainability goals.
On Aug. 18, they voted 5-2 to create some exemptions to that ban, and two commissioners say the result is a step backward.
The original ordinance prevented some non-biodegradable items, such as foam cups, plastic straws and plastic plates, from being served at special events, in city facilities and at city functions, which is as far as the city could go under state law. However, the ban didn't pertain to a contractor's personal use on city property, such as people who rent a pavilion at a park.
Largo Sustainability Coordinator Laura Thomas said the changes to the policy would create exemptions for two different scenarios.
"One that would be vendors who are donating food on the city property and two would be for private organizations who are renting city properties for public events," she said.
Commissioner Jamie Robinson strongly disagreed with the change.
"I just want to point out again this is not in alignment with our strategic focus regarding sustainability," he said. "I think that we have made great strides in the city of Largo regarding sustainability and have a long way to go. And I think by allowing this to change and … to go down this path we're not working towards the goals that we set."
He also urged commissioners to revisit the exemptions in the near future.
"I think we are doing ourselves a disservice by not enforcing this in our own buildings regardless of who's using the buildings in the city of Largo," he said.
Burdening businesses
The changes stemmed from certain events that staff said fell into a "gray area," such as Taste Fest and the Mayor's Golf Tournament where food is donated by a private vendor.
"It's very difficult to get businesses that will actually donate that amount of product," Krista Pincince, assistant recreation, parks and arts director, told commissioners during a March work session. "And it's hard to tell them that it (the plastic ban ordinance) is mandated, if they are going to donate the product."
Commissioner Samantha Fenger said Robinson made fair points, but the city should take the current economic climate into consideration.
"I think ... this decision is maybe really relative to what's going on and so we're not putting an extra burden on anybody else," she said, adding, "I understand what our own goals are and I still think we're moving in the right direction."
Commissioner Michael Smith made a motion to deny the changes, which was seconded by Robinson. That motion failed 5-2, however.
Robinson said if the city wants to meet its sustainability goals, which includes using 100% renewable energy by 2035, then it will have to make tough decisions.
"We've done some great things in the city of Largo, but we are going to have to make some hard choices and decisions in very near future to meet the goals that we have set," he said. "And this is extremely easy compared to some of the things that we're going to have to do in the near future if we intend on ever meeting any of those goals."
In March, Mayor Woody Brown said leading by example was more appropriate than forcing vendors to comply. On Aug. 18, he said he expects the conversation to continue.
"I don't know how soon this will come back where we look to mandate that somebody just renting our facility abide by the rules that we set for ourselves, but I know and hope that we'll do it soon," he said.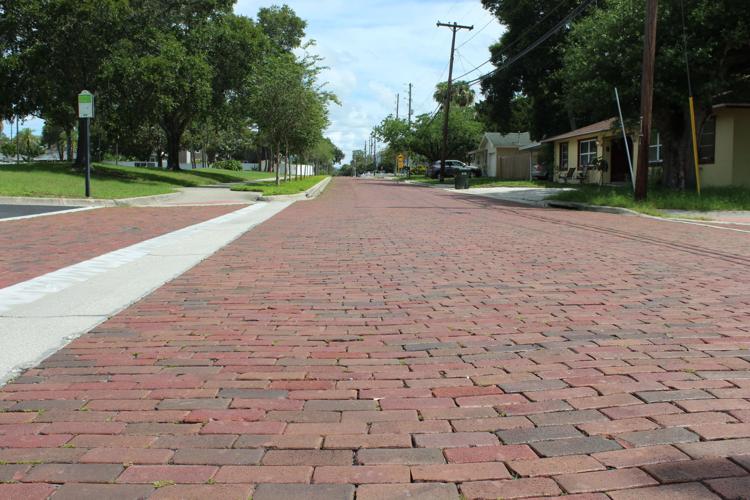 Saving brick streets
Commissioners also voted 7-0 to adopt an ordinance preventing the removal of brick streets without City Commission approval.
Brown has said he wanted to make an effort to preserve the 20-plus brick streets that remain in the city and pushed for the ordinance that would prohibit the city from paving over or removing them without commission approval.
The majority of the city's brick streets, which date to the 1920s when the city was founded, are in the downtown area near West Bay Drive and Seminole Boulevard.
"I thought it was worthy of putting an ordinance on the books," Brown said June 9. "We're not saying that all these brick roads are going to stay forever. And we're not saying that we're going to spend the money to rehabilitate any of them, but before they're removed, it's going to come to this commission. And I think that's important."